If you have an overlanding rig, chances are you're putting big wheels on it to get better clearance off-road.
As the main interface between the vehicle and the road, tires contributes greatly to driver safety. If you're looking for tires for off-roading or for mixed on- and off-road use, you should consider 37 inch tires, which are ideal for large vehicles, typically 4WD vehicles.
If you purchase wrongly sized or cheap 37 inch tires, you leave yourself open to irregular tire wear, vehicle damage, or worse—road accidents.
In this review, we explore the best 37 inch tires on the market to help you find the best options for your 4WD vehicle.
Table of Contents (Click to Expand)
Best 37 Inch Tires for a Daily Driver
In short, 37-inch tires are large tires with pronounced tread patterns designed for aggressive on-road and off-road driving. These big tires are suitable for Jeeps, trucks, and other 4WDs, providing superior grip and traction and showing off lift kits, suspension systems, and other tire and wheel accessories exceptionally well.
The best 37 inch tires for Jeeps or daily drivers are all-terrain (A/T) tires. These tires feature closely knit tread blocks, providing added grip and traction with the road. A/T tires perform well in both smooth and rough terrain, which makes them suitable for city and off-road driving.
Here are our top picks for the best 37 inch A/T tires currently on the market:
Best 37 Inch All-Terrain Tires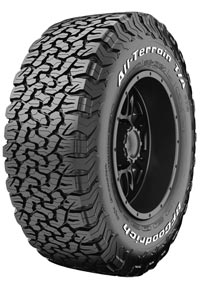 The BF Goodrich T/A KO2 features a high-strength, single-strand bead construction and enhanced traction capability that performs especially well in aired-down driving situations. This tire also has 3-D sipes, which stabilize the dual-compound tread blocks, maximizing vehicle handling and traction in all road conditions.
Additionally, the tire provides two full-width steel belts, a rim protector, and biting edges that help the vehicle cope well in heavy snow. If you're looking for 37-inch A/T tires for your Jeep, truck, or SUV with outstanding on- and off-road performance, we highly recommend the BF Goodrich T/A KO2.
Pros
Improved stress distribution, which enhances tread life
Enhanced durability and strength
Superior aired-down driving capabilities
Cons
Subpar performance and responsiveness on wet roads
This newcomer on the A/T scene has impressive aesthetics and a unique, bold design. It features a silica tread compound with heat diffuser technology and a sidewall with tread blocks that protect against debris, sharp rocks, and other off-road hazards.
These beauties can navigate trails, rocky slopes, and rough terrain with ease. When in loose mud or soft sand, the deep tread grips with no trouble at all, while the enhanced siping technology provides improved traction in winter weather. Additionally, they have an aggressive sidewall to handle aired-down driving on and off the highway.
The Falken Wildpeak AT3W is a great choice for SUV and truck owners that want to take on the most rugged terrain and still retain the quiet and comfort of highway driving.
Pros
Excellent multipurpose A/T tire
Exceptional performance in severe snow conditions
55,000-mile warranty and free tire replacement on damage (subject to T/C)
Cons
Ride quality is not as comfortable as that of others in its class.
Related Reading: No matter how good your tires are, they could get stuck in the snow, mud, or sand. Check out our guide on the best traction boards for off-road recovery here.
The Nitto Ridge Grappler is a bold and versatile Japanese-made A/T tire that performs well on the highway, in mud, and on the rocks. It has an aggressive tread that provides great traction on trails while offering a comfortable and quiet on-road performance.
Its wraparound sidewall design provides valuable trail protection, especially in rocky terrain. The staggered shoulder lugs also act as small traction scoops, providing added grip during aired-up or aired-down driving.
Pros
Offers a smooth, quiet ride in both dry and wet conditions
Comes with a heavy-duty F-load rating on certain sizes
Can withstand large road obstacles, such as large rocks and gravel
Cons
Not a good choice for rock crawling
Related Reading: Best Portable Off-Road Air Compressors
Best 37 inch Mud Tires
Having examined the best all-terrain tires, we now turn our attention to the best 37 inch mud terrain tires. Mud tires fare well off-road but aren't as peachy on smooth, paved city roads and highways, and they don't offer the same gas mileage as all-terrain tires on paved surfaces.
This poor performance on smooth roads is due to the large tread block design with wide and deep voids ideal for trapping mud, sand, jagged rocks, gravel, and loose soil on rough terrain. These tires are also heavy and challenging to maneuver, which makes them clumsy on smooth surfaces.
Below are our top picks for the best 37 inch mud tires: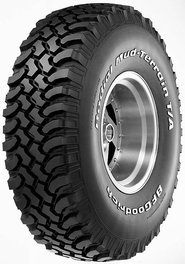 If you are looking for excellent rock-crawling or off-road performance, the BF Goodrich Mud Terrain (M/T) won't disappoint. This long-lasting, semi-aggressive tread tire is an excellent choice for all-around use, especially on dry loose dirt, light-to-moderate rock, light mud, silt, snow, and sand.
However, the 3-ply sidewalls do not have tread designs, and without this additional protection, this M/T tire is vulnerable to sharp rocks and other road obstacles. This tire is ideal for 4WD enthusiasts who want an aggressive tire with serious off-road traction.
They're the best mud tires for street, but I would still recommend all-terrain tires over mud tires if you're going to spend a lot of time on-street.
Pros
Outstanding off-road and rock-crawling performance
Reduced road noise on smooth pavement
Exceptional bruise resistance in the sidewall and under the tread
Cons
This BF Goodrich tire is primarily a M/T tire, so it features a reduced grip compared to that of a highway or A/T tire.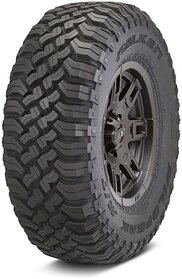 The Falken Wildpeak M/T stands out as an excellent choice for drivers with light-to-medium-sized 4WD pickups and SUVs that need aggressive off-road capability combined with decent on-road aptitude. It features an optimized tread pattern, rugged tread blocks, and superior heat diffuser technology to cope with the versatile demands of on-road and off-road conditions.
The soft tread pattern enables these tires to provide a quieter, smoother ride than traditional M/T tires, and the reduced contact patch enhances stability while preventing stones from getting stuck in the grooves. This tire's tread also has an outer edge with offset shoulder blocks that offer enhanced traction on rough terrain, in mud, and in off-camber situations. Additionally, the outer tread lug has a feature that sheds mud from the tread grooves, allowing for improved maneuvering in the wettest conditions.
Pros
Excellent performance on all off-road terrains
Dura-spec three-ply sidewall, which provides added protection
Good value for money
Cons
The soft treads result in a shorter tire lifespan.
Perhaps the most well-known feature of the Mickey Thompson Baja Boss M/T is its asymmetrical tread pattern, which improves the on-center feel and vehicle handling and reduces noise on pavement. This sturdy M/T tire also features a three-ply sidewall for added protection and silica reinforcement for on-road wear, as well as improved handling in wet conditions and enhanced cut and chip resistance.
The wide, deep voids enhance off-road traction, and the ejector ribs prevent stones and gravel from getting stuck in the grooves. Additionally, the shoulder scallops provide superior self-cleaning capability and the ultimate traction, while mud scoops create a space that stops mud from clinging to the tire.
Pros
Offers a durable tread life
Features excellent off-road grip and traction
Outperforms others in its class in light snow conditions
Cons
Not as capable or as quiet as other mud tires in its class
Conclusion
We hope this review has provided some insight into the best 37-inch tires to buy for your 4WD truck or SUV. While they may not all suit your unique vehicle requirements, we hope that the information we've covered helps you zero in on the best tire that will get your vehicle through all kinds of terrains and weather conditions.
We also have a comprehensive dive into the best all-terrain tires for your Toyota Tacoma.
Have any questions or think we've missed out on a good 37-inch tire brand? Let us know in the comment section below.
Read Next: