If you crave traveling to uncharted territory, escaping the crowds at busy trails, or expertly traversing frozen tundra—you probably already know the importance of having a capable off-road vehicle with 4WD.
Whether you're considering jumping into the vanlife movement or just creating the coolest bug out van, you've come to the right place.
Below we list the best 4×4 vans, 4×4 van manufacturers, and even the ins and outs of converting a 2wd van to a 4wd van.
Let's dive in.
Table of Contents (Click to Expand)
Basic 4×4 Terminology
Here are some basic terms to know:
All Wheel Drive VS 4 Wheel Drive
While all wheel drive and four wheel drive may sound the same on the surface, there are actually some key differences.
All wheel drive works by letting the car's computer system decide what wheels to use. An all wheel drive system can switch power between axles and wheels in order to increase fuel economy or give your vehicle better traction in snowy or off road conditions. This all happens automatically in most cases.
Some all wheel drive vehicles come equipped with manual options to increase off-roading capabilities even more, but this isn't always the case.
Four-wheel drive vehicles always have a setting that turns 4wd on manually. Instead of leaving the thinking up to your vehicle's computer—true 4wd relies on the driver to make these decisions. This gives the driver much more flexibility, freedom, and control in different situations.
4 High and 4 Low
Four wheel drive vehicles will sometimes come with the option to switch between 4 high and 4 low settings. The best way to understand these differences is to imagine how mountain bike gears work. While biking on relatively level ground you'd want to shift into a higher gear in order to draw more power while requiring less rotations of your petals.
If you were to approach a big hill to climb you'd want to shift into a lower gear to reduce the power needed to pedal the bike up the hill. It's the same concept with your vehicle. Both settings will send power to both axles, but switching between settings will allow your vehicle to perform better in different situations.
Full-Time VS Part-Time All Wheel Drive
In some all wheel drive vehicles, all four wheels will be engaged continuously. This is known as full-time all wheel drive. Part-time all wheel drive means that your vehicle will decide when to shift into four wheel drive depending on the conditions—otherwise your vehicle will default to either being front wheel drive (FWD) or rear wheel drive (RWD).
Top 4×4 Vans on The Market
Here are the best 4×4 adventure vans on the market:
1. Mercedes Sprinter
Base Price: $43,500
Roof Height: Low, Medium, High
Driveline: RWD, 4WD
The Mercedes Sprinter van is the gold standard for luxury conversion vans. They come in a diesel and four wheel drive options, as well as rear wheel drive and gasoline.
The engine is strong enough to effortlessly handle a van conversion, and rugged enough for off roaders to hit the trail. They offer the best payload in comparison to other similar vans, and offer top notch safety features.
If you're looking for the best 4×4 adventure van on the market—the Mercedes Sprinter won't disappoint!
2. Ford Transit Van
Base Price: $43,000
Roof Height: Low, Medium, High
Driveline: RWD, AWD
The Ford Transit van is the tallest cargo van on the market. While this van does come in a RWD option, it also comes in an AWD option as well. The Ford Transit is quite a bit more affordable than the Mercedes Sprinter, but offers the most vertical space. This is ideal for taller travelers as well as those who want to maximize storage.
Unlike other foreign vehicles, the Transit also is relatively inexpensive to fix because of the availability of parts and knowledgeable mechanics.
3. Chevy Astro Van/GMC Safari
Photo Credit: Wikipedia
Blue Book Price: $3,800-$6,200
Roof Height: Low,
Driveline: RWD, AWD
The Chevy Astro (also known as the GMC Safari) was discontinued in 2005, but still has a cult following to this day. This beast of a van comes in both RWD and AWD options and features nearly vertical walls making it a fantastic choice for an adventure van.
These vans only come in low top options which isn't ideal for all adventurers, but can be great for solo adventures or weekend travelers.
4. Volkswagen Vanagon Syncro
Photo Credit: Wikipedia
Price Range: $8,000-$40,000
Roof Height: Low, Medium
Driveline: AWD
The Volkswagen Vanagon Syncro vans were in production from 1984 to 1992 and are another series of AWD vans that has a cult following. While these vans are often very old and well used—there are plenty of these vans that have been restored and ready to take on any adventure.
While these vans are incredibly Instagram worthy and great for off-roading—they are quite small compared to most of the other vans on this list. Many of these vans can be found with aftermarket pop top additions to make them a bit more spacious for full time living.
5. Mitsubishi Delica
Photo Credit: DelicaUSA.com
Price Range: $10,000-$20,000
Roof Height: Medium
Driveline: 4WD
The Mitsubishi Delica is a Japanese born vehicle that was named by combining the words "delivery" and "car." This vehicle hit the market in 1968 and is still in production today—though it can be difficult to get your hands on one of them because of strict import laws. Legally this van is only allowed to be imported to the USA once it hits 25 years old and is deemed a "collectable."

If you're lucky enough to get your hands on one of these vans though, you'll be pleased to have a legitimate off-roading workhorse of a vehicle. These vans boast plenty of clearance, a 4×4 transfer case, a low center of gravity, and impressive approach and departure angles.
6. Chrysler Pacifica
Base Price: $48,600
Roof Height: Low
Driveline: FWD, AWD
While minivans aren't typically seen as the pinnacles of off-roading vehicles, the Chrysler Pacifica has earned its spot in the lineup with its sophisticated AWD systems.. This van boasts "stow and go" seating that easily folds down completely flat to clear up floor space.
This minivan is surprisingly spacious and claims you can fit sixty gallons of milk in the trunk area alone. The Pacifica hybrid option also gets an impressive 82 miles to the gallon, making it a great choice for those who travel full time.
7. Toyota Hiace
Photo Credit: Reddit
Price Range: $6,000-$10,000
Roof Height: Medium, high
Driveline: 4WD
Similar to the Mitsubishi Delica—the Toyota HiAce is technically not importable until it hits the 25 year mark.The HiAce is still in production today, but is only widely seen on the streets of Japan. This van boasts the ability to carry up to ten passengers with all of the seats intact.
The best part? The HiAce is equipped with the heavy duty 3L Toyota turbo diesel engine. These vans are technically full sized vans, but built to be narrow enough to comfortably drive down the narrow streets of Japan. This beastly van has been in production since 1967 and is one of the most capable vans on the market, and would make a totally badass adventure van.
What About Converting a 2wd Van Into a 4×4?
Another great option to consider is to convert a 2wd vehicle into a 4×4. There are plenty of companies you can bring your vehicle to that will convert it for you, or you can buy a 4×4 conversion kit and do it yourself. Beware though that both routes can be quite costly. Especially because you'll often need to upgrade more than just the drive train.
Consider the fact that you will most likely have to upgrade the suspension, wheels, transfer case, electronics, differentials, and the list goes on.
How Much Does a Professional 4×4 Van Conversion Cost?
You can expect a professional 4×4 van conversion to start at about $15,000, but could easily end up costing upwards of $25,000 depending on the size of the task. This process involves tons of hard labor and meticulous work to get the job right, and it'll definitely cost you.
Is it Worth it to DIY Your Own 4×4 Conversion?
Whether or not it is worth it to DIY your own 4×4 conversion depends on several factors.
First, you should consider your experience level since this process is highly involved and requires a lot of specialized tools like laser cutters and welders. Second, it's important to consider whether you can make time to fully commit to the lengthy process of converting your van into a 4×4 as well.
You could easily save upwards of $7,000 dollars if you decided to DIY your own van, and it would surely be a great learning experience if you were up to the challenge. You should anticipate your van also needing other components like lift kits for added ground clearance, upgraded suspension, upgraded front and rear axles, etc.
Best Vans to Convert into a 4×4
Here is a list of some of the best vans you can convert into a 4×4 adventure rig:
1. Ford E-Series Vans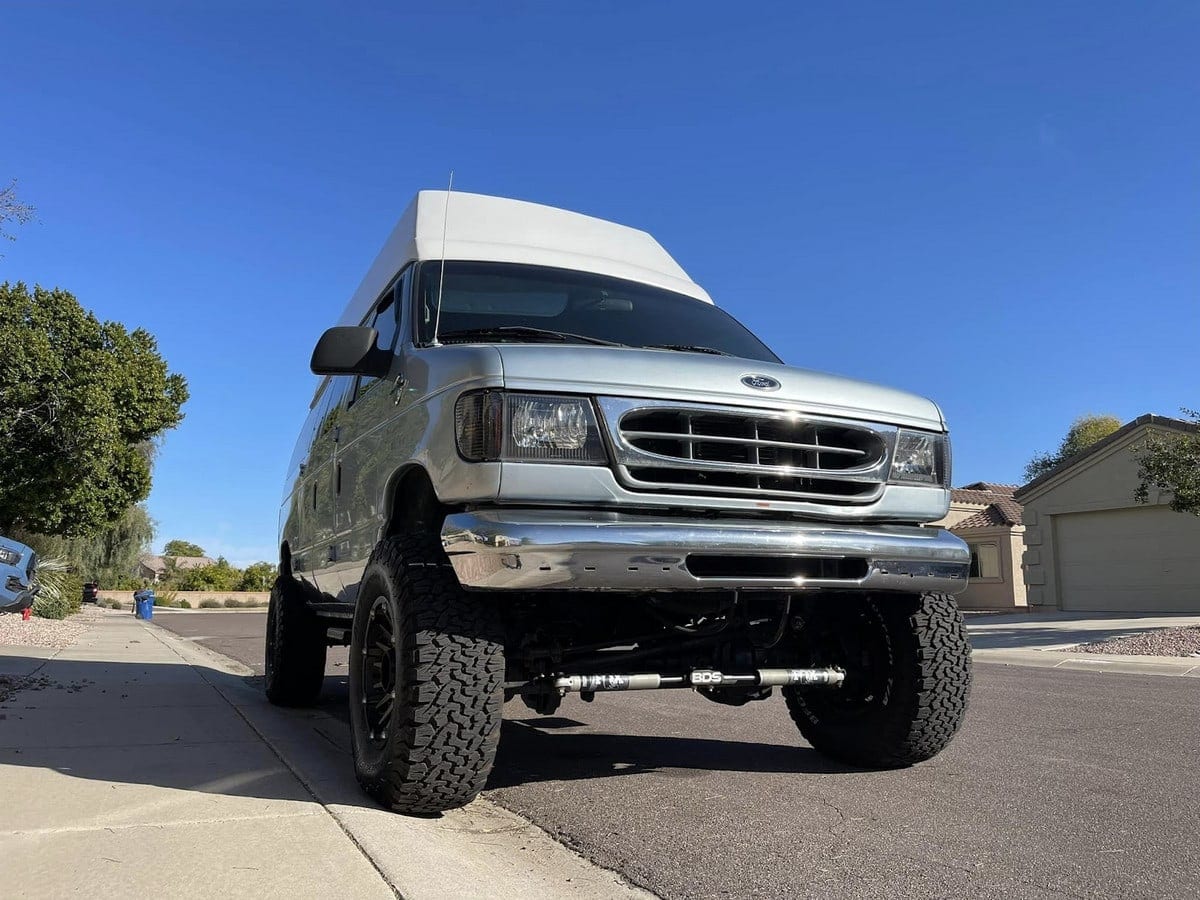 The Ford Econoline vans were in production for 35 years—and for very good reason. These vans are tough and built to last, but Ford never made them with a 4×4 option. Now there are companies like U-Joint Off Road that specialize in making conversion kits specifically for the different models of the Econoline vans.
These kits range from $6,000-$15,000 with optional upgrades as well.
I recently switched from a 2018 Toyota Tacoma to a 1999 4×4 Ford Econoline with the 7.3L Powerstroke engine and beefy 35 inch tires. I recently converted the inside to overland the Americas full-time—follow the adventure on my TikTok or Instagram!
2. GMC Savana/ Chevy Express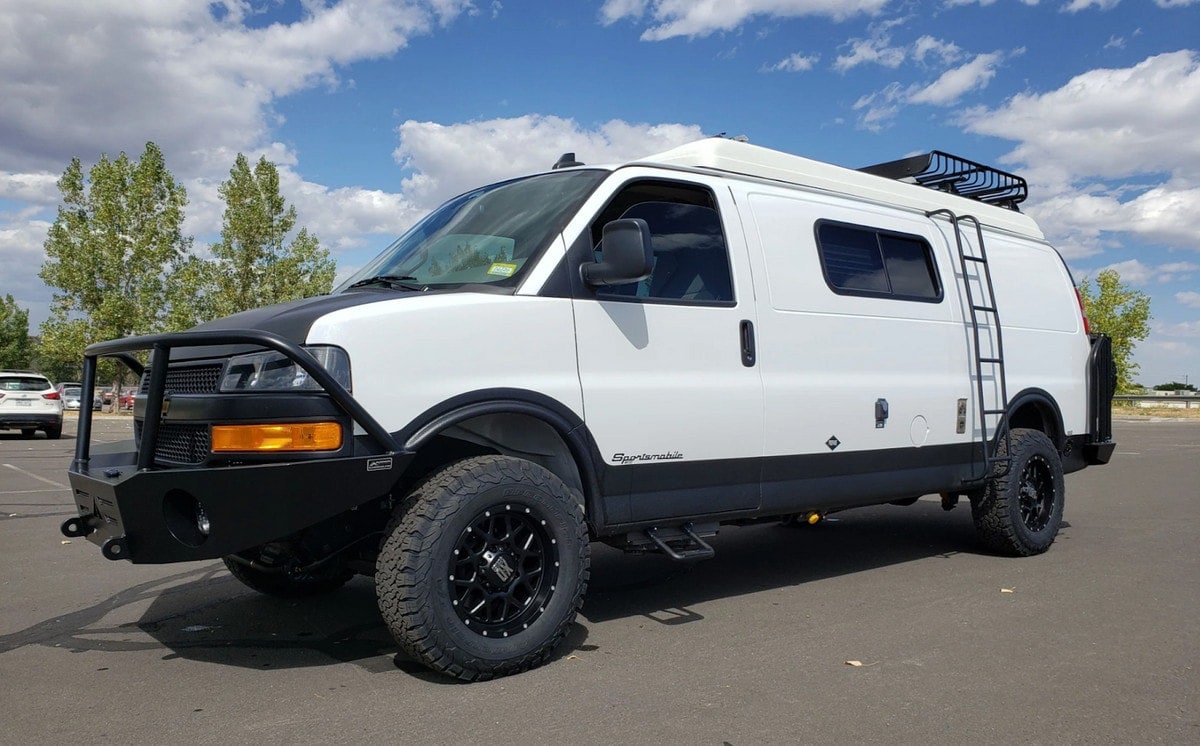 The GMC Savana and Chevy Express vans are essentially the same van but rebranded. They are also the newer versions of the GMC Vandruas and Chevy G-series vans as well. They are fantastic, well built vans that have a cult following behind them—for good reason.
There are a few different companies that make DIY 4×4 kits for these vans. The most popular being Timberline Supply. These kits start at $4,500 and come with everything you need including sway bars, lift kit, and installation manual. They even send you on your way with a "helper kit" that comes with thread locker, zip ties, chassis paint, etc.
On a scale of 1-10 (ten being the most difficult) this company rates this DIY 4×4 conversion kit installation an 8. They also warn that the whole process will take between 35-45 hours to complete.
Other 4×4 Camper Van Alternatives
If you're dreaming of another alternative 4×4 adventure rig, there are a few other options to consider. Here are some other popular choices:
Truck Camper
If you don't want to shell out tens of thousands of dollars for a newer 4×4 van, and you don't have the skills to convert your own—a truck bed camper could be an amazing budget friendly option.
There are plenty of great used 4×4 trucks for almost any budget available, and truck bed campers can be quite affordable as well. The possibilities are seemingly endless, and you'll have the flexibility to traverse tricky off-road trails and camp in some remote places with an affordable rig.
For more ideas and info, check out my guide to the best truck camping setups.
School Bus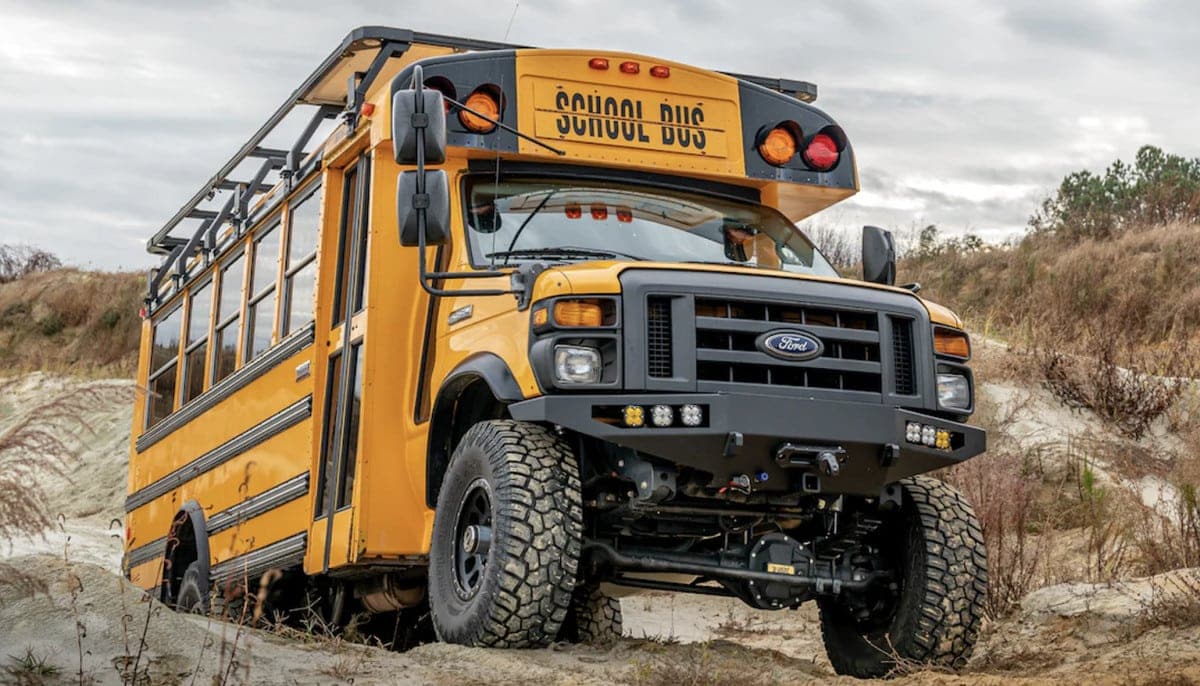 Photo credit: Motor Trend
School buses are a popular choice for adventure rig conversions—and for good reason! Even the smallest buses offer more space than some of the larger full size vans and the nearly vertical walls make building much simpler.
One general downside to school buses is that they're not known for doing well off road, however many skoolie enthusiasts have mitigated this issue by converting their buses to 4×4's. Finding a 4×4 school bus isn't a terribly difficult task. There are plenty on the market that are retired ski resort shuttle buses.
Ambulance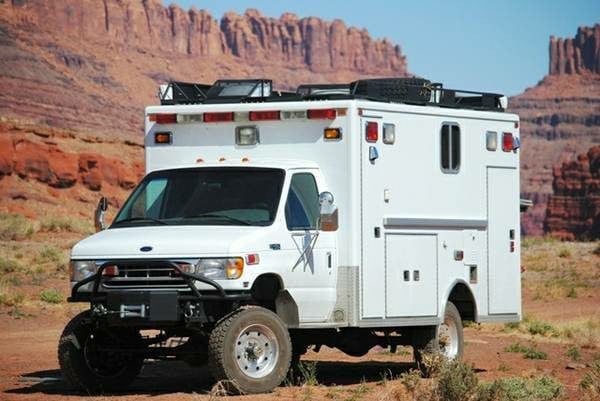 Photo Credit: Ambunet
Another kind of vehicle that is growing in popularity in the adventure rig world are ambulances. There are three main kinds of ambulances that have been used by first responders—one of which is a 4×4! These are known as type 1 ambulances.
Type 1 ambulances are mounted on a truck chassis and have a small entryway between the cab and the main body. Finding a 4×4 used ambulance isn't a terribly difficult task. Ambulances are also meticulously maintained, so you can be sure your investment is worthwhile.
Best 4×4 Conversion Companies
These are the most popular and renowned 4×4 conversion companies:
Sportsmobile 4×4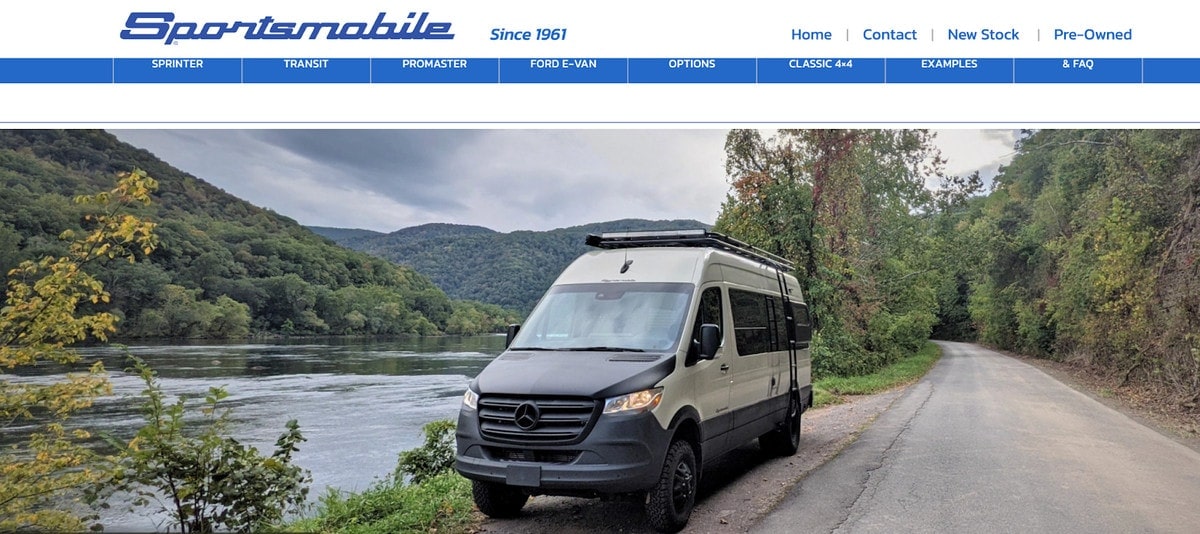 Sportsmobile got their start in 1961 in El Paso Texas. Their first van conversions were mainly old Volkswagen buses and Ford Econolines. They now convert many different kinds of vehicles and are a leader in the adventure vehicle space.
You can bring your own van in to be converted, buy a pre-converted van, or even rent adventure rigs directly through the Sportsmobile site. If you're looking for a partial build—Sportsmobile can do that too!
Quigley Motor Company
Similar to Sportsmobile—Quigley Motor Company has been around since the mid-1960's and is a leader in the 4×4 van conversion space. They convert several different brands of vans, and also have rentals and pre-converted vehicles for sale.
AJ's 4×4 Vans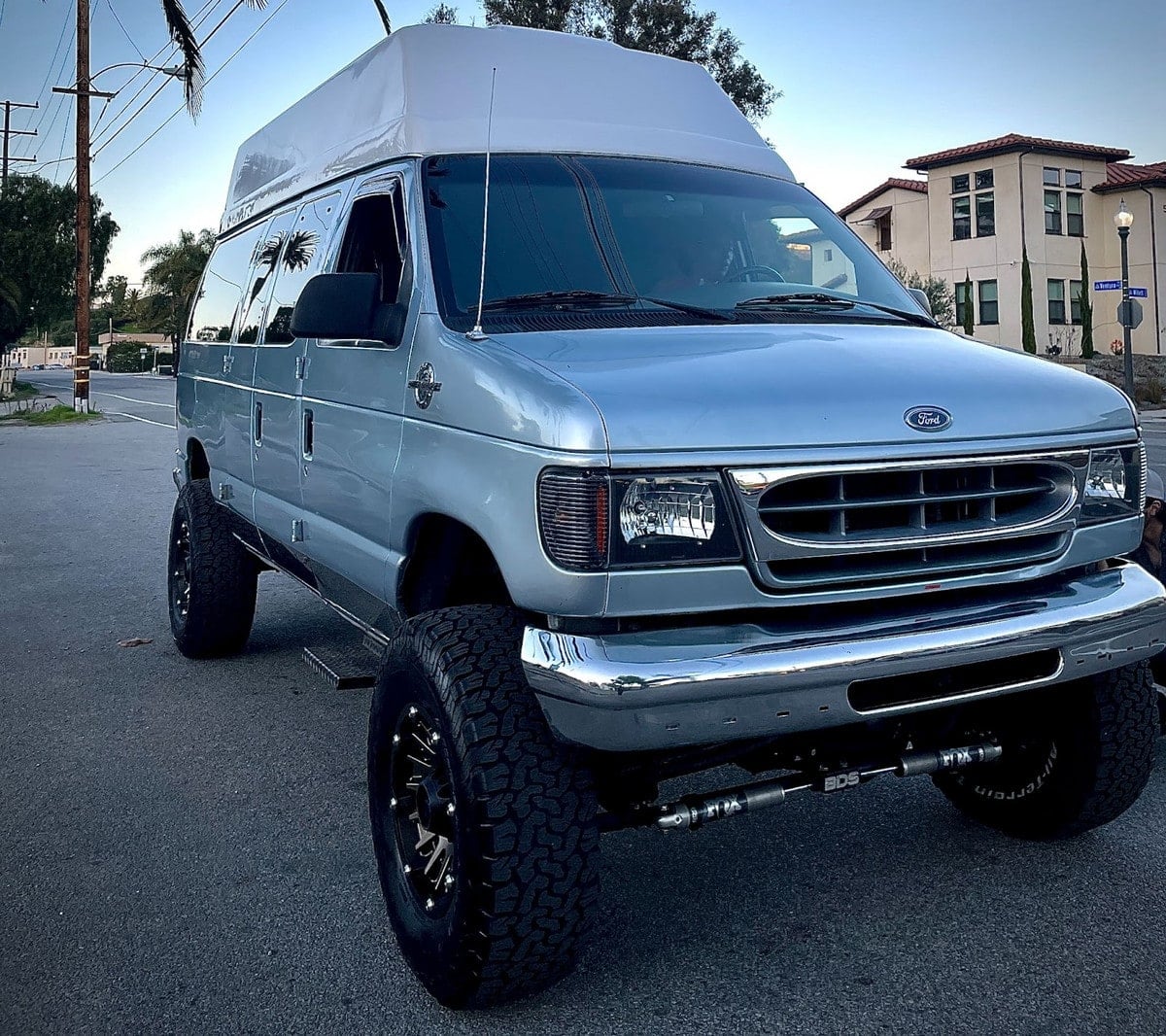 AJ's 4×4 Vans is a smaller and newer company that made their debut in 2014. Not only do they convert vehicles into 4×4's, but they sell other products to help you create the coolest adventure van on the road.
AJ'S 4×4 is the company that converted my 1999 Ford E 350 into a 4×4, and they were incredibly thorough and professional in their processes. Art, the owner, is also very helpful and responsive to questions.
Final Thoughts
Hopefully by now you have a better idea of what route you're taking to create your dream 4×4 adventure van. Cost and time wise, purchasing a vehicle that is already 4WD or AWD is the easiest option, however, we totally understand wanting to convert to a different vehicle.
Related Reading: