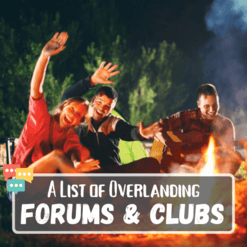 Looking for ways to get involved in the overlanding community? Overland adventures are more fun when you have people to share them with.
Whether you're new to overlanding and looking for ways to connect with the overlanding community or a veteran overlander wanting to expand past local meets, joining an online community can help you learn and get more involved in overlanding.
There are so many great forums, groups, and clubs dedicated to overlanding. From vehicle or region-specific groups to national level clubs with thousands of members, there's a platform for you.
Below we've compiled some of the best of each.
Table of Contents (Click to Expand)
Overlanding Forums
Forums are usually free to use, open to the public, and highly active. Whatever you're curious about, there's probably already open discussions about it online.
Overlanding forums are a great place to start if you want to discuss opinions on the best overlanding equipment, have technical questions about a specific overland vehicle, or to find the best overland routes in an area.
Photo by Blake Carpenter on Unsplash
Expedition Portal
Expedition Portal is a go-to website for all things adventure travel. The site has thousands of ongoing discussions with hundreds of thousands of members on each. Forums are open for everyone to read and if you want to join the discussions, creating an account is simple and free. Expedition Portal forums are organized by seven threads:
Classifieds: For Sale and Wanted
Exploration and Adventure
Expedition Vehicles
Expedition Campers
Expedition Vehicles: Two Wheels
Expedition Support Equipment and Adventure Activity
General and Administration
Overland Bound
A great forum for both members and nonmembers, Overland Bound has over 30,000 active users from all over the world. Here you can have discussions about overlanding in other countries and information regarding visa requirements if that's what you're interested in.
The site has several sub-forums related to overlanding on other continents just in case your overland adventure takes you over land and sea. They even offer a free app–more on that later.
4WD Talk
4WD Talk is another great forum website for overlanding. In addition to community-based forum posts, the website offers how-to's, videos, and reviews on overlanding products.
4WD Talk has also compiled a great list of top recommended vendors of off-roading gear. You can learn more about recommended overlanding gear here.
Tacoma 3G
If the Toyota Tacoma is your preferred overland vehicle, this forum is for you. Tacoma 3G is a forum board specifically for 2016 and newer Tacomas. The site boasts that it's free to join, tight-knit, and beginner friendly
You can also customize the color of the page to match the color of your rig, which is pretty cool.
Interested in the Toyota Tacoma? Here are some of our favorite guides:
Offroad Passport
One of the most comprehensive overlanding forum websites out there, Offroad Passport has several sub-forums about all kinds of overlanding activities.
Most discussions are free to join but the site also offers three tiers of paid memberships that allow access to exclusive content and benefits. Offroad Passport also includes a calendar of events and meetups happening within the organization.
Wrangler Forum
Jeep Wrangler loyalist? There's a forum for that.
Wrangler Forum is a dedicated Jeep Wrangler forum with over eight million posts and 438k forum members. There are sub-forums for every type of Wrangler so you can connect with the overlanding community with the correct vehicle you hope to get advice on.
If you already own an overland vehicle, forums dedicated specifically to your rig are a great place to troubleshoot any issues you might have with your vehicle and discuss the best overlanding gear from people who own the same model.
Other Forums
If you can't find the answers you seek on any of these forums, Reddit threads are another good option to find other information about overlanding or vehicles. You don't have to make an account to read content, but if you want to join the conversation, making an account is easy and free. Start with this broad thread about overlanding with over 175k users.
Overlanding Groups and Clubs
If you're looking for ways to learn and connect with a broader range of the overlanding community, overland clubs are a great way to meet other overlanders in person and get involved with trip planning. You can connect with other members through club-organized meetups and find the best overland routes in your area.
Clubs and groups are usually open to everyone interested in overlanding but unlike forums, most require members to pay dues to support the club and experience the exclusive benefits they offer.
American Adventurist
American Adventurist is a North American club that is free to join and gives members access to an online magazine, forums, and a community of other overlanders.
A main feature of American Adventurist is the events and trips they host. Their "Rendezvous" events are dedicated to giving back to the community and all of the club's events have a focus on friends and family celebrating the outdoor lifestyle.
Image Credit: American Adventurist
Northwest Overland
Becoming a supporting member of Northwest Overland connects you with other overlanders through a super personalized member profile that allows you to access information about meetups, educational clinics, and overlanding trips.
The site also has forums and discussion boards for members to get tips, share trip reports, and post on behalf of other members who request help via a ham radio channel. This makes the club a great one to join if safety is your priority, which it definitely should be.
Overland Bound
Overland Bound made it on both the forums and clubs list. While they offer a free forum board, they are also a great option if you're considering an overlanding club membership. The club is not vehicle-specific so whatever overland rig you have is welcome.
One great benefit of this club is that they have their own app. The Overland Bound One app offers maps and GPS. Another feature, Overland Rally Point allows members to create and promote events or local trips.
Related Reading: The Best Overlanding Apps for Finding Campsites & More
SoCal Overland
Weekend Offroad is a Southern California based overland club so if you're a SoCal local, this club is worth checking out. They host several overlanding trips a year in places like Joshua Tree and Big Bear and seminars teaching emergency first aid.
Weekend Offroad trips are family-friendly, open to every kind of 4WD vehicle, and informative making them a great club for overlanding beginners.
If you're new to overlanding, check out our post about how to get started.
CORVA
California Off-Road Vehicle Association (CORVA) is a group that advocates for public land use in California and hosts several overland trips and events each year for its members.
The organization offers different levels of membership for outdoor enthusiasts, and provides members with a community dedicated to preserving public land use for offroad vehicles.
Rigs and Coffee
If you want to really connect with your local overland community, Rigs and Coffee is a great group to be a part of. It is free to the community and organized by other outdoor adventure enthusiasts.
The group hosts overland community meetups across the country at various locations (usually coffee shops or breweries) for like minded individuals to get together in person with their rigs to experience adventure and community. They also host local group overland trips.
Image Credit: Coffee and Rigs
Offroaders
This site itself is not a club but it's on this list because it offers a compiled directory of dozens of overland clubs divided by region for all kinds of 4×4 vehicles. If you're looking for a club or group more specific to your area, this site might help you find a local overland group.
Other Groups
Last but not least are the classic Facebook groups. The only requirements are to have a Facebook profile and an interest in overland to join this group.
The Overland USA group is a great place to meet and discuss with other enthusiasts on a personal level. The community has 67.5k members, so there's a high chance you'll connect with someone local to you with so many people spread out across America.
It's also a great option if you're new to overlanding; since there's a low barrier to entry, you can explore the overlanding community with little commitment.
Image Credit: Midland USA
More Ways to Learn Overlanding
Adventures are more fun with friends. Overlanding with a group of likeminded people can really fuel your passion for off-roading and take your overland trips to the next level.
Joining an overland forum, group, or club helps you connect to and learn about the community while providing a resource for improving your overland adventures.
Read Next: