Looking for the perfect hard shell rooftop tent to take on an overlanding adventure?
Hard shell rooftop tents are a luxury item for overlanders.
They're more durable and easier to set up than a soft shell tent, plus they provide you with better weather protection and improved gas mileage.
But they are also more expensive.
So to help you avoid wasting money and make the best pick, here is our review of the best hard shell rooftop tents on the market right now.
Table of Contents (Click to Expand)
Best Premium RTT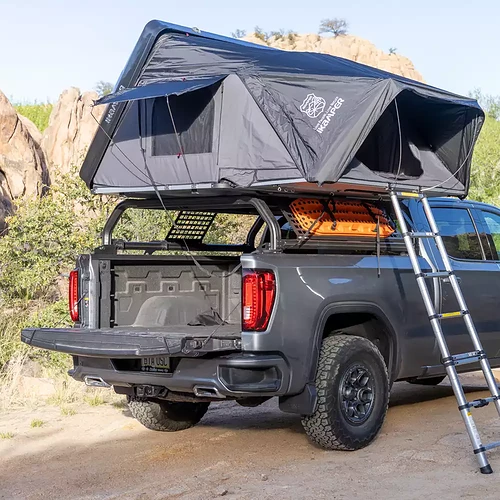 We earn a commission if you make a purchase, at no additional cost to you. We appreciate you!
Our 9 Favorite Hardshell Rooftop Tents
Without further ado, let's dive into the best rooftop tents on the market today:
Best Premium Hard Shell Roof Top Tent: iKamper Skycamp 3.0
Image Credit: Conquest Overload
Price: $4,199
Sleeps: 1 – 4 people
Coming in at number one we have the iKamper Skycamp 3.0! If there's one thing we love about iKamper, it's that they know how to make a really, really good rooftop tent. Not only that, but they listen to their customers and apply feedback into each new model they make.
The Skycamp 3.0 is able to fit on top of SUVs, long sedans, and truck bed roof racks. As we said before, they listen to the feedback they get. With the Skycamp 3.0, you have an improved aerodynamic hard shell that allows for more bedding space inside the tent.
You also get completely reengineered locking latches making this the most secure hard shell roof top tents on the market today. With mounting brackets and an awesome telescoping ladder integrated into the tent's design, you have nearly everything you need! You also get a completely redesigned mattress, the waterproof electronics port, and more.
Can you find a better hard shell roof top tent? We really aren't sure – this is one of the top tents on the market today!
Click here to read our in-depth review of the iKamper.
Best 4-Person Hard Shell Roof Top Tent: Roofnest Condor XL
Price: $3,695
Sleeps: 1 – 4 people
If you're looking for the largest hard shell roof top tent on our list, look no further than the Rooftop Condor XL. Similar to a ground tent, this hard shell roof top tent is able to sleep four people comfortably!
The Condor XL was built to last, too. Its wall is made of a polyurethane-coated polyester and cotton blend with a waterproof rating of 3000mm (for comparison, the typical waterproof rating on backpacking tents is around 1000mm). Because of this, the fabric is thicker and far tougher than your average roof top tent (as well as ground tents). It's able to provide additional warmth and is quieter in the wind thanks to its weight.
Unlike soft shell tents, you're able to add solar panels to the hardshell tent rooftop. That in and of itself makes the Condor XL well worth the investment. Click here to read more about our overland solar setup!
Bonus: Each Condor XL comes with a Roofnest privacy tent as well as a detachable interior LED light that's able to be plugged into any USB battery.
Related Reading: iKamper vs Roofnest—Which Rooftop Tent is Best?
Best 3-Person Hard Shell Roof Top Tent: Roofnest Falcon 2
Price: $3,595
Sleeps: 1 – 3 people
The Roofnest Falcon 2 is one of the slimmest rooftop tents on our list today! Thanks to its aerodynamic shape, you won't have any issues with wind noise or gas mileage reduction.
The hard shell roof is made with aluminum, which we love! Most of the time when you purchase a hard shell rooftop tent, you'll find that they're typically made with ABS plastic or fiberglass. Not only is this tent made with a more durable material, it's able to accommodate roof racks on top.
While we can't say that this is the best rooftop tent (it's up against some pretty tough competition), we can confidently say that it's one of the best rooftop tents on the market today. The breathable top shell, accessory channels on the side, and more make the Rooftop Falcon 2 a great tent for three people.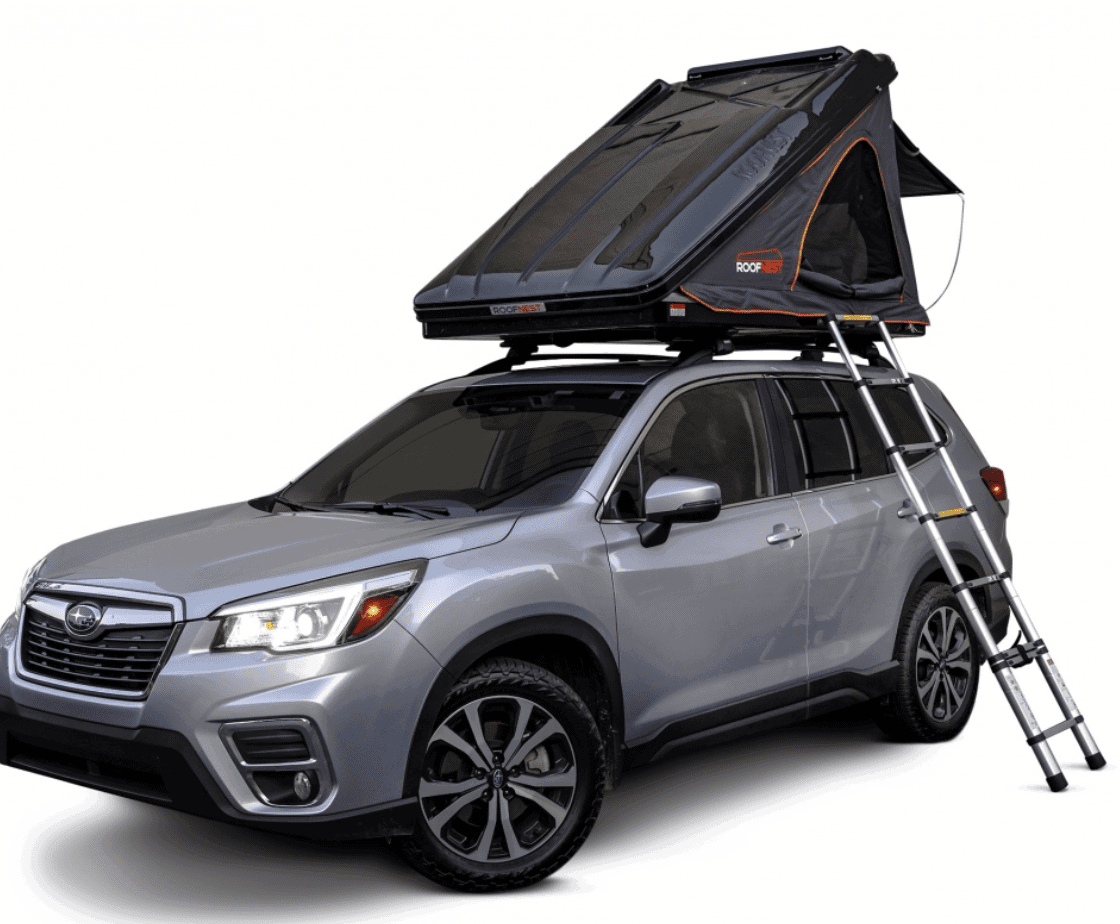 Price: $3,195
Sleeps: 1 – 2 people
The Roofnest Sparrow EYE is one of the best hard shell tents for two adults on our list today. Setup and breakdown take seconds and, thanks to its durable construction, it can handle any weather thrown at it!
Unlike most rooftop tents, the Roofnest Sparrow EYE allows you to bring along your toys and whatever gear you may need thanks to the gear storage on the roof. Thanks to the massive door and side windows, the inside of this tent will stay cool, too!
On top of that, this hard shell roof top tent is made with a fiberglass-reinforced ABS shell that's molded to be aerodynamic for better gas mileage (it reduces wind noise, too).
Inside the tent, you get a foam mattress that goes head to head with your mattress back home, a quilted, insulated fabric, and an anti condensation mat.
We'd recommend this rooftop tent to anyone!
Best Single Person Hard Shell Roof Top Tent: iKamper Skycamp Mini
Price: $3,699
Sleeps: 1 – 2 people
The iKamper Skycamp Mini is an aerodynamic, lightweight, awesome hard shell roof top tent that can fit any car you put it on (even as small as a Mini Cooper)! It's one of the easiest rooftop tents to deploy and with a setup/takedown time of less than a minute, it's easy to see why so many solo travelers use this roof top tent (myself included).
When you open this hard shell roof top tent, the hardshell cover becomes one of the tent's walls (and just so happens to be the only wall without a window). However, this wall isn't boring in the slightest. It's lined with a quilted panel and there's a printed picture of a world map inside, too!
The quilting material helps manage any condensation, while the sidewalls, front of the tent, and ceiling of the tent have canopy windows for airflow and great views. Not to mention, the Skycamp Mini is made from a breathable polycotton canvas and comes with a waterproof polyester rainfly (which you're able to detach for more airflow).
Thanks to there being no vinyl coating on the tent (or the rainfly), you'll notice that less condensation will build up! It's also a quiet rooftop tent in the wind.
Related Reading: The 7 Best Rooftop Tents for a Toyota Tacoma
Lightweight Fiberglass Hard Shell Roof Top Tent: Roam Rambler
Price: $3,399
Sleeps: 1 – 2 people
The Roam Rambler is an incredible rooftop tent and we're thrilled to have it on our list today. The hardshell design is made from a one of a kind ABS fiberglass that features a compact and lightweight design.
The outer body is made using 280g ripstop poly/cotton as well as 100% waterproof fabric that's mold and UV resistant. The interior fabric is crafted with quilted polyester taffeta.
Unlike a soft shell roof, this hard shell is tough as nails and keeps you protected in all weather conditions. The setup/takedown time is incredibly fast, too. In less than 60 seconds your home away from home will be ready to use! The Rambler can be installed on nearly any roof rack or bed rack on the market, too.
Popup Hard Shell Roof Top Tent: BunduTop
Price: $4,235
Sleeps: 1 – 2 people
The BunduTop popup hard shell roof top tent is one of the coolest looking rooftop tents on our list today. It sort of looks like it should be on the ground, but fits a standard roof rack perfectly!
With this hard shell roof top tent, you get a 360-degree view of your surroundings. Not only that, it has two storage pockets on the inside of the tent to help store any small items you bring, an LED light and a cigarette lighter plug that allows you to charge all of your devices from within the tent.
The BunduTop also has solar wiring in case you'd like to add a solar panel or two to the top of the rooftop, too!
Speaking of the hard shell roof top, it's made with a raw aluminum sheet that's efficient at reflecting heat which, in turn, keeps you cool and comfortable inside of the tent even on those hot summer days!
This tent is able to withstand 50mph winds and also holds up well in the snow (unlike soft shell tents).
Clamshell Roof Top Tent: CVT Mt Hood
Price: $3,995
Sleeps: 1 – 3 people
The CTV Mt. Hood features an aluminum clamshell design that's beyond easy to set up. Unlike the typical softshell rooftop tent, this hard shell tent offers better wind and rain protection while tent camping!
We'd consider this to be one of the best hardshell rooftop tents on the market today for a few reasons. Inside this rooftop tent, you have a 3 inch mattress, a quilted ceiling liner that provides extra insulation, plenty of storage pockets on the tent walls, and there's enough space to sleep up to three people!
Like most hard shell tents, the CTV Mt. Hood is built with high-quality materials and lasts for quite a long time. It's a great all-season rooftop tent that we'd recommend to anyone looking for a perfect hard shell roof tent.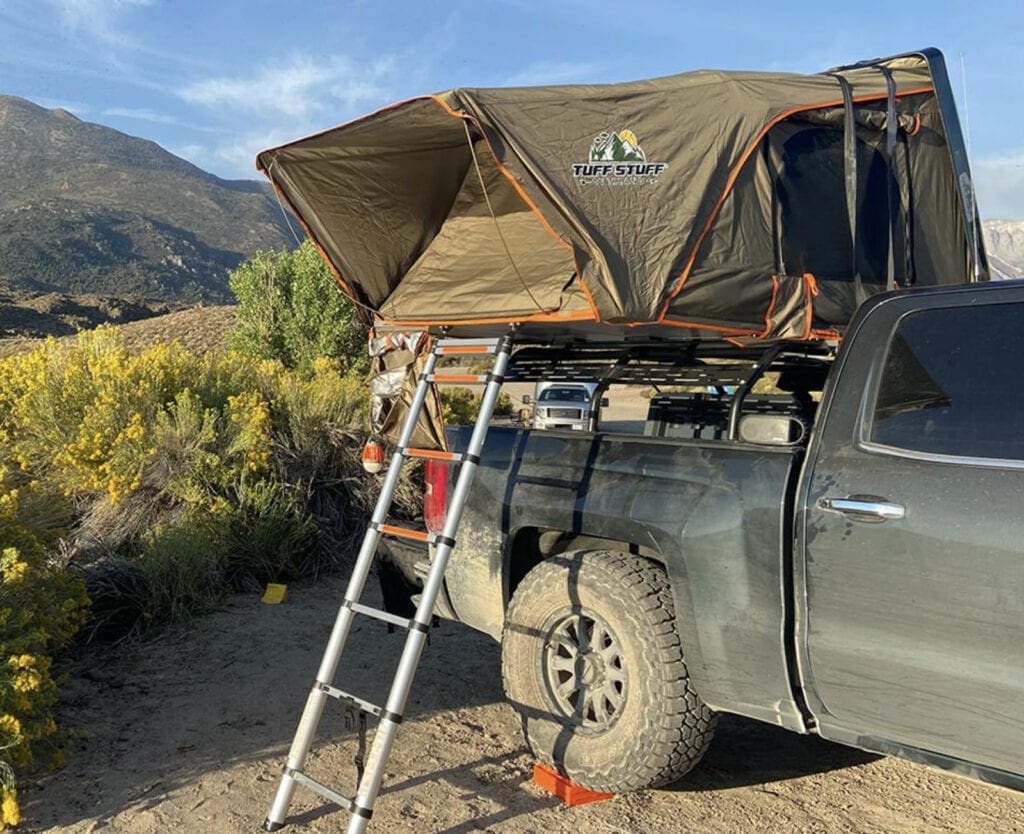 Price: $2,699
Sleeps: 1 – 2 people
While the Tuff Stuff Alpha II is still a bit pricey, it's one of the cheapest hard shell roof top tents on the market today. Made with ABS fiberglass with FRP (fiber-reinforced polymer) for durability on the road.
The tent itself is made from a 280g ripstop polyester cotton fabric and comes with a 210D Oxford polyester rainfly. The rainfly is PU coated to 5000mm waterproofing. If you get caught in the rain, you can rest knowing that the inside of this roof top tent stays dry.
With three window openings, you get plenty of airflow. Not to mention the incredible skylight with a built-in mesh paneling. On top of that, you get an LED lighting system, large awnings over two of the windows that can be converted into rain covers, and more.
When looking for the cheapest (and best hard shell roof top tent), you really can't pass up on the Alpha II.
Hard Shell Tent Comparison
Here's a quick comparison table on the best hard shell pop up tents:
Frequently Asked Questions
Have a question we didn't get to below? Leave a question in the comments and we'll do our best to answer it!
Is It Worth Getting a Rooftop Tent?

If you're able to afford it and travel a bunch as it is (and you're sick of sleeping in a sleeping bag on the cold hard ground), then yes!

If you're not traveling often and/or don't have a roof rack (and no intentions on getting one), we'd say no.
Why Buy a Hard Shell Rooftop Tent?

Rooftop tents allow you to turn nearly any vehicle into a makeshift camper and tend to be more comfortable than your standard ground tent. Not only that, they're incredibly easy to set up and, when you're on your outdoor adventure, they keep you off the ground (which may help you to sleep better).

Unlike a soft shell rooftop tent, hard shell tents are longer lasting, more durable, and some even get you better gas mileage.
How Do You Install a Rooftop Tent?

First, you'll need to make sure that your rooftop tent is compatible with your vehicle as well as your roof rack.

Some of the most user-friendly rooftop tents are made by roof rack companies like Yakima and Thule. You're able to purchase both the roof rack and rooftop tent at the same time and in doing so, you know that you're purchasing a pair that works together!

Other companies require a bit more savvy to install and you may need to watch a few YouTube videos to properly install your new rooftop tent. Here's a quick video you can watch to see what you'll be getting yourself into:

Ikamper Skycamp 2.0 install on Rhino Rack Pioneer Platform

Note: We recommend at least two adults are present when installing a rooftop tent, just in case any problems arise!
We hope you enjoyed this article on our favorite hard shell roof top tents! Which was your favorite? We'd love to hear in the comments below.
Looking for more overlanding articles? Check these out: