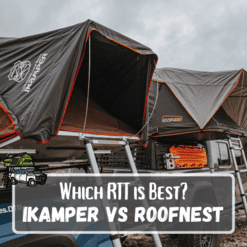 iKamper and Roofnest are two of the best rooftop tent brands in the world. And with so many similar options from each company, how do you choose which one to buy?
I've owned my iKamper Skycamp Mini for over a year now, and my friend who I go camping with has a Roofnest Condor Overland.
I've also done tons of research on and watched videos about the other models, and have gone to many Overland Expos and saw them in person.
Below, I break down everything you need to know about these two brands and their top products to ensure you choose the best rooftop tent for your adventures.
Table of Contents (Click to Expand)
Roofnest vs iKamper: Comparison Table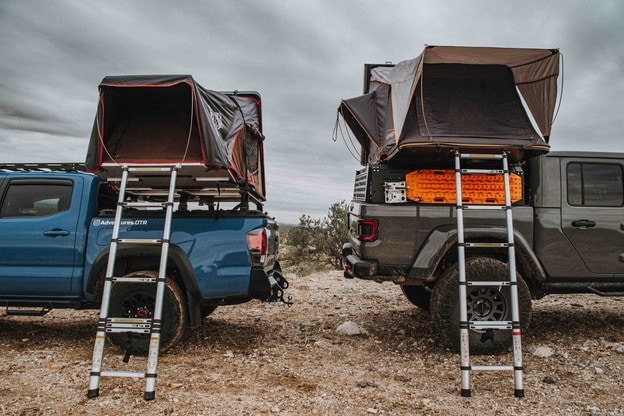 Here is a quick side-by-side comparison of the top products each brand offers:
About Roofnest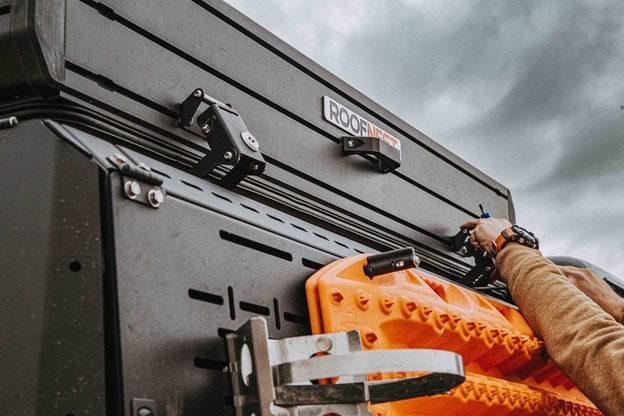 Roofnest was founded in Boulder, Colorado by Tim Nickles. Tim grew up in the Alaskan wilderness and has always had a deep love for the outdoors. Roofnest was a passion project he started to aid in his mission to make the outdoors accessible to all.
After his first experience sleeping in a roof top tent—he was hooked. He realized that camping outdoors can be a comfortable experience, and made it his mission to create products that make sleeping outside convenient and comfortable.
About iKamper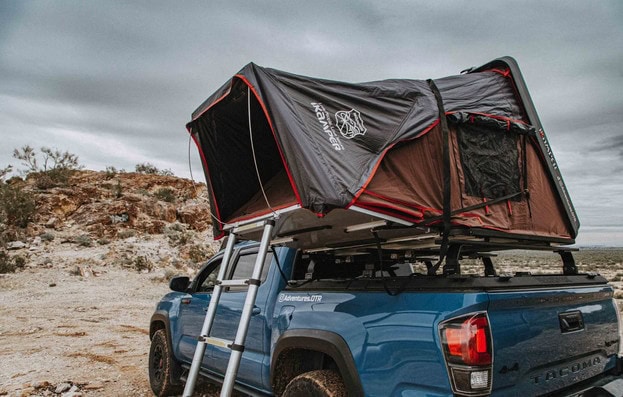 After a three year long adventure across the United States with his wife and two daughters, Soon Park founded iKamper. The family was unsatisfied with the lack of comfort and tedious set up time of a traditional ground tent, so they opted for a popup trailer. This also proved to be a tedious and cumbersome solution.
It was after that trip that Park and his family set out to create the perfect solution—the iKamper Skycamp. This passion project was funded by a highly successful kickstarter campaign that launched iKamper on the map as one of the leading roof top tent manufacturers in the world.
Related Reading: iKamper Skycamp Rooftop Tent In-Depth Review
Roofnest vs iKamper In-Depth Comparison
Here is an in depth comparison of some key differences:
1. Construction Materials
Both Roofnest and iKamper have vigorously tested their products to ensure they are strong enough to withstand rain, snow, heavy wind, and any other weather obstacles that could be problematic while tent camping.
Both brands use reinforced aluminum tent poles in their designs, but they differ quite dramatically in their material choice for the tents. Also, both brands construct both hard shell rooftop tents and softshell rooftop tents. (Read our comparison of hard and soft shell tents here.)
Both brands also include a rubber boot bag that fits snugly on the telescoping ladder when it's being stored, to keep the ladders dirty boots from ruining the tent canvas.
iKamper builds their shells out of a breathable poly-cotton canvas and the rainfly from waterproof polyester. Roofnest uses ABS plastic with an outside layer of ASA plastic for weather resistance. Both brands utilize mesh panels on the windows and doors to help keep bugs out.
Both tent fabric material options include a rain fly and are equipped to keep you dry and strong enough to withstand inclement weather.
However, as far as materials are concerned, iKamper wins.
Roofnest products are manufactured in China, and while they have undergone extensive testing there have been more reports of leaks and damage due to weather. iKamper is a South Korean based company that manufactures all of their products locally.
2. Setup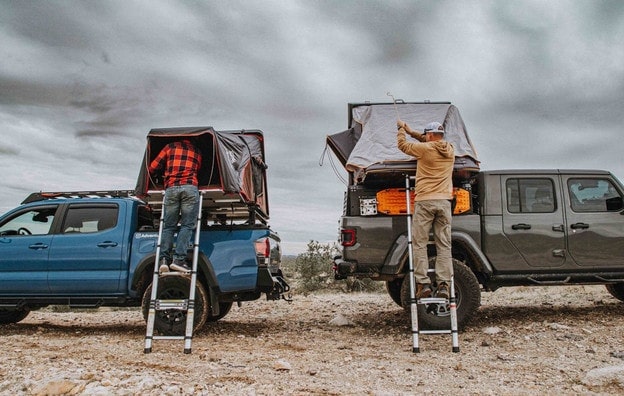 Both companies know the importance of a quick and easy rooftop tent set up time. While both options are going to be outstanding compared to traditional ground tents and backpacking tents, there are some important factors to consider.
First, what we love about Roofnest products is that the setup is overall a little quicker than the iKamper. By quicker, we mean a matter of seconds. Both of the brands competing pop up clamshell tents boast the ability to be set up in under 60 seconds.
Both tent brands have enough space to securely store the telescoping ladders and entry way poles internally. However one thing to note is that in the Roofnest Condor and Falcon lines, the fit of the tent is too tight to store anything other than the tent itself and the ladder.
In the iKamper you have enough space to fit a couple sleeping bags and leftover items. Pillows are too thick to keep inside, but not needing to put sleeping bags away every morning easily makes up for the few seconds lost in the setup of the tent.
Most rooftop tents can be easily set up and taken down, so the difference is negligible.
3. Take down
Both iKamper and Roofnest have similar tear down processes. One of the biggest differences between the brands is that iKamper includes locking mechanisms on each of their tents. However, the Falcon series tents are the only Roofnest tents that come with locking mechanisms built in.
Unfortunately, the other Roofnest series tents require you to separately purchase locking straps that can be tedious to use. They also have to be stored separately which leaves them at risk of getting misplaced.
Also, keeping your sleeping bags in the iKamper saves tons of time in the set up and take down process. The Roofnest doesn't have enough room to store anything else besides the tent body and telescoping ladder.
4. Insulation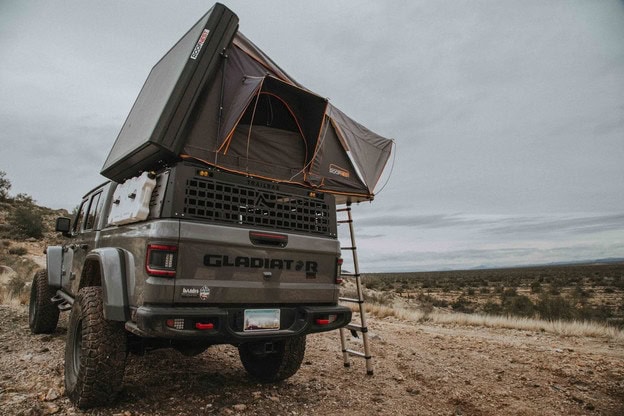 Insulation is important for keeping the temperature of your tent controlled. It helps keep you cooler on hot summer nights, and warm on chilly nights. The iKamper Skycamp 3.0 and the Mini boast the best insulation of any other rooftop tent on the market.
The Roofnest Condor has a quilted ceiling liner on the inside of the hard cover, but the only other notable insulation you'll get in this tent will be in the thick mattress.
If you plan on doing any sort of winter camping, you'll definitely want to opt for one of the iKamper Skycamp tents and consider also purchasing their insulation lining.
5. Mattress Comfort
One of the biggest allures to switching to a roof top tent over a ground tent is getting a better quality sleep. Overall, Roofnest boasts thicker mattresses than iKamper. The Roofnest's mattresses are made from a thick high density foam, and the iKamper uses an air and open-cell foam mattress.
First, as far as thickness is concerned, Roofnest wins. However, iKampers mattress material provides an impressive R-value of 7.8. R-value measures the efficiency of insulation, and an R-value of 7.8 is enough to keep the chill down and keep your body heat in.
Truthfully though, mattress comfort is an area in which both brands could still make improvements. While the addition of a memory foam mattress could increase both the weight and the price, it would also dramatically improve the overall appeal of each tent. Foam mattresses are not ideal to sleep on no matter how thick or insulated they may be.
Virtually all rooftop tents have a poor mattress. You're better off getting an inflatable camping mattress that can be stored inside the tent and blown up when you're ready for bed.
6. Accessories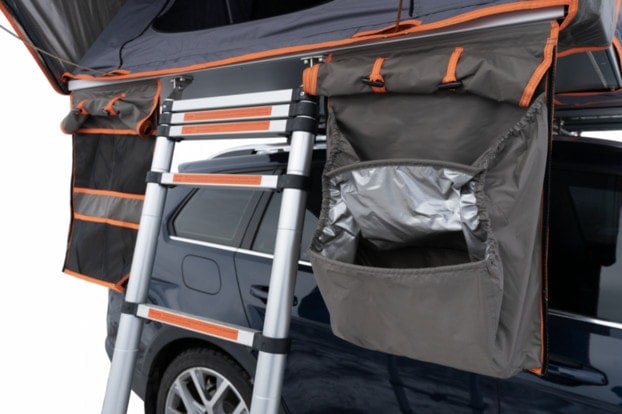 Both brands have some really great accessories that can level up your camping game. Some of the most popular accessories are mattress upgrades, storage solutions, annex rooms, extra insulation, and awnings.
Here is the breakdown of each:
Mattress Upgrades—Each brand makes mattress upgrades for their tents. Roofnest makes a 5 inch thick self-inflating feather bed, and the iKamper makes their "comfort bundle" which includes a self-inflating open-cell mattress that is designed to replace the original mattress.
Storage Solutions—Roofnest comes with shoe storage and accessory storage bags that attach to the outside of the tent. iKamper has several different storage bags and shoe racks available for purchase. We love that Roofnest already comes with these storage solutions.
Annex Rooms—Both brands come with different size annex rooms you can purchase that attach to your roof top tents. While we love the idea of the annex rooms, truthfully, they are much too tedious and bulky to be a practical solution in our opinion. However, if you enjoy staying in one location for multiple days, they are a great way to get out of the sun and keep the bugs out.
Extra Insulation—Rooftop tents get 360 degrees of airflow, much like a hammock. This means insulation is incredibly important for staying warm during the winter. The iKamper tents already come with pretty decent insulation, and the Roofnest has an insulated cold weather cover that can help you stay even warmer.
Awnings—Both brands have different sized awnings you can purchase that attach to your tent. One thing to keep in mind before purchasing is the height of your vehicle's setup. Tents that are higher off the ground will be better suited to accommodating a usable awning.
7. Vehicle Compatibility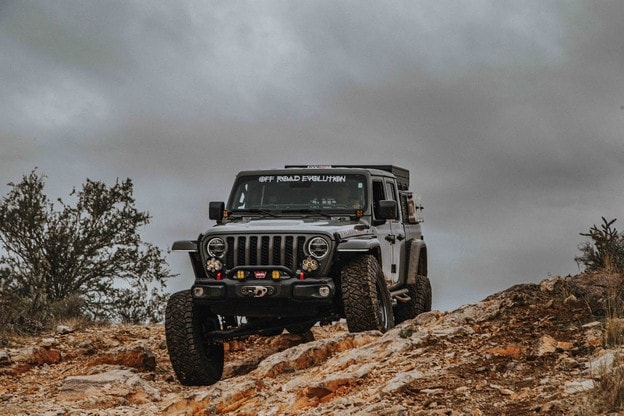 Both brands have tents that are compatible for many different kinds of vehicles. They can be installed on most standard roof racks. The main thing to consider for rooftop tent installation is your vehicle's static weight capacity limit on your car's roof.
Your roof is only designed to hold a certain weight while stationary (static), and in motion (dynamic). Also, truck bed racks are rated to hold much more weight than ones that go on your car's roof. It is critical that you follow the guidelines your vehicle manufacturer recommends to ensure it can withstand the weight you're putting on it.
Both brands have several different size tents so finding one that fits your vehicle's roof rack system and vehicle's roof area shouldn't be too difficult of a task. You'll just want to be mindful of the placement on your car's roof rack because having a rooftop tent attached will most likely affect your gas mileage.
Related Reading: The 7 Best Jeep Gladiator Rooftop Tents
8. Price
The Roofnest tents are slightly less expensive than the iKamper models. They also come standard with more accessories like an integrated led lighting strip, shoe organizers and accessory bags.
Both tents shine in different areas, so choosing the best overall rooftop tent for you will be completely up to personal preference. With the price point differences being just a couple hundred dollars, it'll be worth it to choose whatever tent best suits your needs rather than just choosing the less expensive option.
Which Rooftop Tent Should You Buy?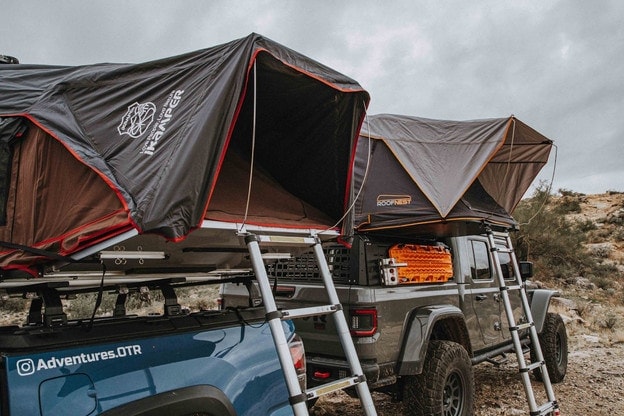 Again, choosing the best rooftop tent for your outdoor adventure is down to personal preference.
Choose iKamper if:
You plan on doing more cold weather camping
You don't want to put your sleeping bags away everyday to save time
You want to keep your tent locked while it isn't in use, and don't want to fuss with aftermarket accessories.
Choose Roofnest if:
You want a larger interior space
You want more accessories (LED light strip, shoe storage, accessory storage)
You want a somewhat quicker setup
While both of these brands make some of the best rooftop tents on the market—they aren't exactly the best budget rooftop tent options. If you want to save money, look into a Smittybilt Overland rooftop tent.
Read Next: