Maybe you're gearing up to create the most rugged and capable overlanding vehicle for weekend trips, or even get into full-time travel.
Regardless, there are tons of incredible tents on the market that will ensure you're getting a great night's rest on your adventures.
Here are our favorite rooftop tents and truck bed tents for the Jeep Gladiator.
Table of Contents (Click to Expand)
Jeep Gladiator Tent Comparison Table
7 Best Jeep Gladiator Tents
Here are some of the best tents on the market that are compatible with the Jeep Gladiator. We have included some for every price point, and ones that fit the needs of many different styles of adventurers.
1. Roofnest Condor Overland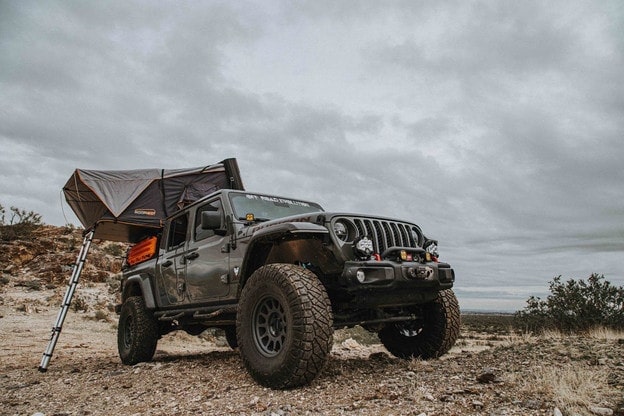 Price: $3,595
Weight: 165 pounds
Sleeps: 2-3 people
The Roofnest Condor Overland tent is seriously rugged and is a fantastic choice for the Jeep Gladiator. It is a hard shell tent that is designed to accommodate 2-3 people and sets up in about a minute. This tent is constructed out of aluminum to keep it both lightweight and durable.
This tent also comes with a mesh screen over each window, and a built-in rainfly to keep you dry even in harsh and rainy weather. There are plenty of accessories that come with this tent such as integrated LED lighting, detachable storage pockets, and a 4×4 ground mat.
2. iKamper Skycamp 3.0
Price: $4,199
Weight: 165 pounds
Sleeps: 4 people
The iKamper Skycamp 3.0 is one of the newest tents that iKamper has added to their line of rooftop tents. iKamper makes several different kinds of hard shell and soft shell tents, but the iKamper Skycamp 3.0 comes with some seriously great upgrades.
Some of the best new special features of this tent is that it includes extra space to store things like sleeping bags in the tent while it is closed. This means set up and clean up can be much quicker—ultimately leaving you with much more time to adventure and explore.
We also love that this tent sleeps up to 4 people. This means you can bring multiple people on your adventures with you.
3. Rightline Gear Truck Bed Tent
Price: $209.95
Weight: 7.48 pounds
Sleeps: 2 people
The Rightline Gear Truck Bed Tent is an incredibly affordable truck tent option that easily attaches to your truck to get you off the ground while you're camping. It comes with color coded poles that make set up easier, and straps that help you keep the tent mounted without needing to drill into anything.
This tent sleeps two people, and sits right in the bed of your Gladiator truck. We love that this tent doesn't require additional equipment such as bed racks, and doesn't require any drilling or invasive mounting. However, you will need to either empty your truck bed before setting this tent up, or plan to just store your gear in the cab.
4. Roofnest Sparrow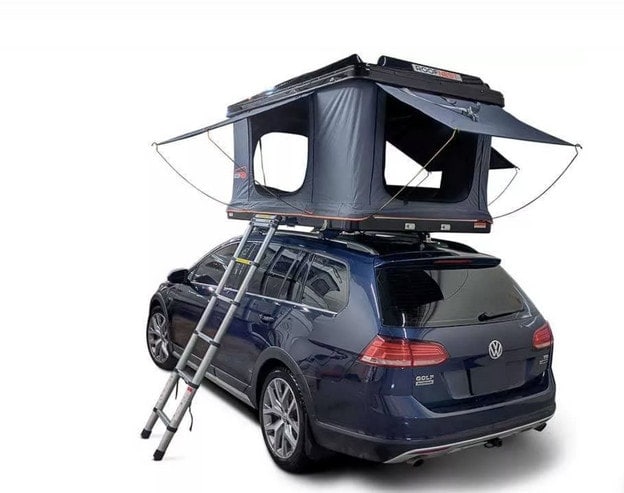 Price: $3195.00
Weight: 130 pounds
Sleeps: 2 people
The Roofnest Sparrow has quite a different design than some of the other rooftop tents on the market. Instead of being a wedge style tent, all four walls sit at a level height. This is the best roof top tent for tall people since the internal height is 7 feet tall.
Another great perk of the Sparrow is that it has plenty of room to store gear such as sleeping bags and even pillows. This is a welcomed change since many of the other Roofnest designs don't allow for this. This means setting up and cleaning up can be much quicker to help you get out on your adventures faster.
5. Smittybilt GEN2 Overlander Tent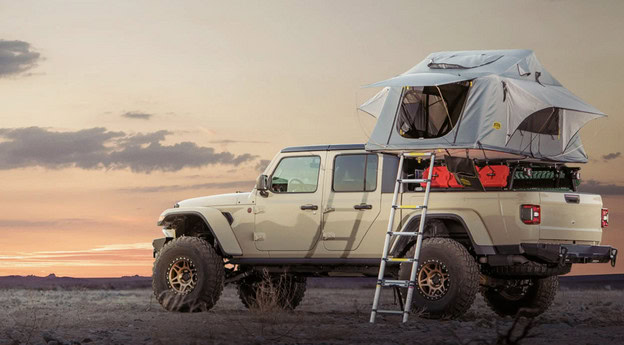 Price: $1,427.99
Weight: 144 pounds
Sleeps: 2-3 people
The Smittybilt GEN2 Overlander Tent is a great overall truck tent. It is quite affordable compared to some of the other options on this list, provides plenty of space inside, and is a fairly lightweight option.
This is considered a soft-shelled rooftop tent, but still boasts great aerodynamics to save your gas mileage. This tent is designed to stay strong in inclement weather, and is fully rain proof to keep you dry in a rainstorm.
This tent also leaves plenty of room to store things like sleeping bags and pillows when not in use, and features no-see-um mosquito mosquito screens over each of the doors and windows. If you're looking for a tent that is budget friendly but still has all of the bells and whistles of the high end tents—this may be the best rooftop tent for you.
6. Thule Basin Hard-Shell Rooftop Tent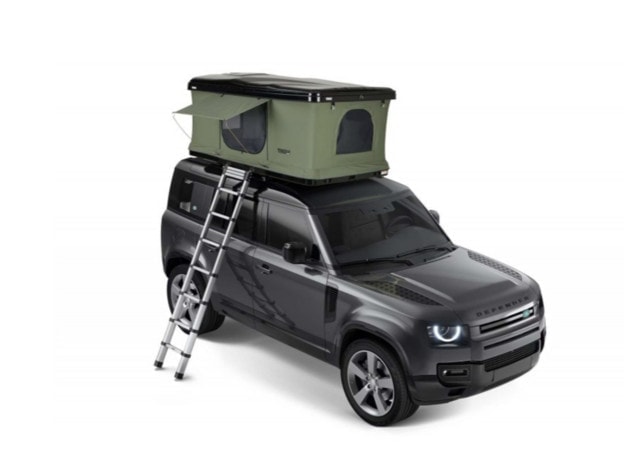 Price: $3,499.95
Weight: 176 pounds
Sleeps: 2 people
The Thule Basin Hard-Shell Rooftop Tent boasts setup in under a minute and pops straight up to create plenty of vertical space throughout the entire tent. This tent is also well-insulated and is rated for all four seasons.
Another interesting feature of this truck tent is that it can be converted into a cargo carrier to help you store more gear. This tent also comes with a built in locking mechanism so you can leave it attached to your vehicle and know it is secure.
Overall this tent is a great choice for those who need extra storage space, and for those who plan on camping in different seasons and weather conditions. This tent is built to withstand all of the elements you could face while camping.
7. Tuff Stuff Delta Overland 2 Roof Top Tent
Price: $1,449,99
Weight: 116 pounds
Sleeps: 2-3 people
The Tuff Stuff Delta Overland 2 Roof Top Tent is a fairly affordable soft shell tent that has plenty of add-ons to give you a customized experience. You can choose to include an annex room, awnings, and even an anti-condensation mat.
Another great perk to this tent is just how light weight it is. The base version weighs just 116 pounds and is perfect for those who want to keep their overall rig weight low. This tent also comes with all of the mounting hardware necessary for installing on any bed rack, roof rack, or cross bars.
This tent also has built-in bug nets over all of the widows and doors, and upgraded zippers to give you easier access in and out while camping. Overall this roof top tent is an ideal choice for those who want a quality tent without paying top dollar, while also keeping their weight low.
Jeep Gladiator Tent FAQs
Here are some commonly asked questions about tents for the Jeep Gladiator:
Is a rooftop tent worth it?
For most people, rooftop tents are a fantastic way of getting you off the ground and ensuring you have a comfortable place to sleep. They are quick and easy to set up and don't require tedious setup like a ground tent typically does.
For an in-depth guide to all of the pros and cons, check out Are Rooftop Tents Worth it? In-Depth Look After 1 Year
Should I mount the tent over the cab or the bed?
While this is completely up to personal preference—your truck's bed is designed to hold much more weight than your cab, and therefore is the better place to mount your rooftop tent. This means you won't have to worry as much about causing damage to your vehicle.
If you're worried about losing storage space, you can always opt to mount a mid-size, or even full size bed rack. This will ensure that you're maximizing your storage space.
Related reading: Are Rooftop Tents Bad for Your Car?
What is the Jeep Gladiator weight capacity for a tent?
The bed of a Jeep Gladiator is designed to hold 1,700 pounds of cargo, while the cab is rated to only safely carry just over 200 pounds of weight.
Can I install a rooftop tent over a Jeep Gladiator camper?
The short answer is yes—although you'll want to double check your camper shell manufacturers guidelines for how much weight it can safely hold.
Should I get a hard shell or soft shell tent for my Jeep Gladiator?
There are plenty of pros and cons to each. While hard-shell tents are typically higher quality, they also come at a steeper price point.
For an in-depth comparison check out Hard Shell vs Soft Shell Rooftop Tent: Which Should You Pick?