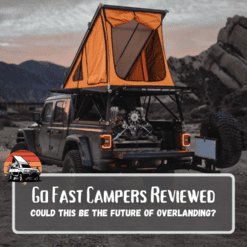 If you've been looking for the perfect solution to turn your truck into a badass workhorse during the week and a rugged overlanding beast by the weekend—you've probably come across Go Fast Campers.
These truck campers are a smart design that functions like a regular truck bed cap, but turn into a platform camper in minutes. There are a few different options and configurations available, and we will do a deep dive into the pros and cons of each below.
Could this modular design be the future of overlanding? We will see how the Go Fast Campers stack up against other options like rooftop tents, truck campers, and even regular truck bed caps to let you decide if this unique design is worth the hype.
Let's dive in.
Table of Contents (Click to Expand)
What Design Options Are Available?
These are the main options that Go Fast Camper offers. Each are different variations and pieces of the platform camper, so you can get exactly what you need.
Platform Camper
Photo Courtesy of @gfc_usa on Instagram
Base Price: $7,700
Sleeping Capacity: 2 Adults + Dog/ Child
Weight: 275 pounds
For those who own a truck and want the full GFC camper experience, the Platform Camper includes both the modular truck topper with the tent.
What I personally love the most about the Go Fast Camper is the fact that the topper and the tent work so seamlessly together—they are a lightweight pair, and the topper can be used like a regular truck bed cap while the tent isn't in use.
The tent can be set up in seconds and even has a "cabana mode" which is created by putting up all of the side panels to provide 270 degrees of shade.
Not only that, but the truck cap is incredibly strong. It has a dynamic roof load of 500 pounds, which means you'll have no issues mounting heavy gear on your roof like kayaks, bikes, or even lumber.
The platforms between the tent and the camper are modular, which means they can be moved around and rearranged to create a standing desk area for working, cooking, or changing.
I've found that in my iKamper Skycamp Mini (and really any roof top tent,) changing was always a struggle. It's possible to change horizontally, but definitely not a preference.
While the price is higher than some other rooftop tent options, you're also getting a high-quality and ultra-durable truck cap, as well as a roof rack. You get the whole package of components that work seamlessly together and create a perfect setup for work and play.
Platform Rooftop Tent
Base Price: $3,999
Sleeping Capacity: 2 Adults + Dog/ Child
Weight: 137 pounds
Obviously, if you're rocking a midsize suv like a 4Runner or even a Jeep, you're not going to need the truck bed cap portion of the package. But you can still partake in the GFC fun and just purchase the rooftop tent portion.
This tent is quite light compared to some of the other popular roof top tent brands. They typically average between 100-220 pounds, and the price is comparable to premium brands like iKamper and Roofnest.
The sleeping space is well optimized and can fit two adults and either a dog or a child. It's essentially the same size as my iKamper Skycamp Mini in which we comfortably fit two full-sized adults and a kid or dog. We aren't very tall humans, but we had plenty of space to spare.
I also love just how small this tent packs down. It folds down flat on your vehicle's roof, which helps keep it aerodynamic and easier to carry other gear items on top as well.
Ultimately, if you're interested in purchasing a great, lightweight, rooftop tent—you won't be disappointed with the Platform Rooftop Tent.
Platform Topper
Base Price: $3,995
Load Capacity: 200 pounds / crossbar
Weight: 135 pounds
If you're in the market for a truck bed cap that can do it all—the GFC Platform Topper is an awesome option.
What we love most about this truck cap is that it is incredibly strong and provides easy access to all three sides of your truck bed. Each of the side panels has gas struts, which allows them to stay open on their own without falling. This also means you can enjoy the perks of "cabana mode" without needing the rooftop tent portion.
The top of the Platform Topper is white and features a honeycomb composite panel that not only reflects solar radiation, but also provides insulation to keep your gear safe from extreme heat. This also is helpful if you plan on camping inside of your truck bed as well.
Also, if you ever plan on upgrading and adding the rooftop tent portion to your vehicle, these pieces will seamlessly integrate and work together as a pair.
Chase Frame
Base Price: $2,100
Load Capacity: 200 pounds / crossbar
Weight: 80 pounds
For those just wanting full-sized truck bed rails, the Chase Frame is a fantastic option that allows you to mount just about anything. This system works with all of their accessories and can instantly increase the capabilities of any pickup truck.
While you don't get the covered storage area of the Platform Topper, you do get a premium rack at almost half the cost.
But what makes the Go Fast Campers design stand out from other truck bed racks?
Each of the Beef Rack cross bars have T-tracks along the top and bottom which means mourning and bolting options are endless.
They even have mounting plates that are covered in E-track slots that provide a perfect universal mourning spot for things like jerry cans, tool boxes, recovery boards, etc.
What Makes The GFC Design Stand Out?
You'll truly never have to worry about Go Fast Campers designs not being able to hold up to daily life. Their design and manufacturing process ensures each product is rigorously inspected, and every detail is optimized to bring you a premium product.
I love how seamlessly each design element integrates together, the accessories are intuitive and easy to use, and they're some of the best looking toppers and tents on the market (in my opinion!).
What Accessories & Customization Options are There?
One of the best things about Go Fast Campers is that they believe that every single component of their products should be repairable. This means that their accessories include replacement parts for all of mounting hardware, brackets, struts, etc.
But they also have some great additions you can purchase to make your setup even more capable like ladders, solar mounting hardware, extra beef rack cross bars, and even fitted sheets.
For a comprehensive list of all of the extras they offer, check out their accessories page.
They also offer an impressive list of different color options for their aluminum panels. You can get bold colors like red, olive green, blue, bronze, and metallic gray. Or keep it classic with colors like black, white, silver, and gold.
What Are The Downsides of The Go Fast Campers?
Photo Courtesy of @gfc_usa on Instagram
So are the GFC products too good to be true?
No, not entirely. They truly are premium products provided by a company that will ensure top-of-the-line customer service to each of their customers. However, the biggest downside to these products is the lead time.
Each GFC product is made-to-order which means it can take upwards of a year from the time you order your product to the time you get to be outside, drinking a cold brewsky and enjoying it.
I'm not the most patient person, so this had me doom scrolling places like Facebook Marketplace and Craigslist looking for a second-hand setup.
Also, we don't love that shipping costs aren't included in the price. Shipping is a flat fee of $750 if you ship to the US (other than Alaska and Hawaii). But shipping internationally can run you upwards of $5,000.
This is steep for shipping—even for domestic orders. This can be a huge deterrent as the price of the products are already premium.
That said, you can always go to one of their locations to pick it up and avoid the shipping cost..
Are Go Fast Campers Worth The Hype?
Plain and simple—yes. Go Fast Campers are definitely worth the hype and truly the only problem we could find from customers were about the sky-high shipping prices and long lead times for products.
They market their products as premium, and you truly receive top-of-the-line gear.
Frequently Asked Questions
Here are some commonly asked questions about Go Fast Campers:
How difficult are GFC campers to install?
Each of the Go Fast Campers products boast a pretty simple installation, but the difficulty can vary depending on your vehicle. For instance, if you drive a 4Runner you'll have to also install an antenna delete.
However, for those who want a hands-off install, they offer install at any of their locations across the US for a flat fee of $175.  
Can you lock the camper from the inside?
Yes, the Platform Camper and Platform Topper can be locked from both the inside and the outside for additional security.
How much weight can the roof hold?
The roof of the Platform Camper and Platform Roof Top Tent can hold 75 pounds.
However, you can also add Beef Rack crossbars that can hold up to 200 pounds of dynamic weight each. These attach to the frame of the tent and don't damage the softer roof.
Where is Go Fast Campers based?
Their main warehouse is located in Belgrade, Montana, but they have a total of 8 different locations across 5 different states.
Final Thoughts
Overall, we really can't recommend the Go Fast Camper's line of products enough. They have poured their hearts into bringing their customers the most premium and thoughtfully designed products they can.
While we wish the lead times were quicker and the shipping costs were lower, the products themselves are truly some of the best on the market. It should be no question that they won't hold up to all of your work and overlanding demands.