Ready for an overlanding adventure but have a tight budget? You may want to look into a DIY overland camping trailer!
In this article, we're going to talk about how to build an off-road trailer, how much it may cost to build one, and showcase six of our favorite DIY off-road trailer plans we've seen.
Ready to dive in? Let's go!
Table of Contents (Click to Expand)
How to Build an Overland Camping Trailer
Let's say you're ready to upgrade your camping experience and you're ready to build an off road trailer. You want something that's good for overlanding, but how do you start?
What do you need to do in order to build your own off road camping trailer? In this section, we'll go over all the details step by step. Let's not waste any time!
Step One: Purchase a Steel Folding Trailer Frame
Image Credit: YouTube
While folding trailers come in many sizes, I would highly recommend grabbing the Ironton 4ft. x 8ft. Steel Folding Utility Trailer Kit. With a length of 135" and a width of 62 ¼" when completely assembled, you have more than 11 feet to work with!
Not to mention, it's more than 5 feet wide, meaning you should be able to sleep two people comfortably in your off road trailer (should you choose to build this trailer for two).
The payload capacity is 1170 pounds and has a 1400 pound max GVWR. This should be more than enough weight needed to build your own camping trailer (as well as any additions you plan on adding)!
Once you have your trailer frame, it's time to start building!
Step Two: Build Your Floor, Cabin, and Roof
This part can be a bit tricky, so we thought we'd add in an awesome trailer build really quick:
While the video above shows you how to build a teardrop trailer on top of a trailer frame, the camping trailer can look however you'd like it to (we'll get more into that in just a few sections).
You could follow that YouTube video step by step, or you can measure out how much wood you'll need for your specific off road trailer build. Regardless of the route you plan on taking, here are some things you'll need:
A plank of wood that's at least ½ an inch thick for the floor
Bolts, nails, and washers
Rubberized coating
Waterproof coating (for the underside of the camping trailer)
Plywood for both the cabin and the roof
Aluminum panels
Here's part two to the video we just shared – in this video, they go over how to add the aluminum panels and fully assemble their off road trailer build!
Step Three: Add Wiring and Insulation
Again, this can be quite tough to do without visuals, so here's a great YouTube video:
Adding electricity to your vehicle will definitely require some electrical expertise. If you are not comfortable working with electrical wires, find a professional who is able to help you.
This way, it's done once (and done correctly). Some of the things you may need to include are:
A switch/fuse panel
Wall sockets (to plug in your appliances)
A deep cycle battery
Installing these things will take a bit of time and, if not done correctly can be very dangerous.
Insulation, however, can be done by anyone! I recommend you purchase some thermal insulation from Amazon. It's lightweight but lasts for a very long time! Not to mention, it's waterproof and Astm Certified Class 1 Class A Fire Rated!
Step Four: Finish Your Build!
You've made it to the last step! Congratulations on your new off road trailer build.
Here's where you should ask yourself what you want inside of your trailer. Do you want a bed? How about a stove?
Once you've answered these questions, you're able to move forward with your build and finally take your camping trailer out into the great outdoors!
Adding a bed could be as simple as blowing up an air mattress when you're ready to sleep and storing it when you're not using it. Alternatively, you can use a folding cot.
If you want to install a stove into your off road trailer, but aren't sure if it's a good idea, check out this great YouTube video:
If you ask us, we'd much rather use a propane stove or use our Solo Stove while camping.
Now that your hypothetical off road trailer is built, you might be asking yourself…
How Much Does it Cost to Build an Overland Trailer?
Image Credit: BRX Trailers
The answer to that purely depends on what materials you use, the trailer frame you choose to purchase, and any extras you want to add.
For example, the Ironton Steel Folding Frame we recommend costs around $550. When comparing that to pre-built camping trailers that can run anywhere from $10,000, you're saving a ton of money! If you want to build an off road trailer with walls and a roof, you'll have to purchase the wood and aluminum panels for the whole build. Depending on how large you plan on making your trailer, you may spend more than you were originally thinking.
However, you could just build some storage compartments for your camping gear and place a rooftop tent on top of your build (if you purchase a roof rack, that is). Having a tent mounted onto your build may serve you better than four walls and a roof.
Camping trailers vary and they don't need to look identical to be considered an off road trailer. Let's look at some DIY overlanding trailer plans now.
6 DIY Overlanding Trailer Plans
Without further ado, we're excited to show you some awesome off road trailer plans! From a converted utility trailer to an offroad teardrop camper, we've got some great examples!
1. Ovrlnd East – DIY Trailer Build
Image Credit: YouTube
This trailer build is seriously impressive. Between the axle swap that gave this trailer about 16" of clearance off the ground (compared to the 13" prior, all thanks to swapping the trailer's tires) to the built frame and rooftop rack for their rooftop tent, we were fixated on this off road camper build from the second it started!
This trailer alone shows you that there are plenty of ways to customize off road trailers (and with this build, you can use a jeep, truck, or large SUV as the tow vehicle).
You can watch the full process here:
2. Paclite DIY Off Road Camper
Image Credit: Tiny House Talk
While whoever submitted this off road utility trailer to Tiny House Talk was anonymous, they made sure to include images and the details from their build.
This off road camper weighs 1,280 pounds and can be pulled by a 4 cylinder vehicle. It took the family nearly 6 months to build and is packed with all the essentials (including a TV, DVD player, microwave, and so much more).
With a door on each side that doubles as windows, the family is able to get out of this trailer at any time without disrupting anyone. Here are two images that show what this looked like before it was built:
Image Credit: Tiny House Talk
Image Credit: Tiny House Talk
All in all, this is one of the coziest off road trailers we've seen yet!
3. 1930s-Style Teardrop Camper Trailer
Image Credit: Makezine
This off road camper looks incredibly simple, but offers everything needed for a camping adventure.
With a bed installed over the wheel wells (and a hidden storage compartment inside of the bed), an outdoor kitchen with a four burner stove, and so much more, you can tell that the off road trailer plans for this off road camper were carefully thought of and well executed.
Here are two images showing a bit of the interior as well as the outdoor kitchen:
Image Credit: Makezine
Image Credit: Makezine
We love the retro colors used in the kitchen – the blues and yellows along with the tan oven bring us back to the 70s!
4. The Boony Stopper
Image Credit: YouTube
This offroad trailer is a Sunnyside Boony Stomper (which you can purchase for about $2,500 here). However, this particular model was custom made by the owner and we absolutely love what he did to his trailer!
He added on a spare tire carrier (which houses some of his overlanding camping gear), extended the front with a lock and roll hitch, and added a full-size memory foam bed to the interior of his trailer!
He also has some solar panels on top of his trailer. All in all, this DIY off road trailer is one of our favorites (and the black adds a nice touch).
5. DIY Micro Camper Build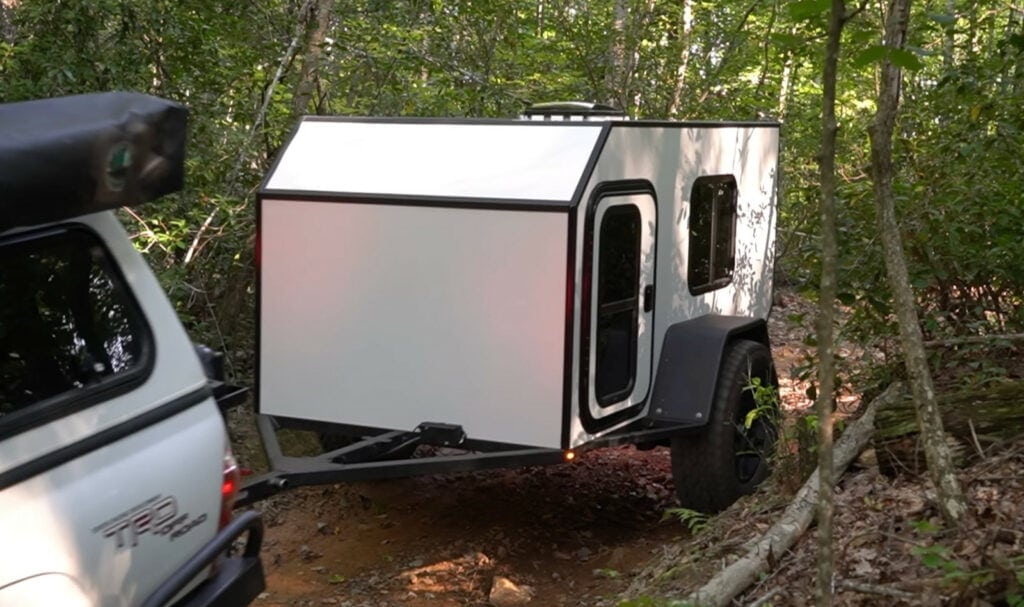 Image Credit: YouTube
This DIY Micro Camper is simplistic, but incredibly cool.
Inside this camper, you'll find a coat hanger to keep things off of the floor, LED hook lights (on a dimmer switch), a max air vent fan, bed, and more!
Check out this video to see a speed build of this trailer:
6. Unique DIY Trailer Build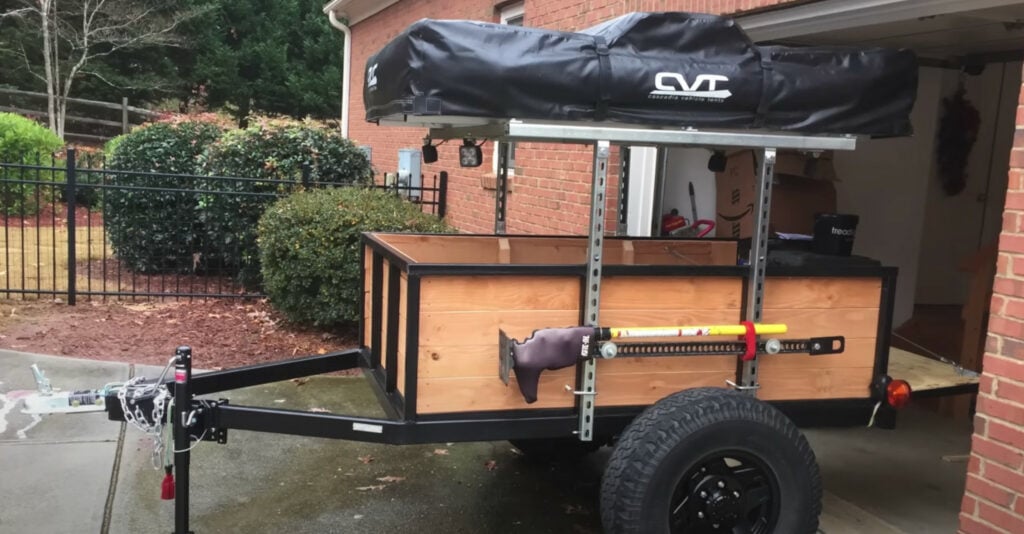 Image Credit: YouTube
Last, but certainly not least, we have this very unique looking build.
With the CVT Mt Rainier Roof Top Tent on top of their roof rack and plenty of storage space on the bottom, we'd say this build is ready for any unplanned trips in the future!
Here's a picture with the tent deployed (and the storage area filled):
Image Credit: YouTube
Here's a video you can watch to see the entire build:
Final Thoughts
And there we have it, six awesome DIY Overland Trailers that you can build yourself! We'd love to know which trailer was your favorite from our list and if you'd ever consider building a DIY off road trailer in the comments below.
Looking for more overlanding articles? We've got you covered: