For truck owners and lovers, hauling stuff around is the name of the game. Whether it's moving a mother-in-law, helping a friend with a project, or hauling a camper, the bed of a truck is always in need.
The addition of a truck bed trailer might be the DIY project you've been looking for.
What makes truck bed trailers so appealing to those looking for an addition to their truck is the inexpensive price tag. With numerous car-selling outlets these days, you can easily find a truck for next to nothing that can be easily modified to add a truck bed trailer.
Once you have the truck, follow the simple step-by-step process, and you have a new trailer.
With conversion projects like this, which involve modifying an existing vehicle to become a utility attachment, you may not know where to begin. We have provided answers to some of the most frequently asked questions about truck bed trailers so that we can get you hauling more goods in no time.
What's a Truck Bed Trailer?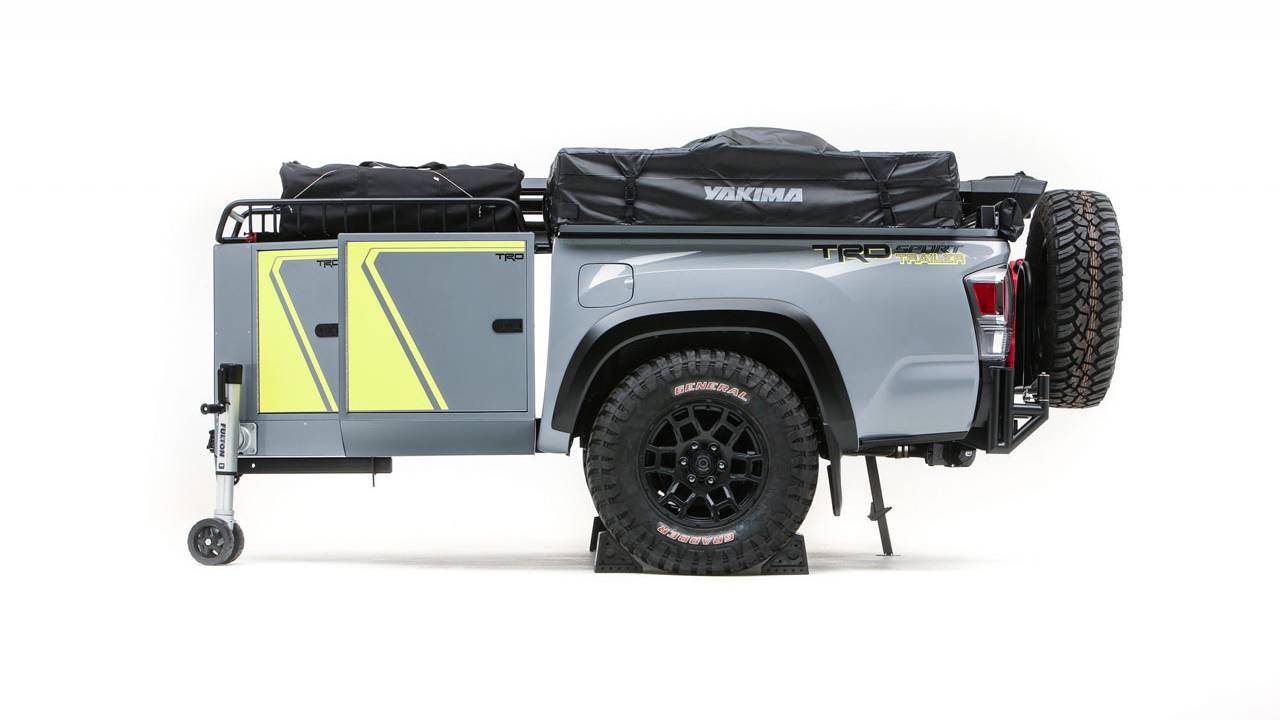 The truck bed trailer, sometimes called a truck box trailer or pickup bed trailer, is a modified pickup truck bed that is separated from its cab so that you can hitch it to the back of your existing truck for trailer hauling. 
Related Reading: 6 Awesome DIY Overland Trailer Plans & Guides
How Do You Make a Truck Bed Trailer?
Removing the bed from an existing truck requires solid automotive knowledge and the proper tools to do the job.
Simply put, you remove the cab, or front end, of the truck and keep only the rear end, also called the truck bed. This requires some expertise. Once removed, weld a hitch to the truck bed for easy towing.
How Much Does a Truck Bed Trailer Weigh?
Most truck bed trailers range from 1,000 to 1,200 pounds, though this varies depending on the size of the truck you modify to make the trailer. To be sure, check the truck's specifications for more accurate weights. If you do not have that information for the vehicle, you can find it online or at a local dealership.
Are There Any Downsides to a Truck Bed Trailer?
A significant downside to the truck bed trailer is the weight compared to other trailers. They are often heavier than traditional trailers, and some trucks cannot sustain the weight of towing a hefty pickup box trailer. Also, the body panels are often wider than the track width, which may cause trail damage from usage.
Most truck bed trailers are not equipped for off-road travel, which is an important factor to consider when building one. What is the primary purpose of the trailer, and where will you be traveling with it? If your needs for the trailer include traveling down dirt roads or even off-road, you may consider other options than the truck bed trailer for your hauling needs.
Final Thoughts
If you need a trailer to haul your goods around and want a new project, then look no further—the truck bed trailer may be the right job for you. This inexpensive and adaptable piece of equipment will give you the added hauling space you've been looking for. So. whether your need for the truck bed trailer is personal or professional, you can't go wrong with this fun project.
Get out there and build yours today!