Are you looking to revolutionize your camping shower set up?
Maybe you're traveling full-time and tired of shower tokens and slimy gym shower floors.
Luckily, there are tons of amazing shower options on the market that will ensure you never have to search for hours trying to find a nice hot shower again.
Below we lay out all the best shower options for your camping needs.
Camp Shower Options: Solar, Electric, or Propane?
When it comes to a portable camping shower, you have three options for hot water:
Solar-heated
Electric-heated
Propane-heated
Each has its pros and cons, from pricing to portability to how much water is needed.
Do you have plenty of power to spare on an electric shower? Or are you pinched for space and looking for something smaller and more portable? Maybe you are hoping to install a permanent shower station right on your rig?
Start asking yourself how much water you will have to use, whether you'd like to install a permanent fixture or keep things portable, and what your budget is.
Below we break down and compare the best camping shower options available:
Best Solar-Heated Camping Showers
There are tons of solar-heated camping showers on the market today. They are typically the smallest and lightest options available. Solar heated camping showers are overall less expensive, but free of all the bells and whistles.
Solar-heated showers are perfect for those who wish to keep their set up simple and not dip into precious power or propane supply. However, they do require direct sunlight to warm the water, so they're not for everyone.
The top solar-heated showers available are:
1. Yakima Road Shower
The Yakima Road Shower stands out from all of the other options on this list because it's mounted to the top of your vehicle roof and heated by the sun.
This camping shower comes in 3 sizes—4 gallons, 7 gallons, or 10 gallons.
Unlike the other pressurized showers on this list, the actual reservoir of this shower is pressurized beforehand through a schrader valve. It can be pressurized by either a hand pump or electric pump.
This shower comes with a thermometer so you can monitor the temperature of your shower as it gets heated by the sun.
The Yakima Road Shower also comes with a lock so you never have to worry about theft, and is compatible with all Yakima cross bars. It can also be used on non-Yakima racks with a little extra effort.
When completely empty this shower is just under 20lbs, but completely full ranges from 53lbs-120lbs.
You can also make your own version of this if you're a DIYer!
2. Nemo Helio LX Pressure Shower
Some of the biggest allures to the Nemo Helio pressure shower LX is that it is portable, doesn't need to be hung up, and uses a foot pump to produce water pressure. It boasts its ability to provide a pressurized shower for 7-10 minutes.
One important thing to note about this shower is that it is warmed simply by placing it in the sun. This is great for places where the sun is hot, but has no way of drawing heat if there is no heat available.
Another option is to pre-warm the water—either over a fire or camp stove or with an electric kettle—and place it in the 5.8 gallon tank before your shower.
The Nemo Helio pressure shower is ideal for those who desire a portable camping shower that is lightweight, affordable and easy to use.
3. Advanced Elements Summer Shower
The Advanced Elements Summer Shower comes in 3 sizes— 2.5 gallon, 3 gallon, and 5 gallon bags. The 3 and 5 gallon options come with a solar panel on them to help heat up the water.
This outdoor shower does require a secure place to hang up outside. Gravity is the only way this shower gets water pressure, so if you prefer a high pressure shower, this probably isn't the best option for you.
The Advanced Elements Summer Shower is an ideal choice for those wishing for an easy, affordable and simple camping shower setup.
4. Sea to Summit Pocket Shower
The Sea to Summit Pocket Shower is technically not a solar panel powered shower. Just another option that requires the sun's rays to heat the shower bag. This may not be the best option for those traveling in a colder climate and hoping for a hot shower.
Again, this is a gravity shower, meaning you'll have to find a secure place to hang it up such as in a popup tent, tree, or side of a vehicle.
As far as lightweight and compact portable camping showers go, the Sea to Summit pocket shower is only 5.25 ounces empty and can hold up to 10 liters of water. This will provide you with about ten minutes of shower time.
5. Coleman Solar Shower
The Coleman Solar Shower is another bag option that requires gravity and a warm sun to heat the PVC water compartment that provides a super simple shower.
If space, weight, and simplicity are your biggest factors in deciding which solar shower to choose,this option may be the best for you.
Best Electric Camping Showers
Electric camping showers come in both battery operated and rechargeable options. Although there are very few completely electric options that are heated—many can still technically be heated beforehand by either a jetboil or kettle.
Electric showers are great options for those who like reliably pressurized showers. They are ideal for cleaning off pets, shoes, cars, boats, and anything else that requires water pressure.
The top electric water systems are:
1. Geyser Systems Portable Shower with Heater
The Geyser Systems portable camping shower is different from some of its competitors in that it is able to give users a full shower with less than a gallon of water. It is also the only fully electric heated portable camping shower.
Instead of having a regular shower head, it has a sponge on the end. There are two options available— the heated option and the non-heated option. The version that does not have the heating element is able to be manually heated with a jetboil or kettle.
This shower is perfect for those who wish to conserve water while on the road.
2. Ivation Portable Shower
The Ivation Portable Shower is a staple for many outdoor enthusiasts—and it's easy to see why. It recharges in an hour and can turn any bucket or bag of water into a shower with great water pressure.
One thing to note is that although it is electric, there is no heating element in it. If you'd like to take a hot shower, your water will have to be preheated beforehand.
This shower does not come with its own water reservoir. Instead, it just requires either a bucket or shower bag and the shower head pulls the water through. One charge can provide an hour of water pressure.
3. Kedsum Portable Camp Shower
The Kedsum Portable Camp Shower stands out because it comes with two batteries (up to 120 minutes of use) and has a regular shower head and power wash attachment for added versatility.
This camping shower is incredibly lightweight and portable as well. Again, this portable camping shower only provides pressure, and requires heating from a separate source if you want it hot.
This outdoor shower does not come with a water reservoir. Instead, it draws water from a separate bucket or sink and uses 1 gallon per minute of use.
Best Propane-Heated Camping Showers
Propane-heated camping showers give the most reliably hot camping shower you can find. If the idea of being able to take a consistently hot shower is the most important thing to you—a propane heated shower may be your best option.
These showers do tend to take up a bit more space and require more setup to use. Also keep in mind that you will not be able to cook while the shower is being used—unless you're willing to bring along two propane tanks or a Y connector.
The best propane-heated camping showers on the market are:
1. Camplux Pro Series XL
The Camplux Pro Series XL is a tankless, propane-heated shower system that is powered by D batteries. It can output 1.32 gallons of water per minute. For those that want a highly pressurized and hot shower—this option may be best for you.
This shower system can be heated up to 114 degrees, and comes with an anti-freezing protection for winter use.
However, if you're looking for highly portable showers, this isn't it. It weighs 14lbs and also requires a 20lb propane tank. It may not be ideal for those looking to save on weight and space. And it uses a ton of water, so if you're limited on water, it's not for you.
This system does need to be mounted high in order to operate, but is easily movable.
2. Coleman H2Oasis
The Coleman H2Oasis is another electric-powered and propane-heated portable camping shower. It is able to heat water to 125 degrees in just 30 seconds and comes with a 5-gallon collapsible water container.
The Coleman shower has a built-in lithium battery that can be charged either at home, in your car's 12v outlet, or with a solar power station.
One nice thing is that this camping shower can be placed on the ground, making it versatile in many different outdoor situations.
3. Mr Heater Basecamp Battery Powered Shower
The Mr Heater basecamp Battery Powered Shower gives you the ability to bring a hot shower to even the most remote places. It just requires 6 D-cell batteries, a 1lb propane tank, and a water source.
This propane-powered heater can heat water up to 35 degrees above the starting temperature. It also comes with anti-scald protection to bring you a warm shower without burning your skin.
That's it for portable showers! Hopefully this section helped you find the best portable camping showers to help you avoid cold showers on your outings. Next, let's talk about tents to give you a private place to wash.
Best Privacy Tent Options
No camping shower setup is complete without a private area to relax. Some campers prefer to throw a tarp between trees or car doors—others prefer a stand-alone privacy tent.
There are plenty of pop-up privacy tents available on the market. Finding the perfect one can turn a basic shower into a luxurious experience.
Some of the best popup privacy tents on the market are:
1. Joolca Ensuite
The Joolca Ensuite comes in both a single and double option.
The double option has both a wet room and a dry room complete with a dry clothing bag, towel rack and plenty of windows.
The best thing about this popup tent is that it does not have any loose pieces that require assembly. This tent pops up like an umbrella and packs down in seconds.
2. Kelty Blockhouse Privacy Shelter
The Kelty Blockhouse Privacy Shelter is perfect as a changing room, a shower room, or a bathroom.
This tent offers a mesh compartment to hold toiletries and a steel hook to attach a hanging shower bag.
This tent pops up just like a standard camping tent and folds down into a small carrying bag you can throw over your shoulder.
3. Ozark Trail Camping Shower and Utility Tent
The Ozark Trail popup tent stands out from its competitors in that it comes with a built-in outdoor mat to keep feet clean as you step inside.
This tent is over 7-feet tall and is compatible with most 5-gallon shower bag systems.
It's simple to use and lightweight. A great choice if you're looking for an easy-to-use shelter.
4. King Camp Shower Tent
The King Camp Shower Tent is the most compact and easy-to-assemble option on this list. The lightweight design folds up in seconds into a sleek carrying case. It also happens to be the cheapest option!
This privacy tent also comes with side compartments that can be filled with sand to keep it from blowing away. There is some technique needed to fold this tent down, but once learned it only takes seconds to put away.
Nice-to-Have Portable Camping Shower Accessories
There are some great products that can help your camp shower experience be even more comfortable and satisfying. Some of the best accessories you can buy are:
Camping Towels
Camping specific towels are designed to fold down small, be extra absorbent, and dry fast. This means you won't have to lug around wet, heavy towels.
There are plenty of camping towels on the market like this set of 4 different sized camping towels.
Bamboo Shower Mat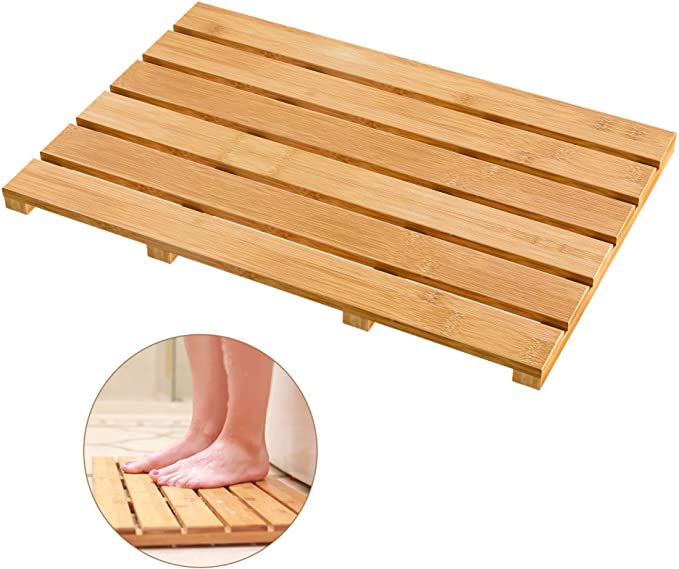 Most popup tents are designed to drain water, but a bamboo shower mat will give you extra protection from having to stand in dirty water. This is especially necessary if you have multiple camping guests showering.
A bamboo shower mat gives you the flexibility of showering anywhere without worrying about getting your feet dirty.
Shower Caddy
A shower caddy like this Camco Mesh one is perfect for keeping your toiletries organized and in-reach while you shower. The mesh storage pouch design helps drain moisture out so you never have to worry about build up or mold.
Other Methods to Stay Clean While Camping
Using these portable shower systems make showering while on the road much more luxurious. But if you're not quite ready to bite the bullet on buying a shower set up—there are plenty of other ways to shower while you travel, such as:
Bucket and Sponge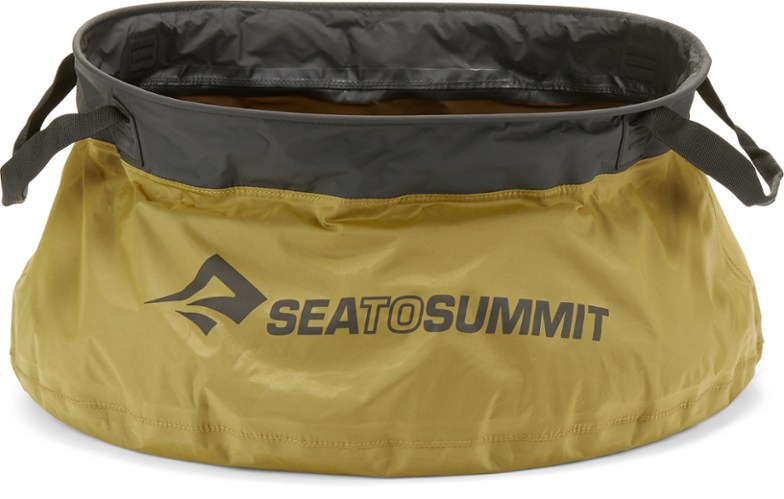 A sponge bath is a great way to freshen up when in a pinch. There are tons of camp sinks available that fold down small, but any bucket or bowl will also do the trick.
This Sea to Summit collapsible camp sink is a great option.
Shower Wipes
There are tons of shower wipes hitting the market these days, like these Venture Wipes. They are individually packaged which makes them super portable and easy to pack.
They are designed to keep you fresh without leaving a residue. Just look for unscented wipes, since they're better for the environment and won't make you a mosquito magnet!
River or Lake Shower
For the most basic camping shower setup, consider taking a natural shower in a river or lake.
Just remember that even biodegradable and eco-friendly soaps can alter the chemistry of your water source and harm the local wildlife. Never use products while in the water—even if they say they are safe.
Frequently Asked Questions
Here are some of the most common questions we get asked about showering on the road:
Final Thoughts on Portable Showers
Taking an outdoor shower can be a fun and freeing experience. It's one of my personal favorite ways to shower. But, it can be less-than-luxurious if you don't have decent water pressure or heat.
My personal favorite options are the Yakima Road Shower or the Geyser Systems Portable Shower. The former offers plenty of water storage and ease-of-use if you install it on your rig, and the latter provides nice heat and uses minimal water.
I hope this guide helps you choose the best portable shower for your camp setup and avoid those dreaded cold showers!
If you liked our review, check out some of these other reviews of camping goodies: