You don't need an expensive new rig to start overlanding. There are plenty of used vehicles on the market that make decent, affordable overlanding rigs so can get you out adventuring.
Off-road adventure vehicles may require more than the average car to safely handle different terrains, but they don't have to be brand new or cost a fortune to get you out there.
We've compiled 10 of the best cheap overland vehicles to get your overlanding adventures started without breaking the bank.
Table of Contents (Click to Expand)
1. Toyota Tacoma (1995-2004)
A fan favorite in the overlanding community, the first generation of Tacomas are a great option for an affordable overlanding vehicle.
There are also tons of Tacoma modifications and the truck was made with a 4WD option—great for overlanding if you can find one in this powertrain.
They're becoming somewhat of a collector's vehicle thanks to their devout fanbase, but you can still get your hands on one for a decent price—between $5,000 and $15,000. This fact also means that they'll hold their value over time, which may be another reason to choose the Toyota Tacoma for your overland vehicle.
Cost: $5,000-$15,000
Pros:
Hold their value
Tons of aftermarket mods
4WD offering
Impressive stability control
2.4-liter four-cylinder, 2.7-liter four-cylinder, or 3.4-liter V6 engine options
Cons:
Becoming increasingly more difficult to find at affordable price
Not very fuel efficient
2. Toyota 4Runner (1984-2009)
Similarly to the Tacoma, the Toyota 4Runner is a staple in the overland community with a ton of aftermarket modifications and support. They're known to be extremely reliable, surprisingly fuel-efficient, and they're able to handle the demands of off-roading.
Also similar to the Tacoma, the 4Runner is becoming somewhat of a coveted collector's item—so not only do they make a great reliable off-road vehicle, they'll also hold their value.
Check out our list of awesome overland 4Runner builds for inspiration.
Cost: $4,000-$15,000
Pros:
Relatively decent fuel economy
Off-road capability
Reliable
Have a lot of aftermarket add-ons
Cons:
Early models tend to feel underpowered
Becoming more difficult to find a low-mile, affordable used model
3. Jeep Cherokee XJ (1983-2001)
The Jeep Cherokee XJ is a great option for a budget overland vehicle—you can find some models for as little as $3,000, but expect high mileage from them. With almost 20 years in production, these vehicles are relatively easy to find used along with parts and aftermarket support.
Though some in the off-road community consider the Cherokee XJ to be vintage, their longevity make them excellent overland vehicles to this day. There's also a ton of options for overlanding gear for these Jeeps, and with the large interior cargo space, you'll be able to easily haul all your overlanding gear.
Cost: $3,000-$10,000
Pros:
Widely available
Parts are easy to find
Reliable inline 6-cylinder engine
Ample interior space
Two and four door models
Cons:
High mileage on older models
Considered a vintage vehicle
4. Subaru Outback (1994-Present)
Great on the trail and the highway, the Subaru Outback is a no brainer when it comes to reliable, cheap overland vehicles. At any production year, these vehicles are a good option if you want a car for both family road trips as well as weekend off-road excursions.
These capable vehicles function like a typical compact SUV, but don't let their size deter you—they have a higher ground clearance than most and all-wheel drive. With a good set of all-terrain tires, the Subaru Outback makes a great budget overland vehicle that doubles as a daily driver.
Cost: $3,000-$10,000
Pros:
7″ ground clearance
Built-in roof rack
Interior space
Fuel efficient
Can last for over 250k miles when properly maintained
Cons:
Limited approach and departure angles
Earlier models lack X-Mode that offers hill descent control and improves off-road capabilities
5. Ford Ranger XLT (1998-2011)
The Ford Ranger XLT isn't the best overland vehicle on this list, but it offers great value— it's one of the cheapest overland-capable vehicles out there. The Ranger was also widely distributed in North and South America so getting your hands on one and finding parts for it is easy.
Some models came equipped with the FX4 Off-road Package—if you can find a Ranger with it, you'll have a cheap, capable rig to get started on your overlanding adventures.
Cost: $2,000-$8,000
Pros:
Easy to find parts for
Solid axles
Cheap and easy to find used
FX4 Off-road Package offers a 4.0 Liter V6 and factory skid plate protection
Cons:
Mediocre fuel economy
Older models not as reliable as later models
Difficult to find desirable FX4 package
6. Toyota Land Cruiser (1990-1997)
The 80 series Toyota Land Cruiser is a classic on the road and off for good reason. It looks great on the highway and has luxurious interior space, but it also comes factory equipped with off-road features—wide fenders, large tires, and a full-time 4×4 powertrain.
As with many other older model 4WD Toyotas, the Land Cruiser is increasing in novelty, but with some dedication, you can still find reasonably priced models with higher mileage.
Cost: $5,000-$13,000
Pros:
Reliability
Stock off-road features
Luxurious interior
Aftermarket support
Good on-road and off-road
Cons:
Becoming increasingly harder to find at a reasonable price
Heavy
Poor fuel economy
7. Land Rover LR3 (2005-2008)
Another favorite within the overlanding community, the Land Rover LR3 is known for its off-road capabilities. These vehicles are great for overlanding and are still attainable at a reasonable price despite having a cult following.
It's not without typical quirks of Land Rovers, but the LR3 is extremely capable off-road and a great, reliable budget rig for overland adventures.
Cost: $6,000-$15,000
Pros:
4.4L V8 with 6-speed transmission
Center locking differential
Hill descent control
Sturdy and reliable
Cons:
V8 engine comes with poor fuel economy
A few known mechanical issues
8. Nissan Xterra (2005-2015)
The Nissan Xterra is one of the most underrated overland rigs, but it's one of the best budget overland vehicles. Not only is it a good platform for an overland build, but if you can find a used Xterra with the Pro4x package, you'll have a great, trail-ready overland rig.
The Pro4x package features exterior off-road lighting, electronic hill descent control, tire pressure monitoring, skid plate protection, and 6-speed manual transmission.
Cost: $5,000-$15,000
Pros:
6-speed manual transmission option
Built-in roof rack
Interior space
One of the first Nissans to be manufactured in the U.S
Cons:
Mediocre fuel economy
Aftermarket support is lacking
9. Toyota Sequoia 4WD (2001-2007)
Based on the same platform as the Toyota Tundra, the Toyota Sequoia is a sturdy, underrated SUV and they make great cheap overlanding vehicles. With the same tough V8 engine as the Tundra, impressive ground clearance, and full-time four wheel drive, it fits the bill for adventure.
Cost: $5,000-$10,000
Pros:
Massive interior space
Third row seating
Super reliable V8 engine
Lots of aftermarket support
Four wheel drive
High clearance
Cons:
Poor fuel economy
No manual transmission option
No TRD package availability on early model Toyotas
10. Lexus GX470 (2003-2008)
Last but not least, the Lexus GX470 doubles as a luxury vehicle as well as an affordable off-road rig with Toyota-like reliability.
Full-time 4WD, a 4.7-liter V8, and center locking differential make the Lexus GX470 the perfect off-road vehicle as well as a luxury cruiser—all at a relatively budget price point.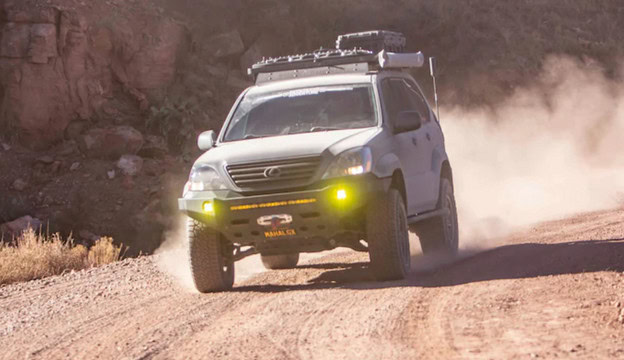 Cost: $6,000-$15,000
Pros:
Luxury interior and features
4.7-liter V8
Four wheel drive
Hill descent assistance
Center locking differential
Cons:
Not very fuel efficient
Some known mechanical issues
Premature paint degradation
Final thoughts
You can head out on the trails today with the vehicle you already own to start overlanding, but having a true overlanding rig will take your adventures to the next level.
If you want to upgrade your off-roading experience without breaking the bank, consider checking if any of the vehicles listed here are for sale in your area.
Itching for more? Check out our other overlanding guides: