If you're looking to deck out your Toyota Tundra in all of the best and most functional gear, you've come to the right place. There are tons of great products on the market to make your rig even more capable, comfortable, and badass.
Use the Table of Contents below to jump straight to the kinds of mods you're looking for, or just scroll through and take a look at everything.
Without further ado, here are some of the best Toyota Tundra mods & accessories available to customize your rig:
Table of Contents (Click to Expand)
Best Toyota Tundra Interior Mods
Let's start with accessories for the interior of your Tundra.
1. WeatherTech Rear Cargo Liner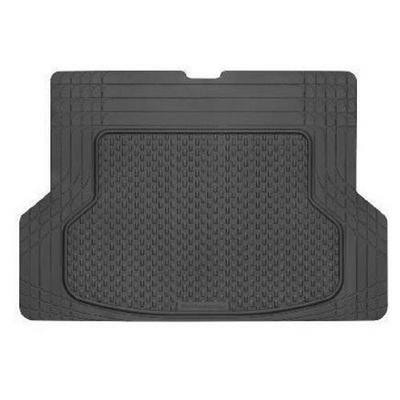 This WeatherTech Rear Cargo Liner is ideal for protecting your cargo area against footprints, spills, and dirty sporting equipment. These floor mats are specifically molded to fit the back of a 3rd generation Toyota Tundra perfectly, so you can ensure you're preserving your carpets.
2. Tuffy Underseat Lockbox
Securely store all of your valuables in your truck's cab in an under-the-seat lockbox. It's ideal for storing passports during international travel, guns, ammo, or even emergency cash.
3. Interior Dashboard Storage Organizer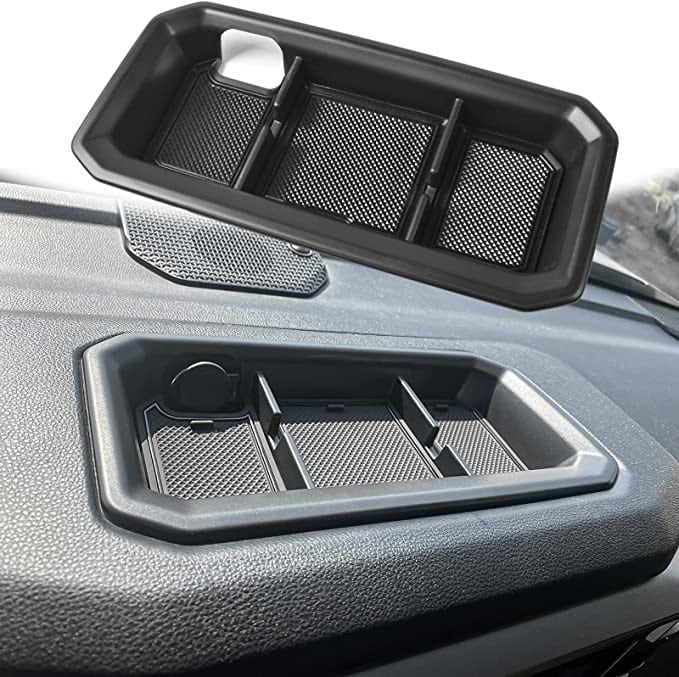 Keeping organized is sometimes difficult to do when your truck is packed with tons of camping gear. An Interior Dashboard Storage Organizer will help you optimize the space in your Tundra.
Keep things like lighters, chargers, and coins from rolling around. It even has cutouts so you can prop your phone up while driving.
4. White LED Interior Light Kit
Upgrade your Tundras factory interior lights to these White LED Interior Light Kit. They are 30 percent brighter than the factory lights and provide a much better color profile. They also come with a two year warranty.
5. Center Console Organizer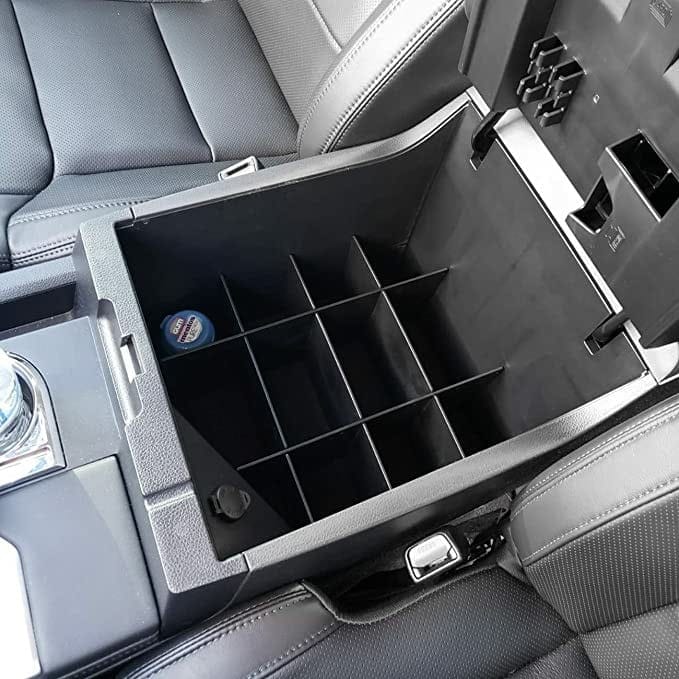 This Center Console Organizer is designed to perfectly fit in the center console of a 3rd generation Toyota Tundra. You won't have to worry about digging around to find things, and instead can enjoy a fully organized consol.
6. Wireless Charging Tray
If you frequently travel with guests, installing a Wireless Charging Tray can help prevent fighting over the charging cable. It is designed specifically for 3rd generation Tundras, so it will fit snug and look like it came already installed in your truck. It even features an ambient lighting strip that will inform you if there is any abnormality in your charging.
7. Remote Starter Kit
For those who live in cold climates and want to warm up their vehicle while they're still enjoying a warm coffee inside, this remote starter kit is the perfect solution. Just tap the remote three times, or connect it to an app and start your truck from your cell phone. The best part is that this kit is super easy to install and attaches right to your cars battery.
8. Throttle Response Controller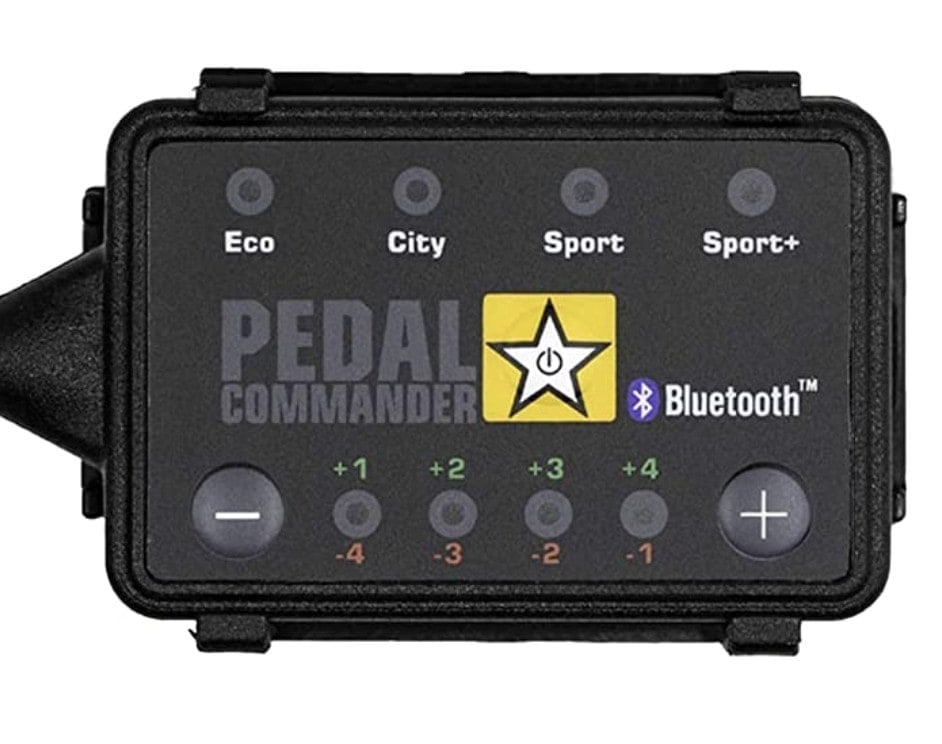 A Throttle Response Controller solves the sluggish throttle response of stock Tundras. It's a quick and easy way to notice a huge difference in your truck's performance. You'll immediately notice a faster acceleration since this device will eliminate the delay from your Tundra's electronic gas pedal.
We understand the hesitancy to add after-market products to your vehicle, so be sure to check out our full review of the Pedal Commander.
9. Dash Cam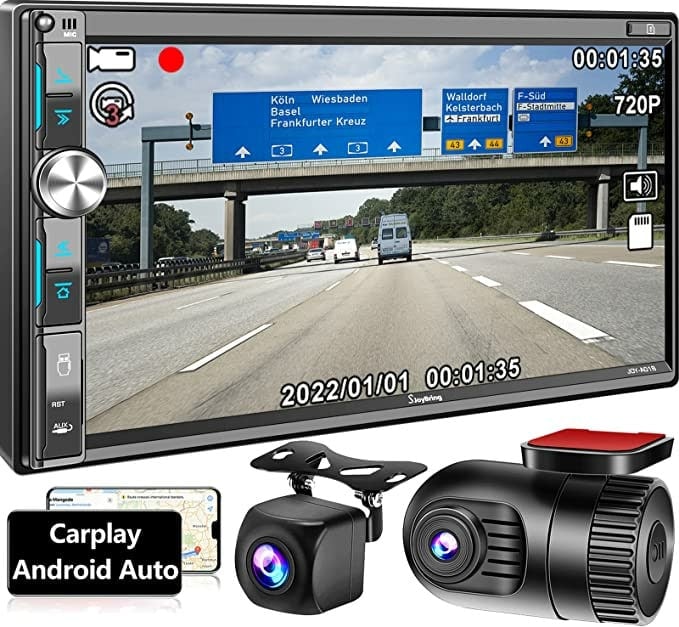 Having a Dash Cam is ideal for protecting you in the event of a sticky situation like a crash or run in with an angry driver. These cameras also come with a screen that will serve as a backup camera and a carplay system. I wish I had one of these when my Toyota was broken into and all my stuff was stolen while traveling through Portland!
10. Bed Light Strip Kit
Navigating your dark truck bed at night can be difficult. A Bed Light Strip Kit lines the bed of your truck and gives you plenty of ultra bright light at night. They easily adhere to the perimeter of your truck bed's walls and are completely weather and water resistant. They attach directly to your Toyota Tundra's electrical system.
Best Toyota Tundra Exterior Mods
Here are some of the best exterior mods you can make to your Toyota Tundra:
11.Hard Folding Truck Tonneau Cover
Keep your gear safe and protected from prying eyes and bad weather with a Hard Folding Truck Tonneau Cover. These Tonneau covers easily fold up to reveal the contents of your truck bed for easier access. It's also versatile enough to allow you to expose just half or all of your truck bed if needed.
12. Sherpa Big Bear Roof Rack
This Sherpa Big Bear Roof Rack is a full length roof rack that provides plenty of great tie down points and the option to add a light bar. This rack is made from aircraft grade aluminum and rated to withstand up to 300 pounds static and 600 pounds of dynamic weight.
While you're looking at roof racks, check out our guide to the best roof racks for overlanding.
13. Addictive Desert Designs Stealth Fighter Front Bumper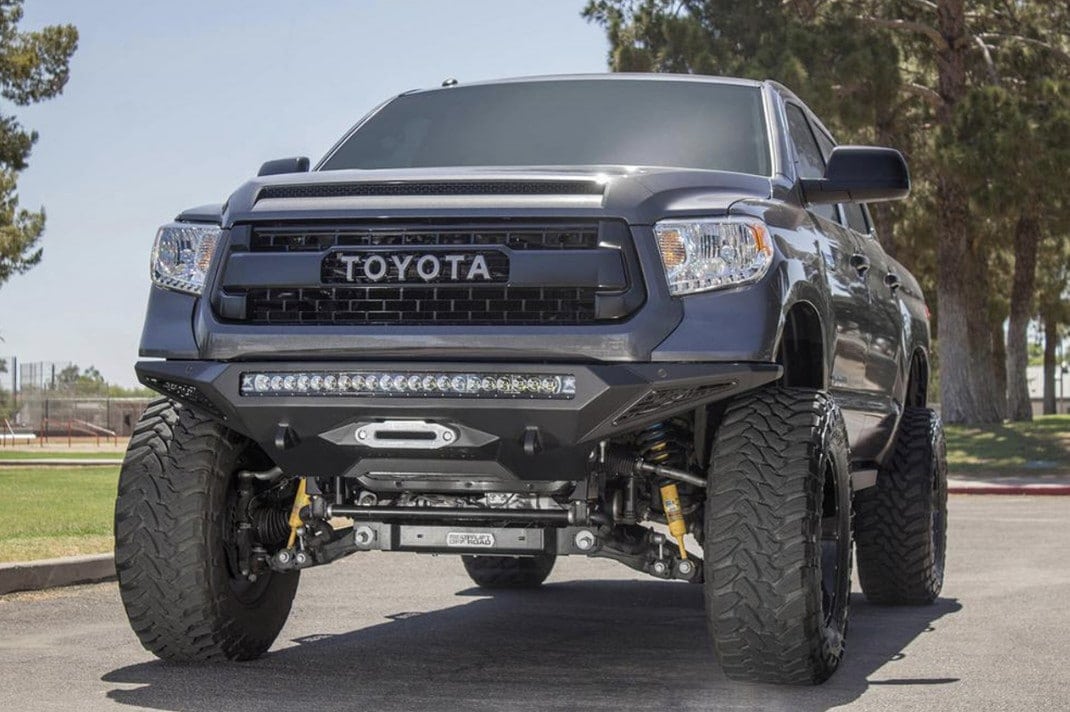 This Addictive Desert Designs Stealth Fighter Front Bumper is a full-length steel design that is built to provide the ultimate protection for your Toyota Tundra. This front bumper comes with integrated D-rings, a light bar cutout, and plenty of front end anchor points for recovery.
Not only does this bumper add plenty of protection for off-road adventures, it also looks awesome. That's half the point of modifying your ride, right?
14. Fab Fours Vengeance Rear Bumper
Protect your truck from behind with this Fab Fours Vengeance Rear Bumper. It is built from 11-gauge steel and built to help make your Toyota Tundra even more rugged. This bumper features cutouts so you can mount external lighting and also retains access to your OEM receiver hitch and wiring locations.
15. AMP BedXTender
Increase your truck's storage with this AMP BedXTender. It is designed to give you even more storage capacity by utilizing your tailgate to create more usable square footage. This truck bed extender boasts easy installation so it can be set up or removed quickly.
If you're looking for the best ways to keep the bed of your Toyota Tundra organized, check out our guide to truck bed storage
16. EyeCatcher Tailgate Letter Inserts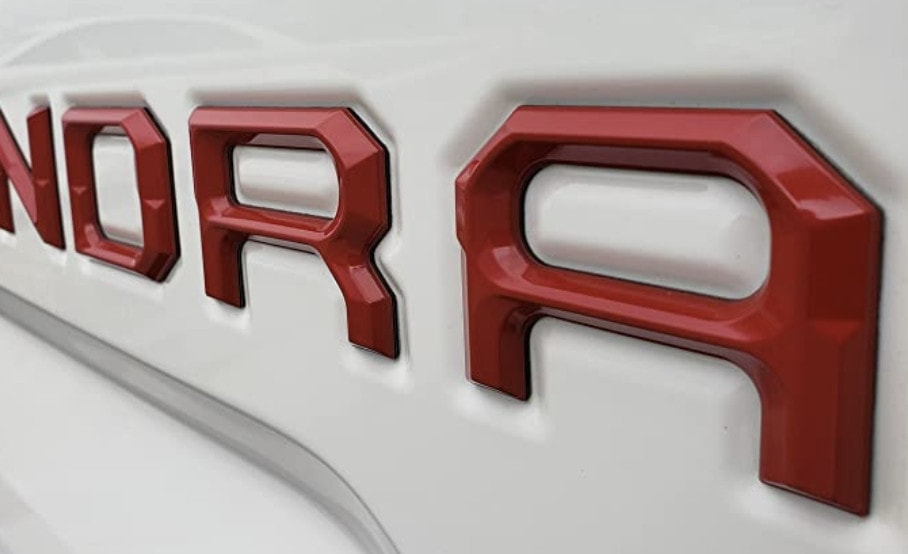 These EyeCatcher Tailgate Letter Inserts are designed to easily fit over the rear lettering on your tailgate. They instantly elevate and customize the appearance of your vehicle in seconds. Choose between several different colors and designs for a fully customized look.
17. ARB Old Man Emu Leaf Spring
If you're regularly carrying heavy loads or towing, you should consider upgrading your Tundra's suspension system to avoid a sagging rear end.
These ARB Old Man Emu Leaf Spring are diamond cut, improve your ride quality, and help extend the longevity of your suspension. It's one of the best Toyota Tundra mods you can make if you're regularly hauling heavy loads or towing things like trailers and boats.
18. Rigid Industries E-Series LED Light Bars
If you regularly do a lot of nighttime offroading adventures, an LED light bar like the Rigid Industries E-Series can dramatically improve your visibility on dark trails. This lightbar is easy to install into your Toyota Tundra's existing battery system.
19. Oracle Lighting Underbody Rock Light Kits
Rock lights are multi-functional—they provide light to your wheel wells in case you have to remove a tire or do something to your suspension while hitting the trails at night, and also give you cool color-changing lights to make your ride look even cooler.
These Oracle Lighting Underbody Rock Light Kits are an excellent choice for a quality light that's easy to install. They're a great addition for anyone who wants to impress their friends.
20. K&N Cold Air Intake Kit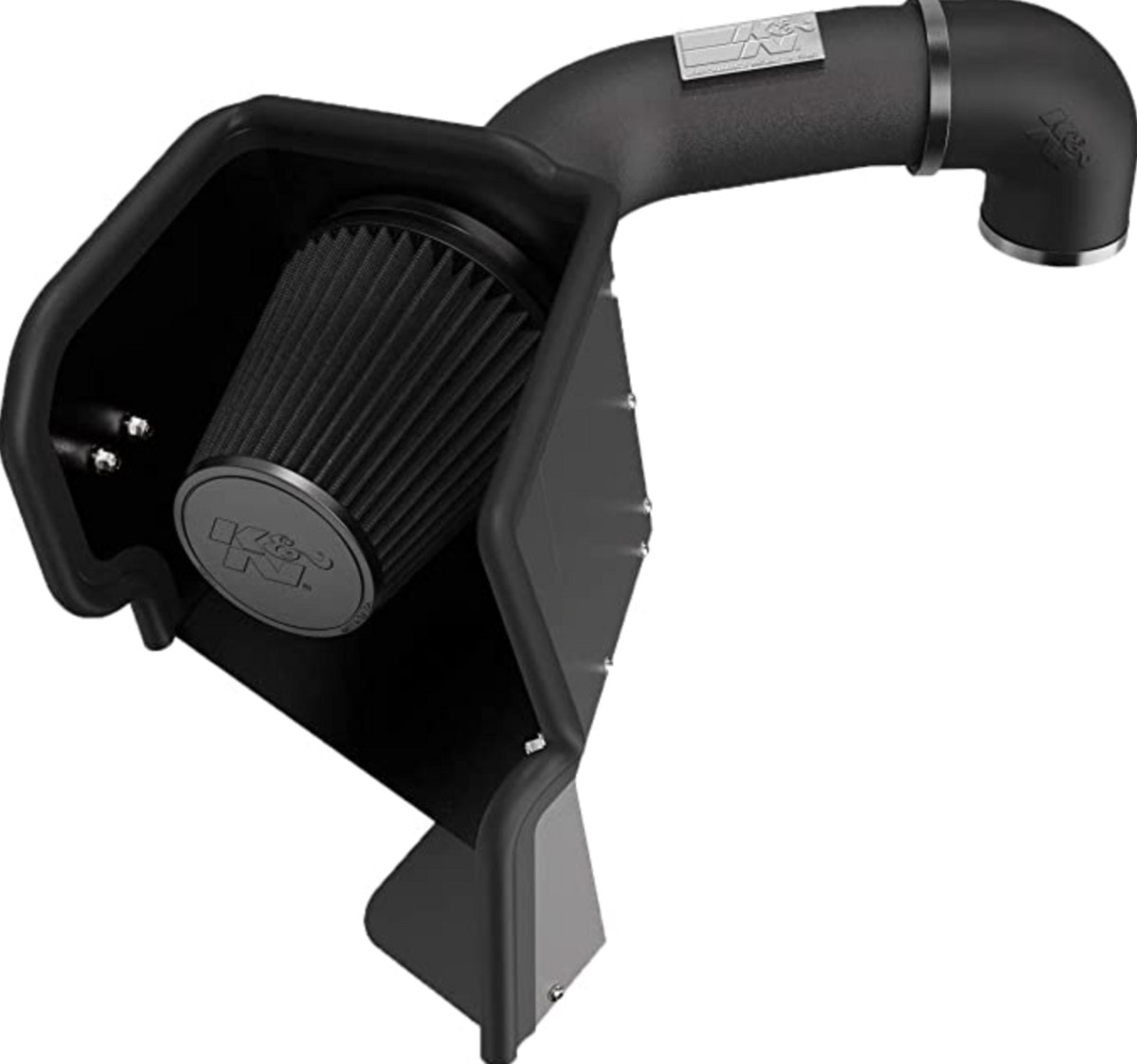 Instantly improve your Tundra's horsepower and performance by installing a K&N Cold Air Intake Kit. It is one of the quickest and easiest upgrades you can make to see a dramatic increase in your Toyota Tundra's performance.
Best Toyota Tundra Accessories
Looking for more quick add-ons that instantly improve the function of your truck without long installation processes? Here are some cool Toyota Tundra accessories for just that:
21. Rugged Ridge Sun visor Organizer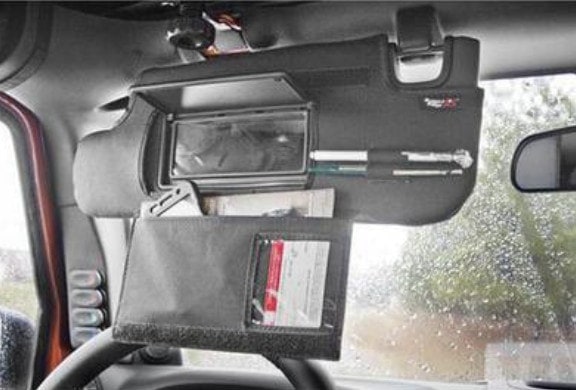 This Rugged Ridge Sun visor Organizer is perfect for keeping things organized in the front of your truck. Keep things like business cards, pens, tire pressure gauges, or even your drive-through gift cards handy.
22. Jackery Explorer 1000 Portable Power Station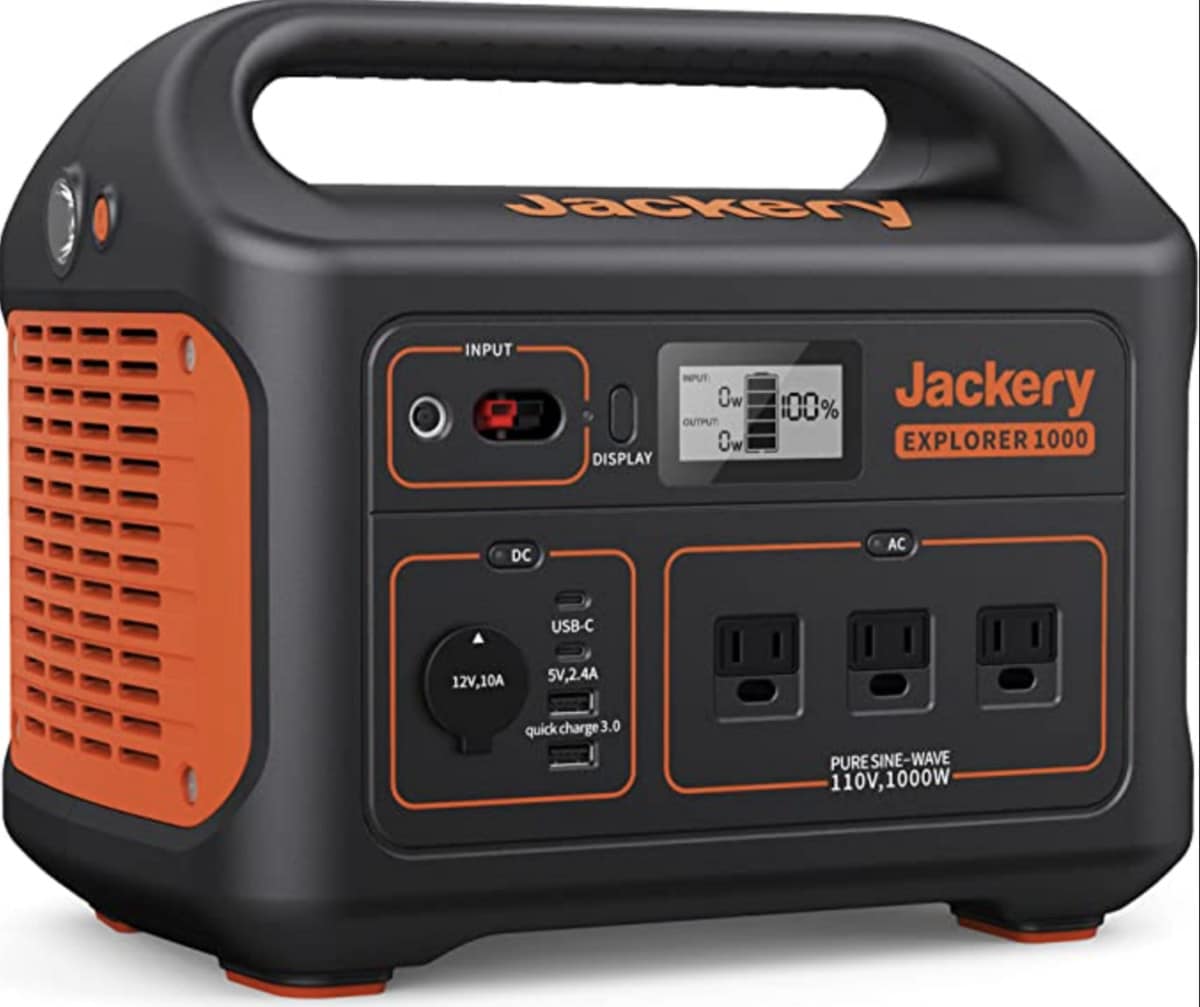 One of the most practical and useful accessories I've brought on my overlanding adventures has been the Jackery Explorer 1000 Portable Power Station. It's powerful enough to run a 12-volt fridge and ambient lighting while charging my laptop and other batteries.
We also have a full guide to making sure you have the best overland solar setup for your needs—so be sure to check it out!
Related Reading: Jackery Explorer 300 Solar Power Station Review
23. Jackery SolarSaga 100W Portable Solar Panel
While you can always charge your Jackery at home by plugging it in, or while plugged into a DC outlet—the best way to charge your Jackery while on the road is using the Jackery SolarSaga 100W Portable Solar Panel.
24. Toyota Tundra Key Fob Cover
If you've ever had to replace a key fob you know that they can sometimes run you hundreds of dollars. Protect your Tundras key fob with this Key Fob Cover.
25. weBoost Drive Sleek Phone Signal Booster
If you've ever been in the frustrating position where you've struggled to load a web browser, send an important text message, or get your Google Maps to work in the backcountry—the weBoost Drive Sleek Phone Signal Booster could have helped take all of that headache away. It easily and quickly mounts to your vehicle and instantly improves your cell signal.
However, in my experience, it will only improve a poor signal—in places where there is no signal, it won't magically create one, so keep that in mind! That said, I still won't go anywhere without mine. It's an essential Tundra upgrade for the backcountry.
26. OVS Nomadic 270 Degree Awning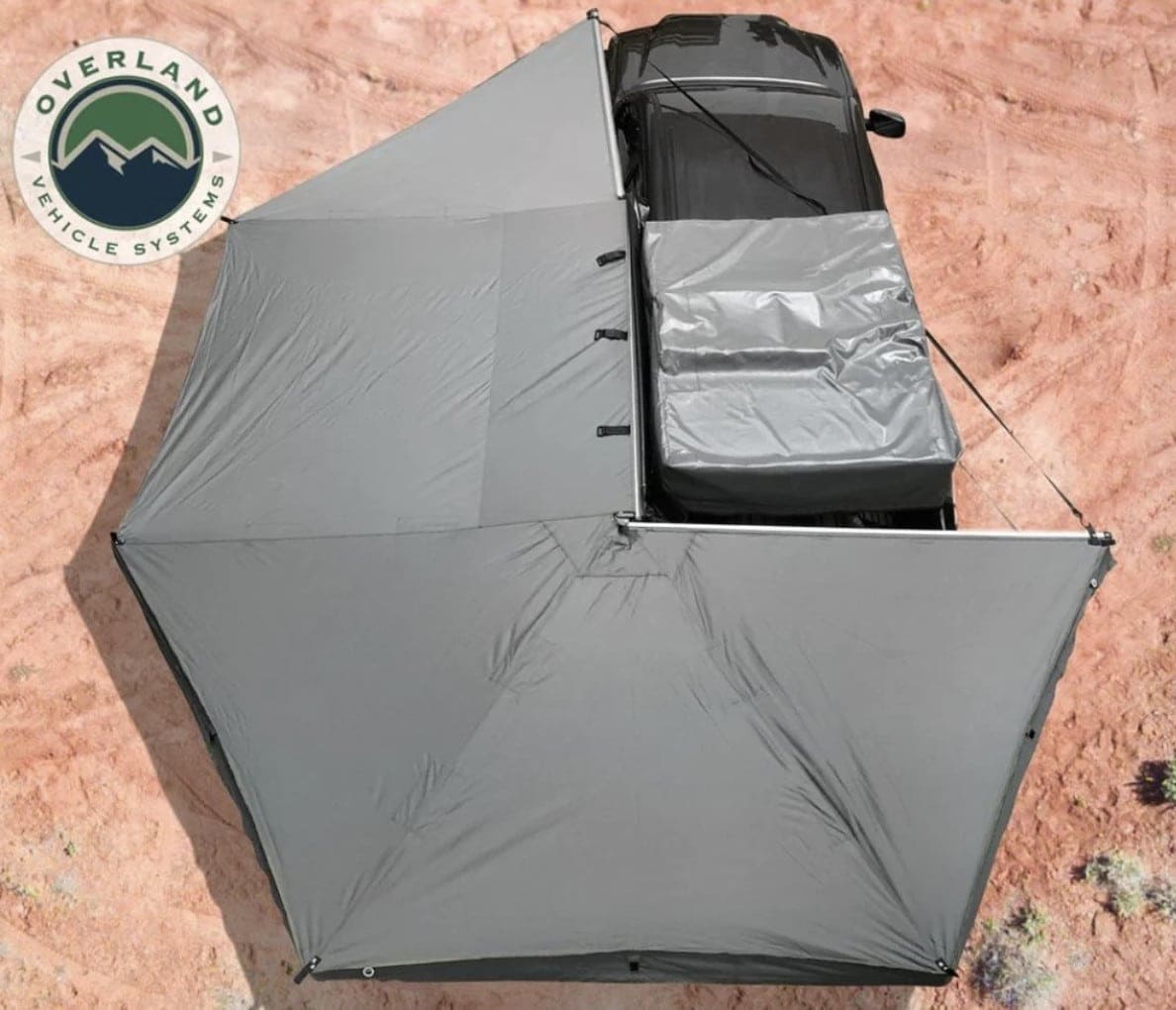 If you want to avoid roasting in the sun or getting wet in the rain while out adventuring in your ride, an awning can be a lifesaver. Specifically, the OVS Nomadic 270 Degree Awning creates tons of outdoor living space and can be set up in minutes.
There's a wide selection of great 270 degree awnings on the market, so if you're still shopping around check out our guide to the best 270 degree awnings for overlanding and camping.
27. Universal High Performance 12V Slim Electric Cooling Radiator Fan
If you want an inexpensive and easy way to improve your Tundra's performance, consider adding a 12V Electric Cooling Radiator Fan. It comes in three different colors and is helpful to keep your engine cool if you often haul toys or trailers.
Other Toyota Tundra Upgrades to Consider
Beyond what we mentioned already, here are a few other quick ideas for your Toyota Tundra:
Running boards or nerf bars like these
Seat covers to protect your seats, like these
Window tint
Larger tires (check out this guide for the biggest tires on a stock Tundra)
A bumper with a bull bar for off-road recovery (like this one)
Leveling kits to give your ride a lift
Final Thoughts
There are tons of awesome Toyota Tundra accessories and modifications that can greatly improve your truck's performance, looks, and functionality. Hopefully you found some cool stuff on this list!
I'm always looking for cool Tundra mods and ideas, so if you have something not on this list and you're a Tundra owner, drop me a comment below.
While you're here, check out some of my other truck guides: