So, you want to turn that Toyota Land Cruiser into a Water Cruiser? Your Jeep Wrangler into a Jeep Angler? Because nothing looks cooler than an off-roading vehicle charging through a deep water crossing.
You've seen a vehicle snorkel and think you want one. But you've got some questions. How do they actually work? What should they be made of? Are there any drawbacks you should be aware of?
In this guide, we'll teach you everything you need to know about snorkels for off-roading. Plus, when you should consider one and a few tips to make the best choice for your unique needs.
Table of Contents (Click to Expand)
What is a Vehicle Snorkel?
Just like the human device for swimming, vehicle snorkels help a car or truck to "breathe" in the dusty desert outback or when wading through deep water or snow.
When crossing water in standard vehicles, water can only go to around three-quarters of the height of the tire before you risk moisture getting into the engine. A snorkel lets your off-road vehicle go deeper:
Plus, when overlanding in the dirt or dust for hours, snorkel systems improve the quality of air being fed to your engine. But how do they work?
How Does a Vehicle Snorkel Work?
A vehicle snorkel works by moving your air intake system higher. Instead of drawing air from the engine bay, the intake point moves near the roof. This lets you access cleaner air and can help to prevent dust or water making its way into your vehicle's engine.
When you drive, cooler air is rammed (hence the "air ram" name) into the system to reach the engine. Heavier dust and water hit the back of the head and are filtered out through drain slots.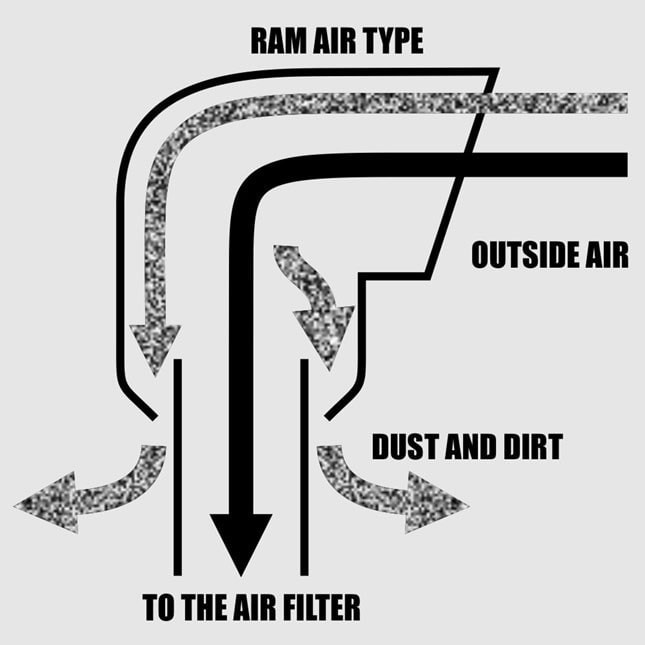 Image Source: https://www.topgear.com.ph/
There are also other filters lower down for any bugs or leaves that get through that shouldn't.
A snorkel is almost like an insurance policy for a clogged air filter ruining your vehicle. However, having one doesn't totally protect you from any water crossing. Every vehicle has a different wading depth, and you need to take this into account.
A Chevrolet Colorado's is 800mm: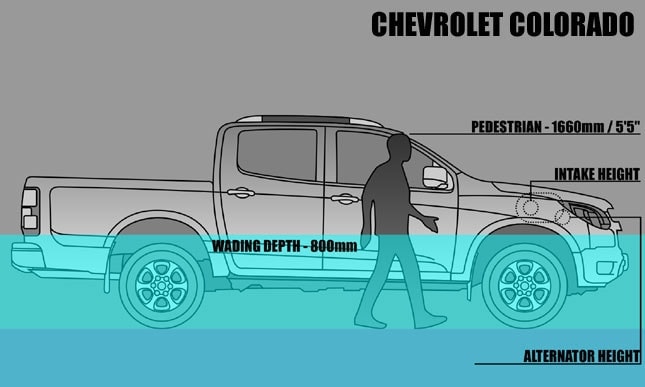 Image Source: https://www.topgear.com.ph/
Keep in mind, even vehicles of the same height have different wading depths. For example, the Isuzu D-Max is the same height as the Colorado, but its wading depth is 500mm.
Plus, if you're not careful, water can still get in through your doors and differentials or cause electrical problems. If that happens, no snorkel will save you.
Vehicle Snorkels vs. Raised Air Intakes
While they look alike, snorkels and raised air intakes are slightly different. A snorkel has one long body with an attached "hat" (the snorkel head). While raised air intakes are made up of five or six separate pieces—meaning they're not as watertight.
Check out this video of an ARB Safari snorkel to see how it differs from an OEM raised air intake:
While you can seal raised air intakes, you may want peace of mind with a snorkel.
The Pros and Cons of a Snorkel Kit for Off-Roading
While some people install snorkels just because they look cool, you may not want to go cutting holes in your precious Toyota Tacoma just for the sake of it. First, weigh up the pros and cons to decide if it'll be a smart upgrade.
Here are some of the functionalities of 4WD snorkels you may be interested in:
They can improve the fuel efficiency and engine performance of your vehicle
They can increase the amount of cooler air getting to your vehicle in dusty terrain
The layers of filters can help protect your engine and reduce wear and tear
While this all sounds like a no-brainer, snorkels aren't perfect. Here are some of the potential issues with them:
There may not be a ready-made system for your vehicle, which can make installation tricky and way more expensive
Deep water can still get into and damage other parts of your vehicle on river crossings
Bugs, leaves, and other items can get sucked into your snorkel and damage your filter
Still interested? Here are some tips to choose the right one and factors to be aware of.
7 Considerations and Tips to Choose the Right Snorkel for You
Your snorkel setup might look like a simple upgrade, but there are a few considerations to bear in mind:
Pre-filters (also known as snorkel socks) restrict airflow but give the main filter (in the air box) extra protection from dusty roads. Only install these when you get to your destination, not before. Otherwise, you're reducing the amount of clean air getting to your engine before you have to.
A dusty, clogged air box can eventually lead to dust getting into your engine and potentially resulting in catastrophic engine failure. Check yours regularly to clean it and see if it needs to be replaced.
Carry a spare air box plug full of sealant for deep water crossings. Once you're over and back to dry land, replace the sealant version with the regular.
The way you face your snorkel (forward or backward) is totally up to you. You may get fewer bugs and leaves in your filter facing backward, but it could also affect the amount of air getting to your engine.
Aside from a ram head, the other main type is a cyclone or vortex head. This bowl-shaped version works by swirling the air to push out dust and water into the sides of the bowl. While it can be more effective in keeping your filter clean, the airflow to the engine isn't as powerful.
The two main types of snorkel ducting are plastic and stainless steel. Some choose stainless steel versions for cosmetic reasons, but they're usually a lot pricier and harder to install. So bear that in mind.
Going for plastic? Cheaper, unbranded versions may be more appealing to your wallet, but they'll be less resistant to UV damage and small impacts. Plus, they may not be high-quality enough to be watertight.
If you want to see all of the parts being discussed above, check out this video:
3 of the Best Recommended Snorkels Brands
For a purchase this important, big brands are best. Here are three of our favorites:
ARB Safari 4×4: Made in Australia and tested in the outback, the Safari Snorkel is one of the biggest names in the game. Made with durable materials and manufactured to be vehicle-specific, this high-performance model is compatible with the most popular trucks.
Dobinsons 4×4: Another leading Australian brand, Dobinsons snorkels come at a competitive price for such quality performance. Customized to your vehicle, they're made to fit major brands such as the Toyota 4Runner, Mitsubishi Triton, and Isuzu D-Max.
Ironman 4×4: The Australians clearly know what they're doing as Ironman 4×4 joins the pack. The angled ram-air head is uniquely designed to deflect rain for "superior airflow and water dispersion".There's also high-quality options for Jeeps, Toyotas, Nissans, and more.
Image Source: https://ironman4x4america.com/
Frequently Asked Questions
Got some more questions about vehicle snorkels? Keep on reading.
What does a car snorkel do?
A car snorkel moves the air intake point from under the bonnet to near the roof. While providing extra protection from bugs and leaves, it also improves the air quality reaching your engine in dusty environments or water crossings.
Are snorkels good for your car?
Snorkels can help improve the quality of air getting to your engine in certain environments. However, they're likely an unnecessary upgrade if you only use your car on regular residential journeys.
How deep can a car go with a snorkel?
Every car has a different wading depth set by manufacturers. Make sure to check yours and never go deeper (even with a snorkel), or else you risk water damage to your car.
Are 4×4 snorkels worth it?
If you'll be off-roading in dusty environments or crossing deep water regularly, it's worth upgrading your vehicle with a snorkel. Just make sure you choose a high-quality branded version that will do the job properly.
Do You Need a Vehicle Snorkel for Your Off-Road Adventures?
There's no denying a snorkel looks cool. But do you really need one for your overlanding vehicle?
If you're regularly traveling in the outback or desert, we'd say yes. It's added protection against dust, bugs, leaves, and any other small objects.
If you just use your Toyota 4Runner for the odd weekend trip, there's not much point cutting a big hole in the side.
Interested in more guides for desert overlanding? Check out: