Have you ever found yourself in a remote area with no cell service and no way to communicate with the outside world?
Although we never like to anticipate emergency situations—sometimes we're at the mercy of mother nature, and things can go awry fast in deserted locations. Having a reliable communication tool is essential.
When it comes to reliable communication in remote areas, GMRS (General Mobile Radio Service) handheld radios are the way to go. So whether you're an overlander, remote backpacker, emergency prepper, or outdoor enthusiast—a GMRS radio is a fantastic investment.
So here is a guide to the best GMRS radios for your next adventure!
Table of Contents (Click to Expand)
11/22/2023 10:43 pm GMT
What is a GMRS Radio?
In short, a GMRS radio stands for general mobile radio service, and is a device that lets you listen in and converse with others through radio signals. The FCC classifies any radio operating on FRS/GMRS frequencies with more than 2 watts as a GMRS radio.
These mobile radios operate between 462 MHz and 467 MHz and can be found in the form of handheld radios, two way communication systems, and sometimes repeaters that increase the reach of the radios.
GMRS Radios are a wonderful addition to any setup for those who like backcountry skiing, overlanding, backpacking, boating, and more.
They're also an essential piece of truck camping gear.
Does a GMRS Radio Require a License?
Photo Credit: Rugged Radios
Yes, GMRS radios require a special FCC license in order to operate them legally. This is because the FCC or Federal Communications Commission wants to ensure that these radios are being operated in a responsible way.
However, you don't need to be in a special profession in order to apply for a GMRS license.
Licensing is also available for individuals who wish to use these radios for personal use. Before you can legally operate your GMRS radio you'll need to fill out two forms—159 and 605. You can find those forms here. They cost $35 and cover you and your family for up to ten years.
What is the Difference Between a FRS radio and GMRS radio?
While these two kinds of radios have some similarities, the biggest differences are that the FRS (or Family Radio Service) devices don't require any special licensing to operate. They also generally have a shorter range than a GMRS handheld radio, but they're a decent choice for those who just wish to communicate between friends or family members.
FRS radios are also generally less expensive than GMRS radios, but there are other features that can increase the price such as weather alerts or hands-free operations.
What to Look For When Buying a GMRS Radio
The tops things that you should look for when purchasing a GMRS radio are:
Range
Consider how much range you'll need for your device. Keep in mind that there are certain factors that will decrease the range of your device such as tall buildings, mountains, inclement weather, or other physical obstacles.
For those who need a longer range than GMRS radios offer, there are accessories called repeaters that can increase the range of your GMRS radio by several miles or more. This will also depend on other factors like the size of your antenna, but this can be a great way to even avoid interference because of obstacles as well.
Another thing to consider is whether your device is GMRS repeater capable. Repeaters like the Retevis RT97 extend the range of your device by taking your radio frequency and transmitting it onto another channel automatically. This is an efficient way of boosting your range quickly and easily.
Power
Having a higher demand on your GMRS radio will require it to use more power, and this will in turn decrease the life of the battery. This includes using it for longer distances or in areas with a lot of obstacles.
Using your radio short distance and in terrain that is devoid of many obstacles will mean that your batteries will last much longer. It is important that you're getting a radio that can keep up with the demands of what you're using it for.
Channels
GMRS radios operate though radio channels, and having more channels available will mean you'll have more opportunity to tune into a frequency with less interference. This will also mean that you'll have a better chance to have a frequency all to yourself if you're using it with friends and family.
Some of the more popular channels can become crowded which can make it tougher to communicate with your group or in the event of an emergency. Often for large caravans, users will divide a group into subgroups through separate channels to keep communication less chaotic.
Price
As with most things, finding the best GMRS handheld radio for you will be a balancing act between your desired features and your budget.
Below we have laid out 10 great radios with plenty of features for any budget.
10 Best Handheld GMRS Radios
Without further ado, let's dive into the best GMRS handheld radios you can buy:
1. Midland GXT1000VP4
Range: 36 Miles
Channels: 50
Features: Weather alerts, SOS siren, waterproof, EVOX hands free.
Power: 5 Watts
If you're looking for a radio with plenty of range, the Midland GXT1000VP4 has you covered.
This radio has a range of up to 36 miles, can operate on 50 different channels, and can even allow you to utilize 142 Ctcss/Dcs Privacy Codes. These allow you to have private conversations with your group without fear of others tapping in.
This radio is water resistant and includes NOAA weather alerts and scans. This radio will automatically scan through 10 weather channels to alert you of any severe weather warnings in your area.
This is considered the best GMRS radio by many outdoor enthusiasts, off-roaders, boaters, and preppers because of its affordability and great features.
2. BTECH GMRS Two-Way Radio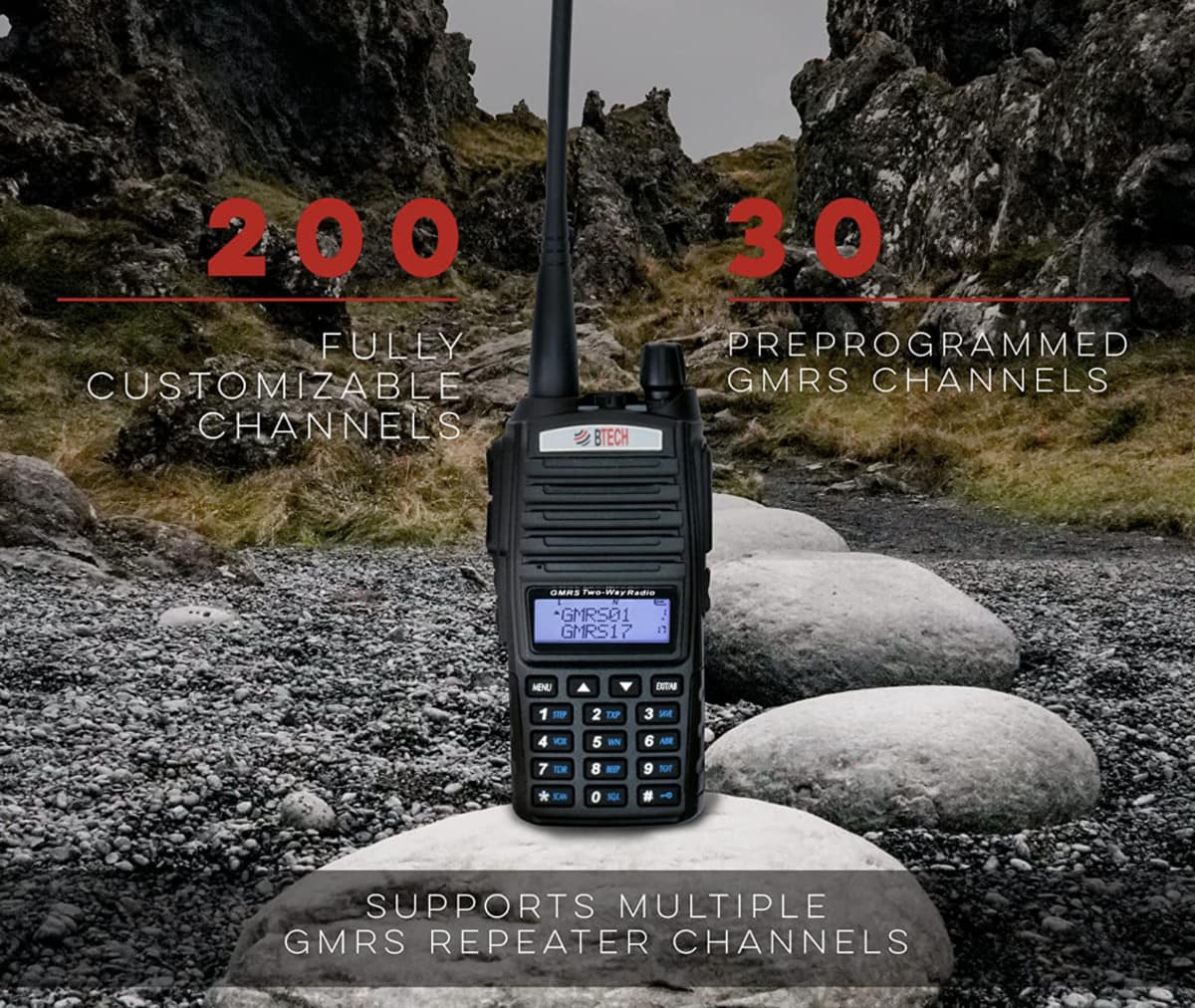 Range: Up to 10 miles
Channels: 50
Features: VOX (Voice Activated Transmit), NOAA Weather Radio, FM Radio, Emergency Alert, Dual Watch, etc.
Power: 5 watts
For those who crave the best features, the BTECH GMRS-V1 GMRS Two-Way Radio won't disappoint.
This radio works on 200 different channels, features NOAA weather scan capabilities, and 30 pre-programmed channels. This radio also has the ability to scan to provide you with weather alerts or to simply scan for activity in the area.
This radio also has a high watt power output. As we learned before, having a higher power output means that your radio can overcome obstacles such as buildings and mountains much easier. This ultimately gives you more flexibility in how you use your GMRS radio. It's also compatible with GMRS repeaters.
Overall, this radio provides a stellar range of features for an incredibly affordable price.
3. Uniden BCD325P2
Range: 50 MIles
Channels: 25,000
Features: Close call RF capture technology, location based scanning, PC programming, weather scanning and alerts, etc.
Power: 15 Watts
If you're someone who wants to pull out all of the stops and simply get the radio with the most features possible, the Uniden BCD325P2 may be the best choice for you.
Bear in mind that this radio isn't beginner-friendly and has a steep learning curve compared to some of the others on this list.
However, if you're willing to learn how to use this radio properly, you'll be rewarded with over 25,000 dynamically allocated channels, NOAA weather scanning, GPS compatibility, and automatic tuning to keep you in the loop about things going on around you.
If you're just looking for a simple way to communicate with people around you—this radio may not be worth the steep learning curve and complexity. However, if you're hoping to have a radio with all of the best features and limitless possibilities—you won't be disappointed.
4. Radioddity GM-30 GMRS Radio
Range: 5 miles
Channels: 22 GMRS + 121 privacy codes
Features: NOAA weather alerts, VOX voice control, flashlight, dual watch, etc.
Power: Up to 3 watts
For those looking for an ultra-affordable, user-friendly, and feature-packed radio—the Radioddity GM-30 GMRS Radio is a great choice.
This radio has a range of up to five miles, and comes pre-programmed with 30 default channels. These channels include 22 that are for communicating with other GMRS radios, and eight repeater channels.
This 5 watt high-power radio is also USB rechargeable making it ideal for overlanding adventures and caravans since you can keep it plugged in and increase your range in obstacle-ridden terrain.
What is overlanding? Check out our guide to Overlanding 101 and Overlanding Gear For Beginners for everything you need to know!
Some other great features this radio includes are a NOAA weather receiver and scan, an SOS alarm, a flashlight, power save mode, and an easy to program screen to keep your most used channels and features easily accessible.
5. Lyu Lam P11UV GMRS Two-Way Radio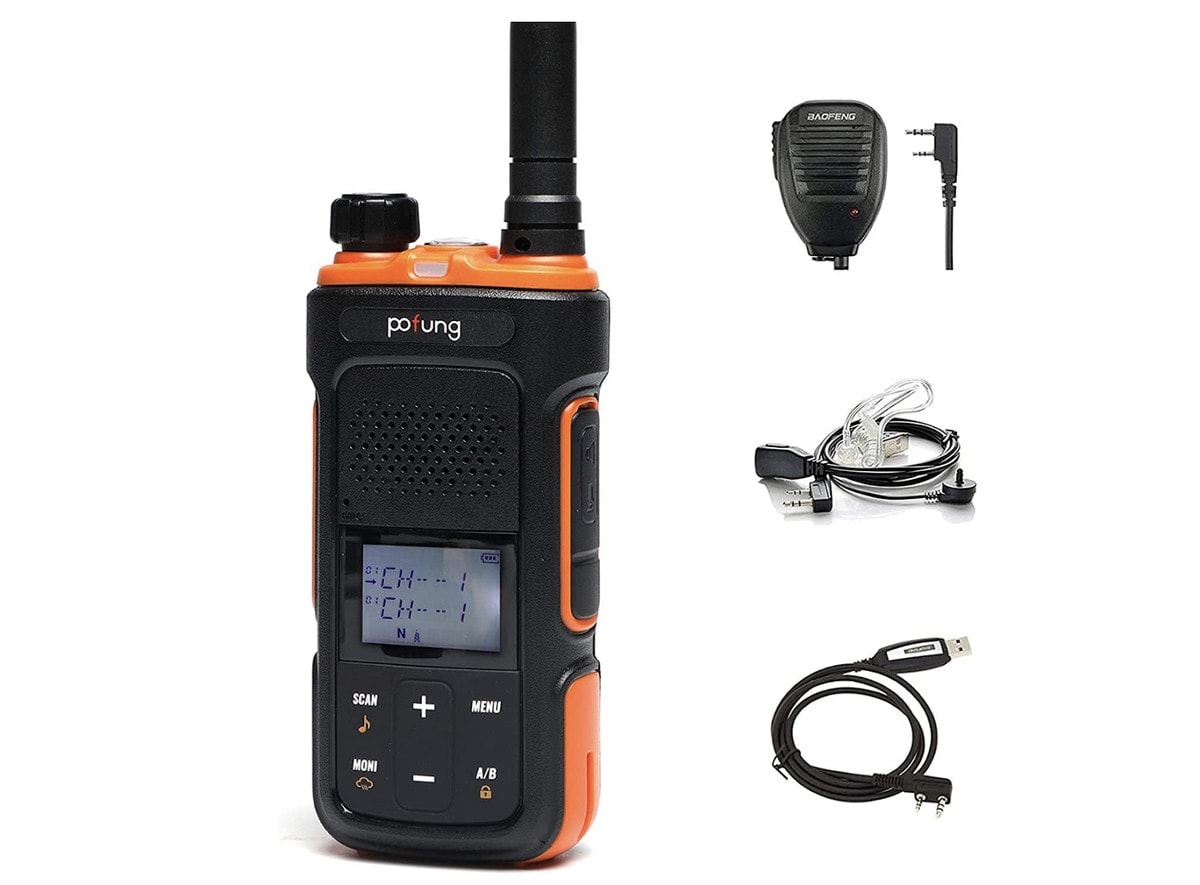 Range: Up to 5 miles
Channels: 22 GMRS + 121 privacy codes
Features: NOAA weather alerts, VOX voice control, flashlight, dual watch, etc.
Power: Up to 2 watts
The Lyu Lam P11UV GMRS Two-Way Radio is a fantastic beginner- and budget-friendly radio that is complete with all of the features you need to get started communicating efficiently in the great outdoors.
This radio operates off of 5-watts of power, operates on 30 different channels, and is complete with over 250 different privacy codes. This small yet powerful device also automatically scans for NOAA weather alerts and keeps you in the loop about any emergency alerts.
Never worry about draining your battery as this radio also can automatically time out to keep your battery charged while it isn't in use. You'll also neve have to worry about it getting damaged because of moisture, dirt, or general wear and tear because this radio is made from aluminum and complete with moisture proof gaskets throughout.
6. Midland GXT1050VP4 GMRS Two-Way Radio
Range: Up to 36 miles
Channels: 50 GMRS channels + 142 privacy codes
Features: NOAA weather alerts, SOS siren, whisper mode, eVox hands-free operation, etc.
Power: Up to 5 watts
Midland is a leader in the manufacturing of GMRS handheld radios. While they make some amazing options for many different needs, the Midland GXT1050VP4 GMRS Two-Way Radio is specifically great for those who enjoy hunting.
This is because not only does it come with headsets for completely silent operation, but they're also equipped with 5 animal call alerts. This Midland radio operates on 50 channels and includes automatic scanning, NOAA weather scanning and alerts, and 3124 privacy codes to stay in touch privately with your party.
This radio comes with four total rechargeable batteries, so you can keep a spare on you in areas where recharging isn't an option.
7. BAOFENG GM-15 Pro GMRS Radio
Range: Up to 5 miles
Channels: 22 GMRS channels + 121 privacy codes
Features: Weather alerts, dual-band display, VOX, FM radio, emergency alarm, flashlight, and more.
Power: Up to 5 watts
If you're in the market for a professional grade GMRS radio that still boasts a user-friendly design, you'll love the BAOFENG GM-15 Pro GMRS Radio.
This radio operates on 22 different GMRS channels and eight repeater channels.
THe BAOFENG GM-15 is also ideal for long range radio communication because of its extendable repeater capabilities. These radios are equipped with a continuous channel scan, NOAA weather alert feature that operates on 11 different channels, an SOS alarm, flashlight and VOX hands free operations.
If you've been looking for a user-friendly GMRS radio that can grow with you—this is a solid choice that will not disappoint.
8. TIDRADIO TD-H5 GMRS Radio
Range: Up to 5 miles
Channels: 250 channels
Features: VOX hands-free operation, NOAA weather alerts, SOS alarm, keypad lock, adjustable squelch, etc.
Power: 2 watts
Another solid option for those looking for an affordable high-power GMRS radio is the TIDRADIO TD-H5.
This radio has a 5-watt high power output and operates on over 250 channels. This includes 22 GMRS and 8 GMRS repeater channels that are pre-programed for immediate use. This device comes with 155 privacy codes to help you block out unwanted conversations as well.
This GMRS radio also comes with the ability to add a repeater for even longer range communication. Plus 11 pre-programed weather band channels so you can receive NOAA weather alerts. Some other great features of this GMRS radio include an SOS alarm, flashlight, adjustable squelch for improving voice quality, and a power-save mode.
9. Midland X-Talker
Range: Up to 40 miles
Channels: 22 channels
Features: NOAA Weather Alert, eVox hands-free operation, silent operation, channel scan, monitor mode, keypad lock, etc.
Power: Up to 2.5 watts
Midland radios are reliable and high quality radios that are made for all different kinds of activities. The Midland X-Talker GMRS radio is an ideal choice for those who require maximum range since these radios can work up to 40 miles in ideal conditions.
These radios operate on the standard 22 GMRS channels and also include the 8 standard repeater channels. Another great feature is that the X-Talker will automatically scan through the NOAA weather channels to find the strongest connection to keep you up-to-date on any severe weather alerts.
This radio also has the ability to work completely hands free with its voice and sound activated transmission and included earpiece kit. They also can both be recharged through the AC wall adapter, a micro USB plug, or AAA batteries.
10. TIDRADIO H8 GMRS Radio
Range: Up to 25 miles
Channels: 40 GMRS channels
Features: NOAA Weather Alert, Roger Beep, Keypad Lock, Call Alert, Micro-USB Charging
Power: 5 watts
While GMRS radios are great for use in remote areas, they can feel a bit stick and mortar in their operations—the TIDRADIO H8 GMRS Radio stands out because it can easily be programmed through a mobile app.
This 5 watt radio includes a NOAA receiver, FM radio, a full color screen, and automatic channel scan to keep you in the loop. The app control allows you to easily program and customize your radio to your liking as well as import local repeaters for extended range.
The TIDRADIO H8 is also recently upgraded to include an impressive 2500mAh battery which is 40 percent larger than the previous model. This radio also includes an FM Radio, NOAA Radio, dual channel watch, adjustable squelch, and automatic channel scanning.
This is truly one of the most user-friendly and best GMRS two way radio options on the market.
Frequently Asked Questions
Here are some of the most commonly asked questions about GMRS radios:
What is the longest range GMRS frequency?
While the range of GMRS handheld radios is dependent on so many factors, some users have been able to communicate up to 50 miles in some cases.
Is a GMRS radio better than a CB Radio?
While the range of GMRS handheld radios is dependent on so many factors, some users have been able to communicate up to 50 miles in some cases.
What is the range of a handheld GMRS radio?
The range of a GMRS radio depends on several factors such as how many watts the device operates on, the addition of repeaters, physical obstacles, and weather. However for most GMRS radios you can expect your radio to reach between 5-50 miles in optimal conditions.
Can GMRS Radios Communicate with FRS Radios?
Yes, GMRS radios can communicate with FRS radios, however, the opposite may not always be true since FRS radios are limited when it comes to what channels they can operate on.