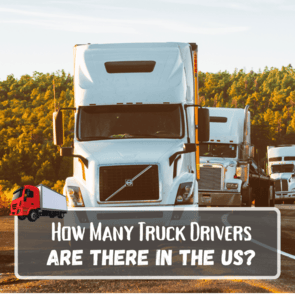 There are between 1.53 million and 3.36 million truck drivers employed in the USA. This big range is because not all sources agree—and which you believe will depend.
We've compiled this report with the latest data in the trucking industry to help you see stats about truck driver jobs.
The following trucking industry statistics give you our most accurate picture of how the trucking industry has done so far in 2023 and in the years prior.
Use the table of contents below to jump to the section you're most interested in.
Table of Contents (Click to Expand)
How many truck drivers are there in the US?
As of 2020, there were 3.36 million truck drivers employed in the US according to the American Trucking Associations. This is a 6.8% decline from 2019.
However, other sources beg to differ. Business Insiders quoted data by Jason Miller saying that there are 1.53 million truck drivers employed in the US in 2022, which is supposedly up 0.9% from 2020.
In this section, we'll talk about how many truck drivers are employed in the US as well as some other interesting statistics surrounding truck drivers.
In 2018, there were 3.5 million truck drivers employed in the United States. (Source)
In 2019, there were 37.9 million trucks registered and used for business purposes (excluding government and farming), representing 23.9% of all trucks registered. (Source)
14% of truck drivers are female, while 86% of truck drivers are male. (Source)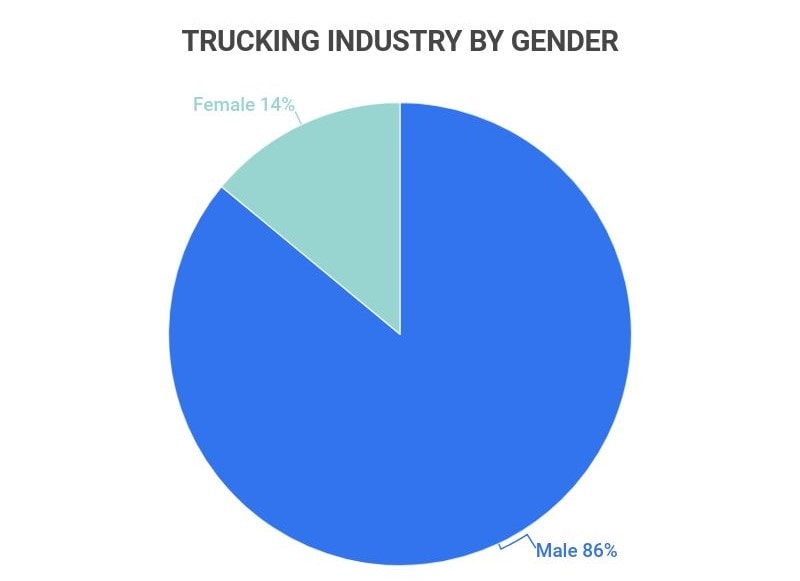 How many truck drivers die per year in the US?
According to data from the Insurance Institute for Highway Safety (IIHS), truck accidents cause approximately 4,000 deaths each year. In 2020, the death count numbered 4,014.
Did you know that truck driving is known to be one of the most dangerous occupations in the world? These statistics are pretty brutal, but incredibly interesting to read about.
In this section, we'll go over how many truck drivers die per year in the US as well as some other statistics surrounding truck accidents.
Why is there a shortage of truck drivers in the USA?
Have you heard of the truck driver shortage in the US? It's hard not to hear about this (and even harder to not pay attention to this shortage).
Could it be due to lower pay and less than desirable working conditions? Maybe.
There's also the possibility that so many people are lured into the trucking industry in hopes of providing a good life for themselves (and their families) only to realize that the low wages aren't worth it (not to mention, the trucking industry has a bad history of treating their drivers unfairly).
Or, is it because there aren't enough people with the proper training and skills needed to fill these trucking positions?
Here are seven reasons as to why there's a shortage of truck drivers in the US currently.
1. When Truck Drivers Feel Underappreciated, They'll Leave the Area
If/when truck drivers feel underappreciated (and underpaid) they'll often leave their jobs to find something that offers better benefits, pay, and working conditions.
2. Low Wages
Inflation is real, people. The cost of living has greatly increased, but wages have not kept up with the cost of living at all.
As a matter of fact, with some trucking companies wages are so low that it's not worth the sacrifices the driver may have to make for the job.
3. Unpaid Work
Did you know that most companies pay drivers based on mileage rather than the time they invest while driving?
This means that they aren't compensated for the time they often have to spend in construction zones, traffic jams, bad weather, or any other delays they may encounter while on the road.
4. Restricted Driving Hours
All drivers that keep a Duty Status Record are required to use an ELD (also known as an electronic logging device) to track their hours to prove that they've followed the rules provided to them. The ELD tells the driver when he/she can be on the road, as well as when he/she should be off duty.
Going off of our last point, if a driver is delayed for any reason during their allotted driving time, they'll lose money and miles and there is nothing he/she can do about it.
5. An Uncertain Future
There are some truck drivers that are afraid to depend on truck driving as a living, as technology is constantly evolving. There is a very real fear among the truck driving community that they'll one day be replaced by autonomous trucks.
6. High Level of Risk
As our previous statistics show, truck driving and delivery jobs can be a very dangerous profession! Truck drivers must know how to drive in bad weather, on rough roads, and may have to deliver materials to unsafe areas.
Not only that, but some of these drives may take more than a few hours. The truck driver is expected to stay alert the entire time (which can be risky, depending on how tired they may get while on the drive).
There are also deliveries that involve hauling hazardous chemicals (and other dangerous substances) that could very well put the health of the driver at risk.
7. Unfair Treatment of Truck Drivers
While we explained that most companies pay their drivers based on mileage rather than the time invested in driving, there are other ways that drivers get jipped and treated poorly by their employers.
For example, companies that use this mileage system may expect drivers to perform other duties in between loads without providing extra pay.
Some of these duties include (but aren't limited to) attending company seminars and meetings, loading and unloading the trailer, and performing safety checks.
What other issues are the US facing?
According to the Pew Research Survey, the US is facing 12 major issues, as followed:
As you can see in the image above, inflation sits at the number one concern in the US as of 2020. We briefly talked about inflation above (and how it poorly affects truck drivers wages – but it goes far beyond just truck drivers).
While all of these issues are incredibly important and we recommend you pay as much attention to them as you possibly can, we want to touch base on one in particular: climate change.
Did you know that climate change (as well as the global energy crisis) threaten the lives of billions of people worldwide? In fact, 97% of climate scientists agree that human activities produce greenhouse gasses that are heating the planet.
The primary source of these greenhouse gasses are due to burning fossil fuels for energy, industry and transport, industrial agriculture, and deforestation.
There's also evidence that shows America's power grid is increasingly unreliable and struggling to keep up with energy demand.
Which is where solar panels can come into play. Not only do solar panels help to fight global warming by producing electricity that keeps us from burning more greenhouse gas-producing fossil fuels, they help to shade the Earth from the sun.
While solar panels are a great resource for the US, it may not be the case worldwide. Some researchers simulated an idealized scenario where all of Earth is covered in solar panels. The simulation showed that the extra shade cools the covered area but that the temperature decrease changes local weather patterns drastically.
For example, because India and eastern Australia get less rainfall, these places got much warmer than usual (as does the northwestern US, due to wind pattern changes).
However, it's safe to say that the benefits of solar panels outweigh their drawbacks. Realistic large-scale solar panel coverage could cause less than half a degree of local warming which is much less than the several degrees in global temperature rise currently predicted over the next century if we continue to burn fossil fuels.
Click here if you're interested in setting up solar panels while overlanding!
Frequently Asked Questions
Have some questions that weren't covered in the material above? We've compiled some of the most frequently asked questions to answer them for you here.
Note: Feel free to leave us a question in the comment box below if one of your questions isn't on the list!
Is the trucking industry growing?

We're happy to say that, yes, the trucking industry is growing!

In 2020, COVID-19 caused a recession in the industry but since, it has been growing and recovering. In fact, from 2020 to 2030, truck drivers are expected to see a job growth rate of 6% (which is on par with US occupations as a whole).

According to that growth rate, we can expect to see 231,000 truck driving jobs available each year.
Why do most trucking companies fail?

A lot of trucking companies fail simply because their costs are much higher than their income. Oftentimes, trucking companies encounter high operational costs and struggle to pull enough customers.

Not only that, it's difficult to lower expenses without losing drivers.
What causes most truck accidents?

A majority of truck accidents occur due to mechanical difficulties (especially related to brakes and tires).

Apart from that, truck accidents can be caused by lack of information regarding the route, fatigue, aggressive driving, and job pressure.
We hope these statistics helped you better understand the trucking industry as it stands in the US today.
Next time you're on the highway and see a large truck, keep in mind that while it's incredibly annoying that they're driving slow, they're following safety protocols to keep you (and themselves) safe!
What were some of the most interesting stats that you read about in our article today? Leave us a comment down below!