Camping and adventuring with your dog is an incredible experience for you and your furry companion!
As someone who has traveled full-time with my dog for over a year now, I've learned tons of tips and tricks to ensure that the whole experience is effortless.
Here's the ultimate guide camping with dogs! We discuss where to camp, how to keep your pet protected and safe, and some of the best dog camping gear.
Table of Contents (Click to Expand)
How To Prepare For Your Dog Camping Trip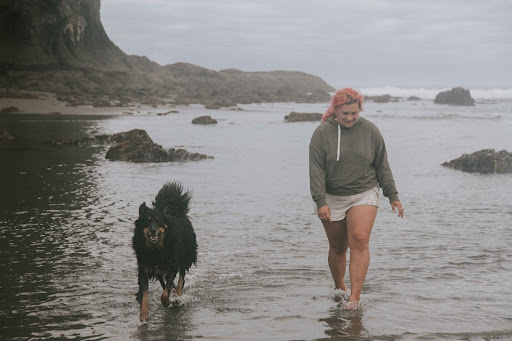 Here are some things to consider while planning your camping trip with your dog:
Find a Dog-Friendly Campsite
There are plenty of dog-friendly campsites all over the world. Even most National Parks (which are notorious for not being very dog-friendly) still have some dog-friendly campsites. Most apps like iOverlander, The Dyrt, and Freeroam will specify whether certain campsites are dog friendly.
If you have a specific campsite in mind, you can always check the campground's website or give them a call if you're not sure.
Bring Your Dog's Proof Of Vaccines
While you may not think it's important to bring your dog's vaccination records into the backcountry, there are actually a few reasons why you should always have a copy on hand.
First, some dog-friendly campsites require your pet to be fully up-to-date on their vaccinations before you arrive. It would be a shame to get turned away after a long road trip because you didn't bring copies.
Also, even if your dog is perfectly well-behaved and even-tempered—accidents happen. You may never expect your furry friend to get in a quarrel with another dog, but in the event of a fight you'll want to be sure everyone involved can prove their vaccination history.
Most veterinary offices are happy to email you a digital copy of your records, but it's also a good idea to have a physical copy stashed away in your glove box.
How To Keep Your Pup Safe While Camping and Overlanding
Here are some tips for keeping your dog safe during your outdoor adventures:
Protecting Your Dog From Wildlife & Nature
It's important to take the time to keep your pet safe while camping or hiking. If your dog has never seen a moose, bear, marmot, or snake, you never know how they're going to react. The last thing you'd want is to watch your dog chase a bear or get bit by a rattlesnake.
The safest thing to do is keep your dog leashed as much as possible. I love to watch my dog run off-leash, but I don't trust that his recall is reliable enough to prevent him from chasing a wild animal and getting himself into trouble.
You should also be sure your dog is recent on their rabies vaccine just in case they have a run in with a wild animal. Similarly, getting your dog on a flea and tick prevention medication can keep them protected from diseases like lyme disease and tapeworm. My vet recommended the Frontline Flea and Tick treatment, but you should consult your vet about what's best for your pup.
Dog First Aid Basics
If you're bringing your dog along on a camping or overlanding trip, you should have some first aid basics down. Some of the top things you should know how to treat are things like heatstroke, small fractures, poisoning, and bleeding.
The American Veterinary Medical Association has a great article about basic pet first aid. I also highly recommend you get your hands on a physical book you can reference if you find yourself out of service. There are plenty of great books out there, I personally have read through The American Red Cross Pet First Aid book.
Off-Leash Dog Safety Tips
When you're in a space that allows dogs to run off-leash, you should always be certain you have some safety measures in place! First, you need to be sure your dog has a great recall. This means that your dog will come when called even if there is something super interesting up ahead.
Also, be sure your dog is equipped with a dog tag with your phone number attached and an up to date microchip. If you're unsure if your dog's microchip is up-to-date you can call your vet or use a universal microchip checker like Peeva.
Keep It Cool
If you're camping or overlanding in the hot summer months, it's incredibly important to keep your (and your pup's) temperature regulated. Check out our guide to staying cool on summer camping trips.
How To Find Dog-Friendly Activities
Don't cross your fingers and hope an adventure will allow dogs—check before you go! Here are the best ways to figure out what adventures you can do with your pup.
1. Use Apps
There are plenty of apps like All-Trails, the Dyrt, and iOverlander that will give you up-to-date information on different campsites and adventures before you go.
2. Go To The Visitor's Center
If in doubt, lots of National Parks, State Parks, national monuments, and other tourist attractions will have a visitors center. You can always stop in or call ahead of time to figure out what activities are dog friendly. It's their job to help visitors plan and prepare for their trips.
3. Utilize Google
If you're still having a tough time figuring out dog friendly things to do in the area you're visiting—a quick and simple Google search can also help you get updated information on certain activities.
Etiquette For Camping With Dogs
Here are some important etiquette tips to follow to ensure that both you and other campers have an enjoyable trip:
Pick Up After Your Dog
There are many reasons that picking up after your dog is important—first, it preserves the landscape. No camper wants to catch whiffs of your dog's waste as they're trying to make the perfect s'more, or stepping over it while hiking through a beautiful landscape.
But also, human and dog waste actually negatively impacts the landscape. Wild animals are eating the local flora and fauna and returning it back to the land, but human and dog waste contains harmful chemicals and dyes that hurt plants and animals.
So always pick up after your pet.
Follow Leash Laws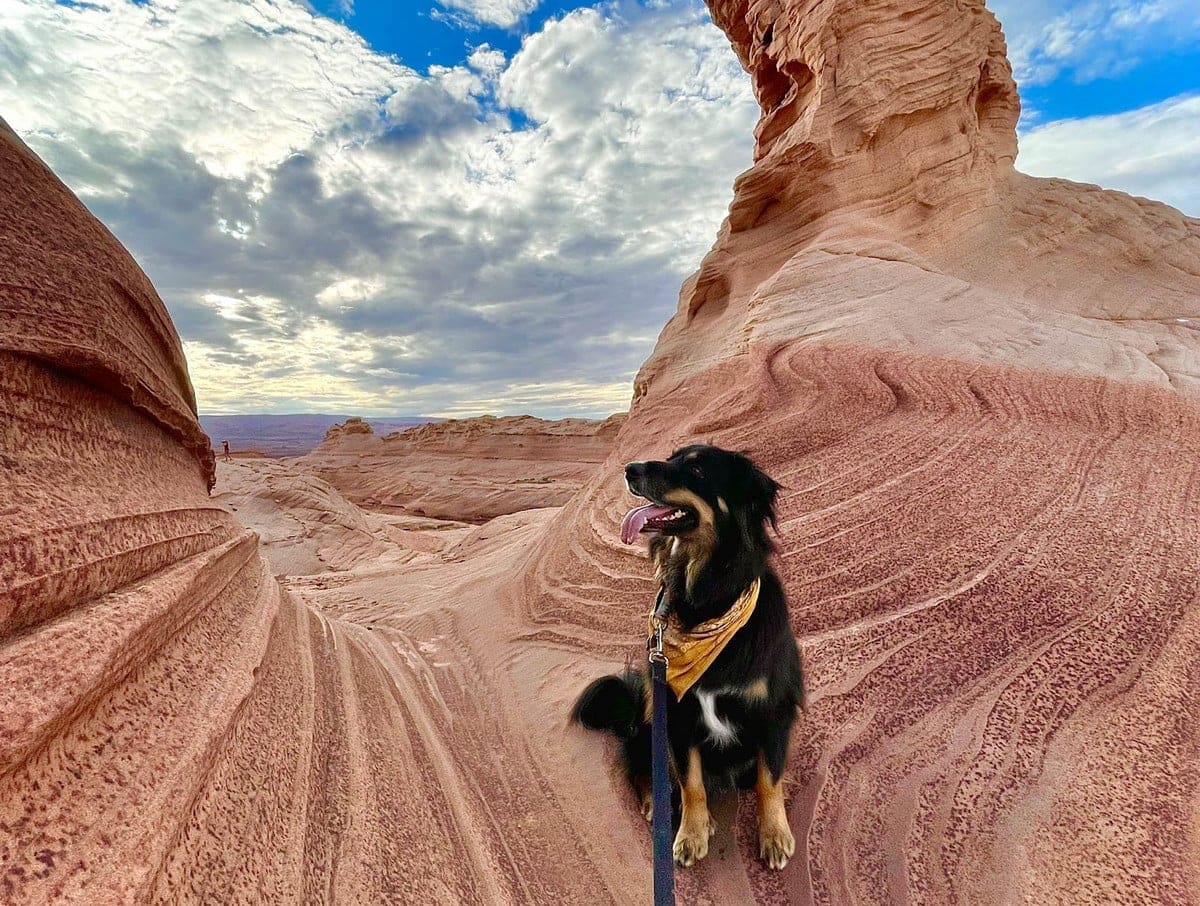 Leash laws and leash etiquette seem to be a hot topic for many dog owners. After all, there's hardly a better feeling than watching your dog run wild and free like they were born to do. However, as someone who has owned super sweet dogs and absolutely wild dogs who need years of training, I can solidly say that following leash laws is critical for all dogs.
Even if your dog would never hurt a fly, there may be other dogs around that aren't keen on unknown dogs entering their camp or imposing on their space. If you must let your dog off-leash on hiking trails or campsites you need to be absolutely certain that they won't run off to other campers and hikers.
If you aren't 100 percent positive your dog won't impose on others' space, you can still let them run free in off-leash specific places. If your dog is off-leash and gets attacked by another dog who is on-leash—you are at fault. Please keep your dog safe. Dogs of all temperaments are allowed to enjoy nature and it should be safe for everyone to do so.
What Gear Should I Bring For My Dog?
Figuring out what gear and accessories to bring on a camping trip is one thing, but if you're bringing a dog, it'll take even more planning and preparing. Here are some of the top accessories to bring on your dog camping adventures.
1. Long Lead
It's important to always have full control of your pet while camping. It would be scary to lose your dog because they followed an interesting scent trail into the mountains. Your dog also may not have ever encountered wildlife like snakes, bears, moose, or coyotes, either.
Keeping your pet on a long leash will ensure they stay safe and out of trouble. I like leashes like this Mighty Paw Cable Tie because they won't snap if your dog chews through them and they're a bit harder to tangle up.
2. Collar Light
If you ever find yourself out late hiking or walking your dog, it's important to make sure your pup is visible—particularly to other motorists or other dog owners. Having a collar light will ensure your dog stays visible.
3. Disposable Poop Bags
While camping with dogs, poop is inevitable. Be sure to stock up on plenty of rolls of waste bags. I like to throw some in my van and hiking backpack, as well as tie some on my dog's leash.
These Earth Rated Poop Bags are extra thick, lavender scented, and fully compostable.
4. Pet First Aid Kit
There are some dog specific medical items that you probably don't have in your regular first aid kit. If your dog breaks a nail you'll need a styptic powder to help it clot and prevent excessive blood loss. I also keep a tick remover in my dog's first aid gear.
In the ten years I lived in Utah with dogs, I'd never had to remove a tick from one of my pups. The first month I was in the Pacific Northwest I had to remove three from my Aussie!
The Adventure Dog Series medical kit is great because it covers all of the first aid basics, but also is small enough to toss in a day pack.
5. Collapsible Water Bowl
Space is often very limited while camping. Collapsible water bowls like these LumoLeaf bowls are great because they pack down small and can even be attached to the outside of your backpack with the integrated carabiners.
While you may just assume it's fine for your dog to drink from random lakes and streams, it's always smart to try to keep your dog hydrated with fresh water whenever possible. It would really put a damper on your camping trip if your four legged friend came down with a case of giardia.
6. Paw Protectant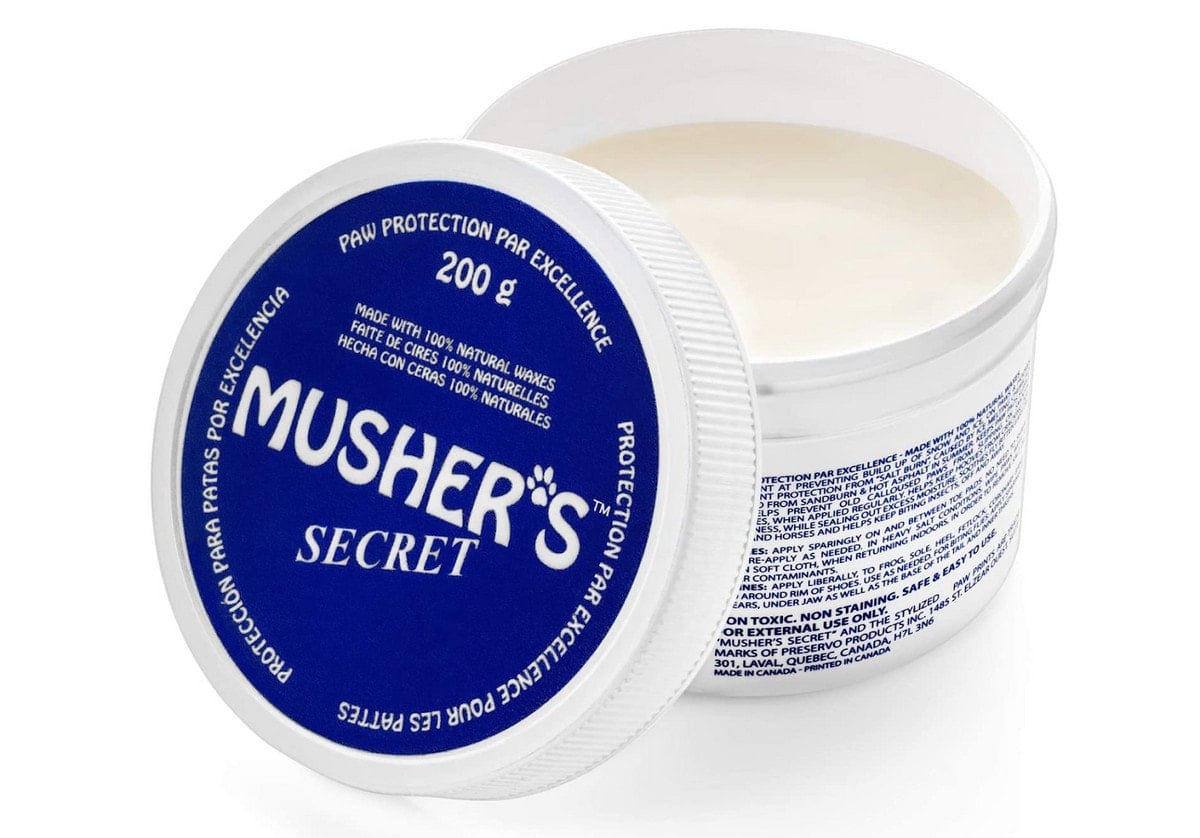 The great outdoors can be really tough on your dog's paws. Between jagged rocks, broken glass, and hot pavement, there are plenty of ways your pup can hurt their paws. Ideally you'll be able to fit some dog booties on your puppy's paws, but it can take time to acclimate your dog to them.
There are also special salves and balms like this Mushers Secret you can put on your dogs paws that act like a protective barrier between their paws and the elements. They also help to hydrate and heal their paws while resting as well.
7. Dog Bed
If your dog is anything like mine—they play hard, and rest even harder. My dog gets grumpy quickly when he doesn't have a comfortable place to lie down. I used to bring his regular dog bed which quickly got covered in mud and sticks. I also used to put a blanket down, but that also gets dirty very quickly.
Having a specific dog bed like this Furhaven Bed for camping trips will help your dog sleep better, and keep your space cleaner since they're designed to repel dirt and moisture.
8. Dog Backpack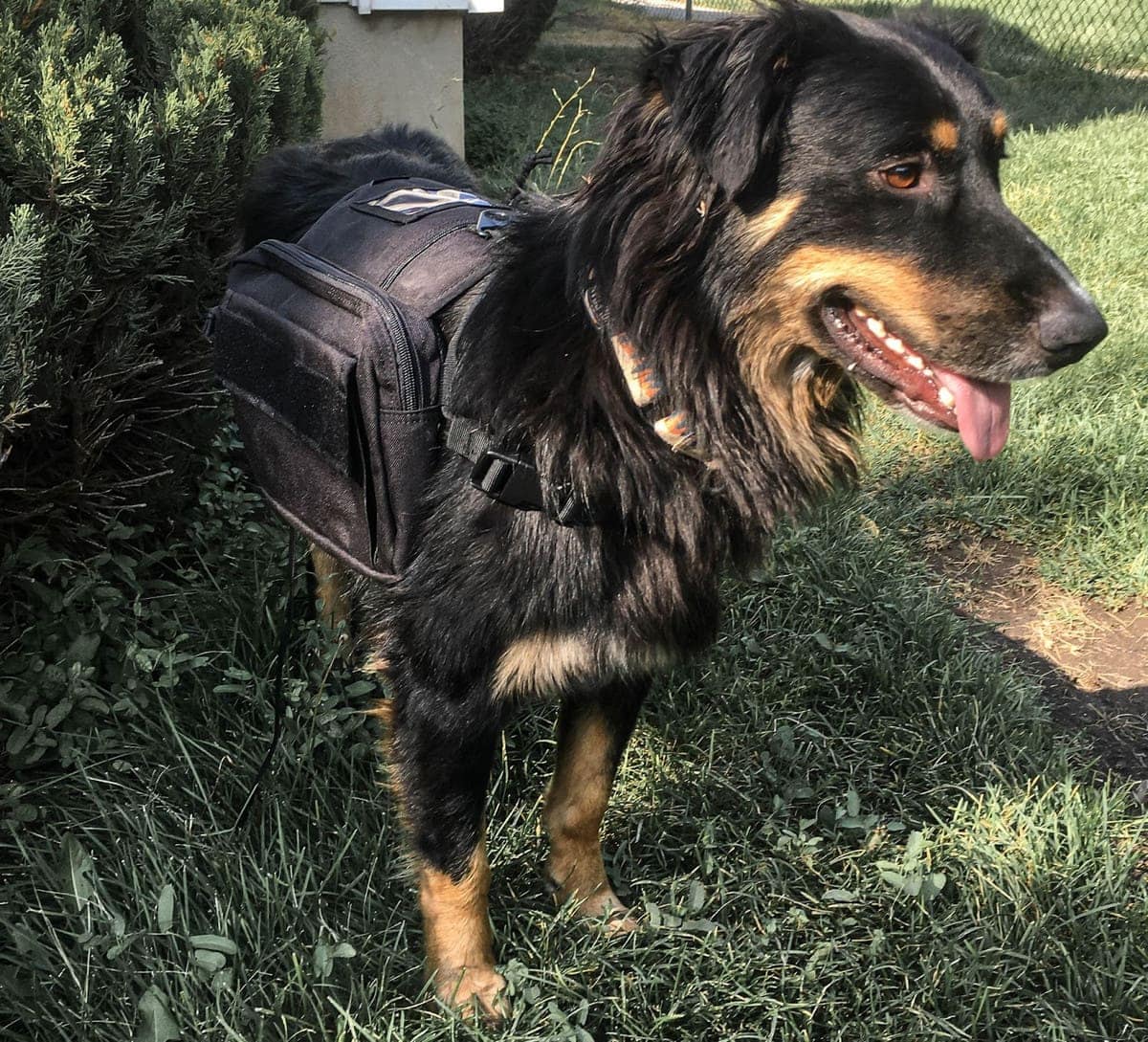 There are several reasons you should consider getting your dog their own backpack. First and foremost, it's ridiculously adorable. But a dog pack also serves more purposes than you'd think though!
My dog is a four year old Australian Shepherd, Malamute, Husky, German Shepard mix. He is a hard-working boy, and carrying a backpack is a job for him. I make him carry smaller items like his own dog waste bags, water bowl, tick remover, water bottle, etc.
None of this is too heavy for his super strong 65 pound body, but it's a mental workout for him to focus on carrying stuff. Even if your dog isn't the epitome of a rugged outdoor adventurer, your dog's backpack will give them purpose and focus and you'll notice they even sleep better. So give it a go on your next camping trip or hiking trail!
Tips For Keeping Your Dog Calm & Safe On The Way To Camp
Some dogs are much more keen on driving in the car than others. My dog loves drive-throughs, free-ways, and getting to camp. He loses his mind on city streets and at the gas station, though.
If your dog struggles on a short car ride, they will probably have a hard time road tripping to a campsite. However, there are some things you can do to help your dog relax on a road trip:
1. Use a Crate
If you have space and your dog is crate trained, keeping them in a crate can significantly aid them in relaxing. If your dog isn't used to a crate at home though, this could make their stress worse. Just be sure your pup is used to crates before you try this. You can always contact a dog trainer to get advice on how to acclimate your pup to crates.
2. Use a Seatbelt
There are special dog seat belts that help immobilize your dog during road trips. This not only keeps them safe, but stops them from jumping around the car and potentially causing an accident. Seatbelts like this Etzan one are very inexpensive and clip right onto your dog's harness.
3. CBD Treatments
If your dog has severe driving anxiety, you may want to talk to your vet about using CBD treatments. CBD is incredibly safe for pets and very easy to find. This can help take the edge off so your dog can relax on your next adventure.
Frequently Asked Questions
Still have questions? Here are some common questions about camping with dogs:
Can I bring my dog to National Parks?
Technically yes, dogs are typically allowed in the campsites of national parks, but generally not welcome on trails. Visit the website for the national park you're visiting ahead of time, or call the visitors center for a list of dog friendly activities.
Is BLM land dog friendly?
Yes, BLM land is generally dog friendly. There are some exceptions to this rule so it's always best to check before camping with your dog. Just be sure you're cleaning up after your pet and keeping them under control.
Is it safe to camp with dogs?
If the proper precautions are taken, camping with your dog can be a safe and incredibly rewarding experience.
Where do dogs sleep when camping?
Depending on whether your car is camping, tent camping, or sleeping in a roof top tent—it's always recommended to keep your pet close by and ideally inside your space. It's important to be sure that your dog is safe from the elements and other wildlife.
How do I control my dog when camping?
It's imperative that you have complete control of your dog while camping. If your dog is still training, it's important to keep them leashed and close by to protect them. If they are prone to excessive barking, you should have other methods of keeping your dog entertained that won't disrupt your fellow campers.