If you're the adventurous type and want to go camping in the winter, having a tent heater makes it much more enjoyable.
But which tent heater should you buy? And how do you use them safely?
I've been camping in the cold weather for years and below I share everything I've learned using all kinds of different tent heaters.
Here are 9 of the best tent heaters for cold-weather camping—plus some safety tips and other ways to heat your space.
Table of Contents (Click to Expand)
Best Natural Gas Tent Heaters
Natural gas is affordable and safe to use. As long as you follow the directions, these propane tent heaters will be perfect to keep you warm.
1. BLUU Flameless Propane Heater
Looking for a tent heater with no visible flame? These types of catalytic models (also known as radiant heaters) generate heat using chemicals instead of fire. These are usually the safest forms of gas-powered heaters for tents as they're not as flammable.
You'd be forgiven for thinking the BLUU propane tent heater is actually a giant microphone, but that protective netting is there to reduce the risk of burns. So, don't get too close.
It's made of durable stainless steel with a 60-degree adjustable stand that's suitable for outdoor use too. When the invisible flame goes out unexpectedly, the system automatically shuts down for safety. With a seven-hour operating time on a one-pound cylinder, you can hook it up to larger propane tanks for extended heating time.
One of the things I like about this heater is that there's no flame, and so it can be used even in windy conditions, unlike the fan favorite Little Buddy Heater below.
2. Mr. Heater Little Buddy
Another heater in the category of microphone-lookalikes is the Mr. Heater Little Buddy. The higher you go above sea level, the less efficient the burn of propane heaters becomes—and the maximum elevation for this unit is 7,000 feet.
While there isn't an adjustable temperature dial, it'll heat up your tent in minutes. It'll also automatically shut off if it's accidentally tipped over. The pilot flame switch to get it started can be a little awkward, but once it's going, it's great.
(Mr. Heater units are also one of the few brands to be certified to ANSI Z21.103-2017 standard. This means they're designed to produce as little carbon monoxide as possible.)
3. Mr. Heater Portable Buddy
The Portable Buddy heater is another radiant version from the Mr. Heater range. A bigger tent requires a bigger unit, and this one can heat enclosed spaces up to 225 square feet. Compared to other brands, customers say it's easy to use and reliable.
If you're looking for complete peace and quiet, there's a slight fluttering noise even on the lowest setting, which may not be for you. But the fold-down handle makes it perfect for carrying, and the tip-over shut-off is a great safety feature.
It can run off a one-pound propane cylinder, or you can connect it directly to a bigger tank with an optional hose and filter. If you'll need a warmer environment to dry wet clothes, this camping heater could be the one for you.
4. Campy Gear Chubby 2-in-1
Cooking and heating are both essential for living—especially in winter. When camping, a lot of the time, we don't have the luxury of having a convenience store down the street. So, why not buy a camp stove and heater all in one?
This powerful propane heater from Campy Gear offers 360-degree radiant heating with an adjustable flame control for different cooking needs. Choose between "heating", "cooking", and "heating and cooking dual mode". With this unit, you can keep the cold at bay by boiling water for a steaming mug of coffee or sizzling a steak in no time.
It's compatible with most brands of butane, isobutane, and propane fuel canisters. You can choose a smaller version that nests inside the stove or connect it to a larger tank for longer use. (230g of fuel at maximum firepower will burn for 1.5 hours.)
5. Campy Gear Little Guy 2-in-1
If you don't have much camping storage space or room in your backpack, Campy Gear's Little Guy 2-in-1 does exactly the same as the Chubby. But in an even more compact model.
While the surface area for cooking is reduced, the heating power of 9,000 BTU is still packed in. The collapsible pot stand can support pots that range from 3.9 to 12 inches—enough to cook a large variety of camping meals.
Keep yourself fueled and warm at all times when cold weather camping with this reputable brand. Plus, the detachable design means it's even smaller and easier to pack away and carry than it looks.
Best Electric Tent Heaters
If you have a solar power setup, an electric heater might be a better option for you than propane. If so, here are some great options:
6. Dreo Atom One
Now that we've covered a few gas-powered models, it's time to see how electric tent heaters compare. At only 10 inches high, the Atom One is the smallest model in the Dreo heater family, but it packs a punch.
Suitable for spaces up to 200 square feet, the 1500W power heats up within two seconds. Created with flame-retardant materials, plus tip-over and overheat protection, it's a brand that prioritizes safety.
The digital thermostat gives you total control over the air temperature, or you can use ECO mode to let it adjust itself automatically and save power. It's lightweight, portable, and engineered to be quiet. Perfect for silently sleeping under the stars surrounded by nature.
Of course, to use an electric tent heater, you'll need a power source. We recommend either a portable solar power station like the Jackery 300 or installing a dual battery setup in your rig.
7. iSiLER Space Heater
The almost-instant heating power of electricity continues with the iSiLER space heater. This industrial-styled 1500W model comes in four colors: yellow, green, pink, and gray.
This ceramic heater may be small, but the temperature ranges from 41-95 °F, enough to heat up to 108 square feet. With the in-built overheating and tip-over protection you'd expect, you don't have to worry if it gets knocked over accidentally.
With heavy-gauge materials, set-up is easy and sturdy, with all screws and parts included. Even with a strong stream of heat, the exterior surface of the unit underneath the handle is never too hot to touch. This means it's easy to move while it's running with no chance of burning yourself (when handled correctly).
8. Honeywell 360 Degree
Unlike some of the units we've covered that blow heat in one direction, the Honeywell heater has an all-around output.
The high-quality plastic exterior is cool to the touch, and the unit has 360-degree tip-over protection. For safe use, the Honeywell heater has to be placed three feet away from any wall on a firm, level surface. So, make sure it's not propped up against the side of your tent.
The pilot light turns red when you flick between the low and high settings, with an added adjustable thermostat dial for greater control. With two forms of overheat protection (a sensor and backup cut-off fuse), it's clear this unit has been created with safety in mind.
Best Diesel Tent Heater
Last but not least, a diesel heater can be a great option if you are in a rooftop tent and can permanently mount everything to your rig.
9. Portable 12V Diesel Heat Exchanger
Diesel heat exchangers like this are usually used for campers and other vehicles, but they can work perfectly for rooftop tents, too.
They work by drawing in air from the surrounding environment, then mixing it with fuel and igniting it to warm up interior temperatures. Read this guide to see how they work in more detail.
A lot of these units are manufactured in China and don't come with English instructions. However, there is plenty of information and help online in the form of YouTube tutorials and Facebook communities. In fact, I use this exact heater in my conversion van setup, and I love it!
While everyone has different methods for setting theirs up, here's how you could fit one for winter rooftop camping:
If you want a more heavy-duty version, check out the Portable Diesel Air Heater Planar 2D-12V.
Related Reading: Are Rooftop Tents Worth It? In-Depth Look After 1 Year
Winter Camping Tent Heater Buying Guide
There are so many elements to consider when buying a tent heater for cold-weather camping. Which will be noisiest? Which has an adjustable thermostat? Which is safest?
Here are some of the main points you should be weighing up:
Gas vs. Electric
Most tent heaters run on electricity or gas. While electric heaters are safer from an emissions perspective, they're less convenient and require a power outlet.
Here are the pros and cons of gas heaters:
| | |
| --- | --- |
| Gas heater pros | Gas heater cons |
| Produces more heat | Can produce carbon monoxide |
| Extremely portable | Risk of oxygen depletion |
| Doesn't drain precious power | Gas canisters can increase weight of gear |
And the pros and cons of electric heaters:
| | |
| --- | --- |
| Electric heater pros | Electric heater cons |
| Consumes almost no oxygen | Needs an electrical outlet |
| No requirement to buy extra fuel tanks | Needs a heavy-duty extension cord |
| No carbon monoxide or leaking gas | Uses a lot of power |
If you're going to go with a propane or butane heater, make sure it has safety features installed. For example, a tip-over switch and shut-off when it detects low oxygen levels.
If you don't fancy either, consider diesel-powered heat exchangers. But just remember, these can be tricky to set up on your own.
Portability
Portability is another big consideration. If you're backpacking, space is a luxury. So, you'll want to pick a heater that's easy to store and carry. Plus, factor in the weight and accessibility of your power source or fuel cylinder.
Even if you're overlanding or truck camping, you don't want your heat source to take up too much valuable space. Make sure to measure any unit before you purchase to be sure it'll fit in the physical space you have available.
Heat Output (BTUs)
BTUs stands for British Thermal Units, but it's not something that's only used in the UK. They're actually a global measurement of heat.
One BTU = the amount of energy that raises the temperature of one pound of water by one degree Fahrenheit.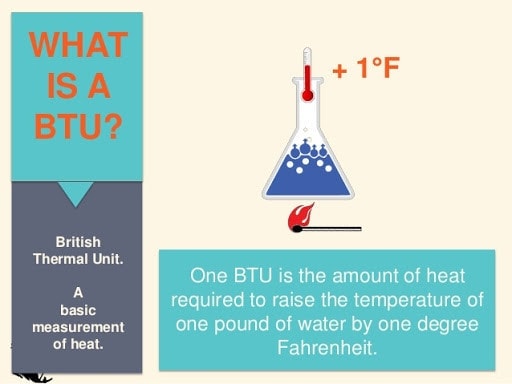 Image Source: https://nrs.vegas/
When buying a heater, you want to check if the amount of heat matches the square feet of your tent. For example, the Mr. Heater Big Buddy heats up to 450 square feet, and a 14-person tent can be around 400 square feet. But large tents for fewer people won't need nearly as much power as that.
Durability
All the tent heaters on this list are top-rated. But if you decide to find your own, make sure you choose a durable model.
Camping gear goes through a lot of wear and tear. And you don't want to buy something cheap that needs replacing regularly. Sometimes, it's good advice to splash out on something that'll last years.
How To Use a Tent Heater Safely While Camping
If you sleep in your camper or RV, you won't need to worry about the same safety issues that tents pose. But if you're going to use a heater indoors, stick by these three rules:
Make Sure the Heater Is Made for Indoor Use
While it's tempting to grab any old tent heater, make sure it's made specifically for indoor use. If you'll be using a portable propane heater, you need to be aware of carbon monoxide emissions.
While many of these devices have safety features that can detect this invisible, silent, odorless gas, you should always leave space for proper ventilation. Plus, consider packing a carbon monoxide detector with an oxygen depletion sensor.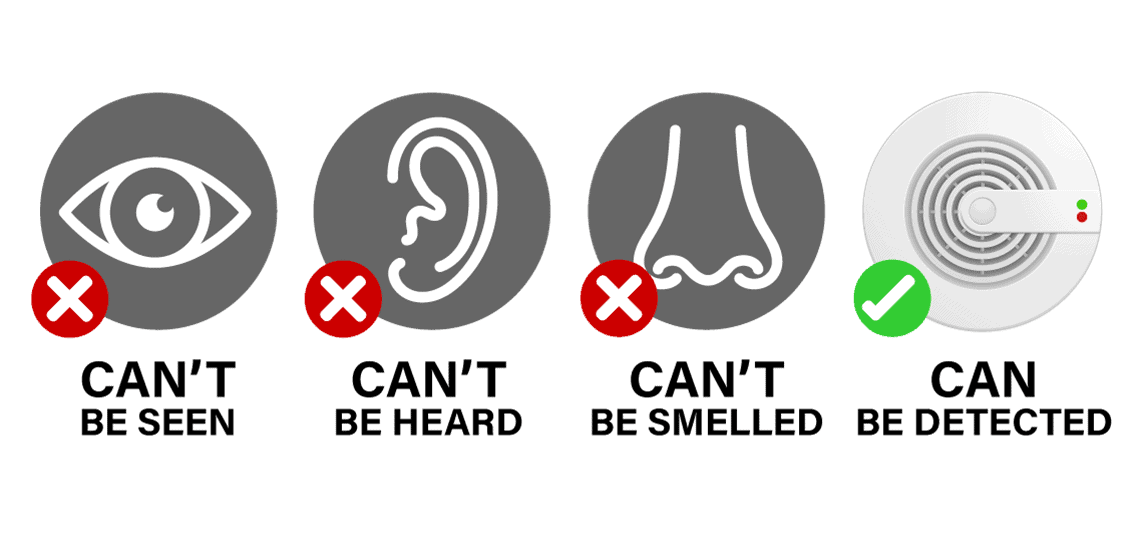 Image Source: https://www.mawwfire.gov.uk/
Where To Place Your Tent Heater
Your tent heater can't be placed next to the sides of your tent, your sleeping bag, or any flammable materials. If you've only got a small tent, you'll need to pay extra attention to the size of your heater.
Place it in a spot where it's not likely to get knocked over. It's also good practice to protect the floor from heat and condensation drips with a tray.
Turn It Off At Night
Most modern tent heaters are built to be able to run overnight. However, we wouldn't recommend it—safety first!
Choose a toasty winter sleeping bag and use your heater just before bed and just after you wake up. You'll stay warm throughout the night and will save precious power when you don't really need it.
Other Ways To Heat Your Tent
Cold-weather camping trips add so many other considerations to your gear list. Especially if you'll be at higher altitudes. Apart from your heater, here are some other ways to increase the warmth of your tent: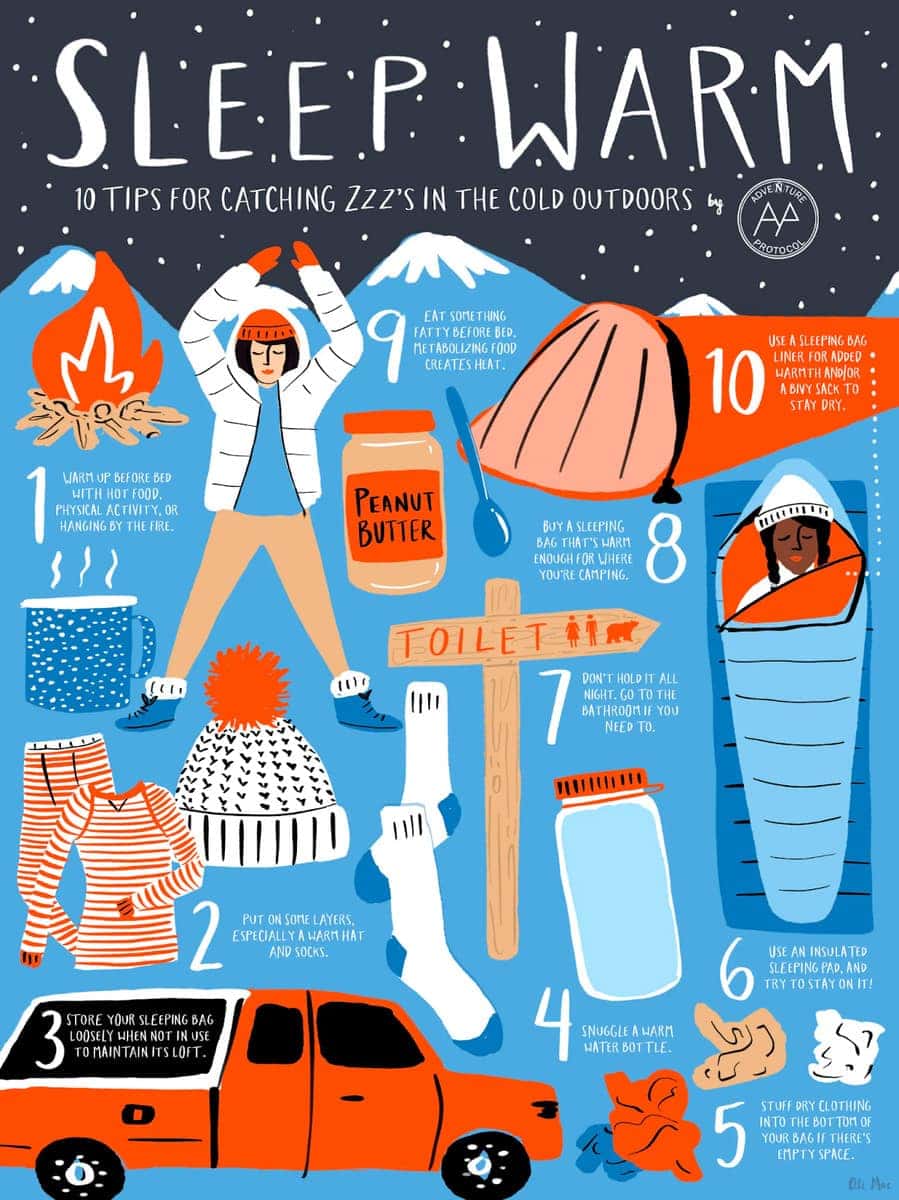 Image Source: http://alimacdoodle.com/
Preparation is key to enjoying your winter camping experience and not ending up in a potentially dangerous situation.
Which Tent Heater Is Right for You?
Every tent heater comes with an element of risk if not monitored or positioned correctly. You must also make sure you have proper ventilation when using any of these units. Remember, high temperatures can melt or ignite nearby objects if they're too close.
Weigh up all the options and make sure your safety is the main priority. If you're thinking of adding a rooftop tent to your overlanding gear list, check out these other posts for more tips: